Since the day we conceived the idea of ServiceSutra, we have always focused on one thing and that is to make it super easy and simple for you to compare and hire trusted local service providers without wasting time and putting any extra efforts in searching and calling randomly.
Our customer experience team is always working behind the scene and putting in those extra efforts so that we can help you hire service providers without any friction, nearly effortlessly. I am happy to announce a few improvements that we have made on the website.
First and most important change that we have made is in the main navigation. We have eliminated the friction so that you can simply click a button and land on the service request form.
Here's is the new home page with new navigation menu.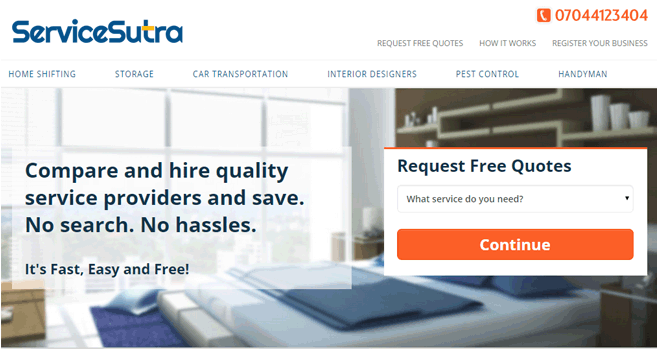 Secondly, we have made certain changes in the quote request form, now you can elaborate your requirements in better ways and it's certainly going to help us understand your requirements better. When we know your requirements in better ways, we'll be able to connect you to most relevant service providers who can take on the job.
Our short term and long term goal still remain the same. We want to change the way you have been finding and hiring local service providers for moving your house or doing renovation of your apartment.
Let me thank all those users who are using ServiceSutra for various local service needs. A big thanks goes to my team who work hard behind the scene to make it all happen and bring smile on your face.
As always look forward to your comments and feedback.