Everybody wants to appear on top of the search results on popular search engines like Google, Yahoo and Bing. But you have to agree there is hell lots of competition between business and websites who are competing with each other to appear on top of the search results. Although appearing on top of search results depends on several parameters that have been set by these search engines, there are a few basics. If the basics of your search engine optimization process are right, you may expect great results.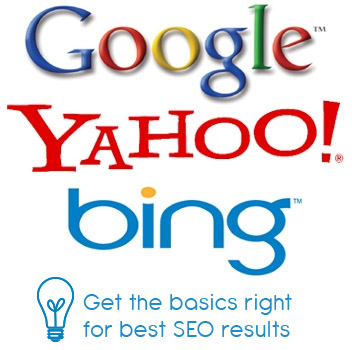 Getting your basics right for Search Engine Optimization (SEO) process
SEO is a process and one have to optimize its own web pages (on page optimization) and other is off page optimization where you consider parameters outside of your own domain. Like sharing and bookmarking on popular social websites. This post is limited to on page optimization techniques.
Optimizing your web pages: This is also known as on page optimization. On page optimization means fixing your own pages as per the standard guidelines of the search engine websites. I promise to have a separate post for off site website optimization tips.
Lets talk about Metadata Optimization
On every HTML page, you have Meta title, Meta description and Keywords tag. Keywords tag is not that popular, but the Title and Meta description tag is very vital.
Lets take an example. You are Packers and Movers Company located in Bangalore and say name of your company is "ABC Moving and Relocation Company Pvt. Ltd" and you offer moving and relocation services in Bangalore, India.
So how do we write effective and meaningful Title tags. Title tag should make sense for both users and search engine robots. Let me give you a better example. A typical title tag may look like "Welcome to ABC Moving and Relocation Company Pvt. Ltd" or "ABC Moving and Relocation Company Pvt. Ltd, Bangalore" or "ABC Moving and Relocation Company Pvt. Ltd welcomes you" or "welcome to our website"
Now look at some of the examples below. I am just re-writing the title
"Packers and Movers in Bangalore- call for Household and Car Shifting" or
"Packers and Movers Bangalore – Local and Domestic Packing & Moving Company"
Which title tag makes more sense to you? of course the second one. Why? Because it directly tells about your services and that's how people will search a moving company. They are not going to search it by your name, and chances are your company name is already a part of your domain name. So having brand name in the Title tag is not necessary and you should avoid it specifically if it's a long name (more than 1 word)
Same way Meta description should have a valid description something like "Need Packers and Movers in Bangalore. Call us for a free estimates for Local or Domestic Household or Car Shifting Services"
Why meta title and meta description is so important?
Because when some one is searching for a product or service, the first thing that appears on search results is the title and the description. So it must be relevant to the user's search and should make sense for the users to take action i.e. click on your link to go to your website.
Image alt and Link title attributes.
For every image you should have an alt tag. For example you can have an alt something like alt="ABC Moving and Relocation Company" for the Logo image
Similarly for each of the links, you should have a title tag. e.g. <a href="index.html" title="Click here to go to the home page">
The search engine robots will parse these tags and it affects the search results. Also its going to help your potential customers or website visitors.
Page URLs and Links
You should have proper linking techniques in place for better results and this is one of the basic. Because changing page link every now and then is not advisable and also not possible, because number of pages may grow as your business grows. Secondly any broken link (a link where page does not exists) gives a very bad impression to the search engines as well as your own customers and visitors
Try to include keywords in your page name, so you have a great and easy to remember URL structure.
For example take a look at an example URL
http://www.abcmovingandrelocation.com/page.php?service=localshifting
Now look at http://www.abcmovingandrelocation.com/local-home-shifting-in-bangalore
Now if you observe both of these url/links above, the second one looks better and it make some sense, how ever the first one looks odd and does not quite make sense from a visitors perspective. Remember Search Engine Robots can make sense of both the Url and they are going to rank the second one on the top.
Not to mention have a clear cut navigation structure throughout your website will give you better results for your search engine optimization.
Sitemap
Have a sitemap page with proper hierarchy. This helps search engine robots in crawling your website and its going to be handy for your site visitors too.
You may also have a sitemap.xml page, which is mostly used to help search engine robots. There are several free Sitemap generators available, that can be used to generate sitemap.xml files.
There are several other factors but if you can take care of these basics, you are good to proceed further with your SEO process. You can always go and hire a professional SEO Company to help you with Search Engine Optimization projects.
I would like to know what else you think is required to begin the SEO process?