Home shifting is not an easy task, if you don't plan things rightly. A wrong plan will not just destroy your goods by make you financially weak, but might also cause a physical hazard, followed by immense mental stress. But you can plan such a complicated task when you have time in your hands, and are willing to learn some useful tips and tricks to get it right. Just a little bit of planning and proper supervision will help you successfully deal with the packing and moving process. Depending on the distance you need to travel, the number of goods, and the availability of time and resources, you can decide whether you want to hire a packers and movers for relocating to your new home, or you can handle it yourself.
Whether a packer and mover company is handling your home shifting needs, or you are doing it yourself, always be alert and avoid some of the common home shifting mistakes that can land you in a messed up situation. A tiny mistake can also prove to be deadly. Wondering what to do for shifting effortlessly? Well, there are many ways to pack and shift effortlessly.
Home shifting mistakes worth avoiding
But in this post, we'll be discussing about the five major mistakes that you should avoid during home shifting.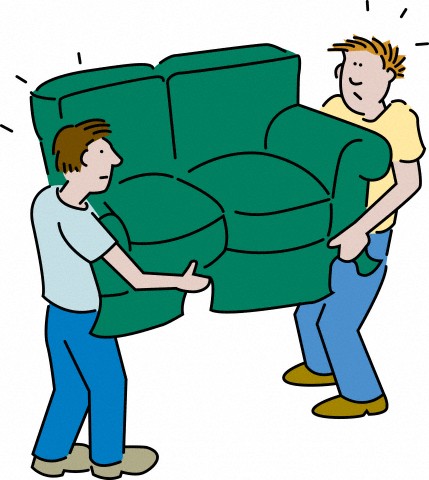 1. Not planning early
While shifting your home, try to keep ample amount of time in hand for planning things out. When you are in a hurry, you will not be able look after each and everything carefully. That's why, its best to utilize the free time in planning before relocation. When you have time in hand, you can plan everything well and move in the right direction step by step. Pre-planning will help you plan well, and if you want to hire a professional packer and mover service, then you'll be able to compare and hire one.
2. Not using good packing material
You cannot afford to pack your household goods and appliances using low graded packing materials, isn't it? Good quality packing materials are needed in order to protect your goods from damages during loading, unloading and the entire travel process. If you are not good at packing and moving, always hire a packer and mover service then. And even if you are using old boxes, make sure those aren't damp, broken, torn or damaged.
3. Mixing and matching
Packing is one of the most important processes of home shifting, which has to be done very properly. Packers and movers companies can handle this part well, but if you are packing your goods yourself, then check this blog on how to pack and move like a professional.
Ideally, you should pack similar items altogether, instead of mixing them up. For example, it's okay to pack all your crockery in one single box using good quality packing paper, or bubble-wraps. But packing steel utensils along with DVD and CDs, that too in one box doesn't make any sense. Hence, pack your goods in such a way that it reaches the destination smoothly, without any damage.
4. Not engaging with reliable movers
Depending on the volume of all household goods and the distance that needs to be traveled, you can decide about hiring a movers and packers company to pack and move your goods. And if you have less loads, then do it yourself. But, if you have decided to hire a packer and mover, then make sure to find the one that's reliable and most efficient in your city. It'll be best if you discuss your requirements with at least three or four companies, and then shortlist anyone of them based on their expertise, rates, charges and other important factors. Comparing three-four packers and movers gives you the freedom to choose the best, and the power to negotiate as well. So, don't commit a mistake by hiring someone blindly without comparing.
5. Ignoring insurance
You never know, while shifting to your new home something worse may happen, that can cause severe damages to your goods. There are certain things that can't be under controlled, that's why, opting for an insurance before relocation would be wise. Insurance is a must especially during shifting your home domestically, or for car transportation. Always buy adequate insurance before moving your goods. If you have hired a movers and packers company, then they can help you buy insurance. But, if you are doing it yourself, then you can directly buy insurance from an insurance company.
Over to you
Home shifting can be done quite effortlessly, if you plan it well. Look around and make a list of all the goods, that has to be packed and moved. Once you have this list, you can take a decision of either doing it yourself, or to hire a professional movers and packers company that can help you out. Once decided, take it easy and schedule everything in such a way that, you get time to manage and supervise everything in the right manner. Do you have any other tips to share? Then please share it with us in the box below.