Getting a comfortable good night's sleep is not easy. But, it is imperative to make us feel lively and energetic throughout the day. Among many other things, a premium-quality mattress can always help you sleep well. As easy as it may seem but buying a top-notch mattress can be quite a tricky task to handle.
But the good news is today's post will familiarize you with everything you need to shop for a mattress smartly and efficiently.
So, without any further ado, let's get started!
Types of Mattresses
Mattresses have evolved into a plethora of variants over time. In fact, mattresses of today are way more advanced and easy to use, each one serving a different purpose entirely. Be it gel-infused foam, anti-allergy fabric, memory foam, latex or of rebounded foam, the list can go on.
Subsequently, these components can be combined and permutated in a hell lot of ways, resulting in the creation of mattresses of varying thickness levels as you are spoilt for a range of options to choose from. Want to know more? Then, here are the four primary mattresses manufactured in India along with their pertinent features.
Spring Mattresses
Kids will surely fall for spring mattresses as they are super comfy and soft and offers a great deal of bounce to their users as well. But, with time the strength of the springs diminishes as the mattress starts sagging along with, needless to say being unexpectedly heavy-weight. Also, the springs will squeak after you use it for a couple of years and this shortcoming may piss you off at times. Again, spring mattresses are available in two individual forms, the first with interconnected springs and the other with separately wrapped springs. Let's break down each of them for you.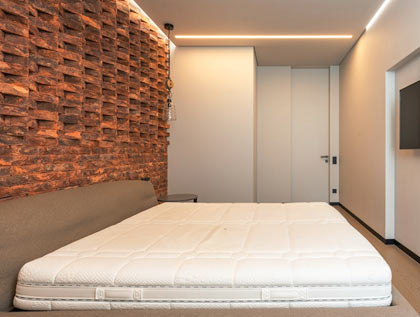 With interconnected springs
As compared to separately wrapped mattresses, these are way more pocket-friendly options to go with. Conventionally, the springs are interconnected as the compression of one part of the mattress is transpired to the other portions of it. So, if you are a fragile sleeper, then try and avoid buying it as with-interconnected springs generally come with dire motion isolation.
Separately wrapped springs
As the name suggests, a spring mattress of this sort generally has separate springs arranged across a grid all along the mattress. Also, the motion isolation is quite good since the springs are wrapped in individual pockets. Consequently, you won't feel disturbed at all even if someone besides you is changing their sleeping position.
Coir Mattresses
Coir mattresses will definitely remind you of your childhood days as these mattresses have been there for a really long time. Primarily made of coconut fibre, they are a great option for those who are more inclined towards buying eco-friendly home décor items. Also, these mattresses are neither overtly bulky, are sturdy enough to last longer teamed up with adequate motion isolation for sure.
Coming to the frailties, they tend to sag in due course and generally have a shorter lifespan as compared to the mattresses of the present time. Nonetheless, you will get them at pocket-friendly prices as you save a couple of bucks down the road.
Natural Latex Mattress
Latex mattresses are predominantly made from the sap of rubber trees, so are often considered an eco-friendly variant to opt for. In fact, they are way better in terms of breathability, firmness and durability as compared to the other mattresses available in the market.
Therefore, individuals facing recurring back pains can shop for a latex mattress for sure, chiefly due to their ability to retain firmness for many years to come. Also, a good deal of motion isolation they come with happens to be the icing on the cake.
And the best part is natural latex mattresses can remain cool all through the summers and the diminutive pin-holes that are made in them at the time of manufacturing ensure adequate air circulation within your living space, rewarding every of your sleeping experiences with this merit.
However, they are a bit on the pricier side and you may have to expend out a lump sum to bring a latex mattress to your home.
Variants of Latex Mattress
As far as Latex Mattress is concerned, it is further divided into two subsequent variants. The first that comes on the list is Talalay whereas the other one includes Dunlop. Coming to the former comes with amazing cooling properties while the latter offers a relatively greater density, firmness as well as durability to all its users. Nonetheless, both the options are super-comfy to go with and the nuances that set them away from each other are pretty negligible.
The disadvantage of Latex Mattress
There is only one disadvantage of choosing latex mattresses over the other mattress variants out there. It is that they are slightly heavy and you may find it somewhat difficult when moving them around.
Key Takeaway!
When buying a latex mattress be sure to select the natural variant and not the artificial one in order to reap the maximum benefits of it.
Memory Foam Mattress
When it comes to memory foam mattresses, they conventionally come with two four different layers of foam, each of them offering a particular thickness level to their users. To get a clearer understanding of it, both the base layer along with its subsequent layers have been broken down for you.
Base Layer
Needless to say, the base layer of a memory foam mattress is perhaps the most crucial of all as it refrains the component from sagging over time aside rendering users with adequate support. Conventionally, it is made of rebonded or high-density foam as you get to see the former in multiple shades in the various online as well as offline storefronts out there.
In general, finely shredded scraps of recycled foam are combined with PU (polyurethane) and subsequently put under high pressure and that's how the rebonded base layers are made. Coming to the elephant in the room, its thickness, it should at least be four inches and not less.
Key Takeaway
Note, greater the density of the foam doesn't necessarily imply the firmness has to be equally intense. It's just that it gives the mattress a longer lifespan, that's all.
Subsequent Layers
In addition, the base layer is further teamed up with relatively thinner foam layers, memory foam and cooling layer being the most notable of all.
Here is what!
Memory Foam Layer
Alternatively called viscoelastic PU foam as well, memory foam is a heat-infused element that continues to soften with the changing temperature of your body.
And the warm and cosy sensation it provides you with happens since the foam imbibes your body's shape every time you sleep in there. Going for the HR foam can be a feasible choice in this matter as it is enormously resilient and is particularly meant for those who are up for a middle layer this time.
Cooling Layer
Next, on the checklist is the cooling layer wherein a wide variety of materials are generally used, while predominantly taking breathable foam or gel-infused foam into consideration.
Conventionally, you will get it in a hell lot of varieties, each brand selling a different form altogether with a different name every time. But, one thing is for sure, no matter the type of foam you choose, it's definitely going to keep you cool all through the summers and there is no doubt about it.
So, if you reside somewhere with a cooler climatic pattern and looking for a mattress with adequate motion isolation, then a memory foam mattress is what you must get your hands on.
And on top of everything this type of mattress lets you relish the comfiest sleeping spree every time you slumber in there.
The worry of off-glassing
One of the major drawbacks of foam mattresses is that they come with an inexplicable off-glassing issue. You will be able to feel that via a typical chemical-like smell as soon as you unpack your mattress.
So, if you are sensitive to smell, avoid buying them as a few of these foul odours can lead to headaches and even allergic reactions in some individuals. But if you are not, then be ready to encounter this problem for the time being that may continue for days, weeks and even months.
To the best of suggestions, keep your windows wide open within this period of time so that the stinks of these gases cannot stay in your residence for a long while. In this matter, it is pertinent to mention that mattresses that are manufactured in adherence to the OEKO-TX standard 100 are the finest option to go with as such products come with a minimal off-glassing thing for all their users.
Things to look for when buying foam mattresses
You must look for certain things when buying foam mattresses including:
Layer Thickness
When it comes to layer thickness, opting for a thick single-layered foam comprised of several properties is the best option. In fact, a thickness of this sort supersedes all the other multi-layered foams, be it in terms of firmness, durability or strength.
However, thicker foam layers happen to be way costlier at the time they are transported. So, in order to save a couple of bucks extra, what manufacturers do is that they stack multiple layers of the same foam variant one after the other and transpire them to the intended destination accordingly.
A Lot of Layers
Perhaps the most crucial factor to consider when looking for foam mattresses, make sure they are not unreasonably integrated with a lot of layers. To be more precise, there is no point in splurging on additional layers for your mattress as the first three layers are considered the most imperative for this component and nothing apart from that.
Key Takeaway!
Note, a four-layered one-inch foam stacked on top of each other is something strikingly different from that of a single four-inch foam. So, do give this point a thought for sure when seeking the foam mattress of your desire.
Orthopaedic Mattress
To be more specific, Orthopaedic Mattress is an umbrella term that manufacturers generally use to evince the effectiveness they have in appeasing back pain. They can be in the form of any type of mattress out there, be it latex, spring, foam or coir.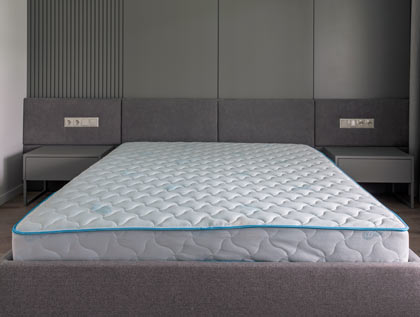 The only difference is that their firmness is a little more as compared to the other mattresses in the market. Conventionally, this sort of mattress renders users with pressure relief at the shoulder joints and hip while ensuring improved spinal alignment down the road.
However, the level of firmness you can expect largely depends on the type of orthopaedic mattress you choose and the brand you go with. Therefore, it's best to try and test them out at the store itself before you make a final deal.
Some other popular mattress types
Apart from the mattresses mentioned above, there are a few other mattresses that you will find either online or offline, depending on the exorbitant price points they are available at or the individual purpose each of them caters to. These include:
Water beds or water mattresses
These types of mattresses are meant for patients ailing with bedsores. The only shortcoming is that they are susceptible to frequent leakages and you may find it a bit difficult while handle them.
The air mattress
This can be customized to a variety of firmness levels as per the tailored needs of customers. Subsequently, you will find a motor attached to it that ascertains the desired pressure all through one's sleeping spree. But they are too expensive to shop for, hence most people avoid zeroing in on them.
Important things to remember when buying a mattress
As already said that buying a mattress can be more like looking for a needle in a haystack if not less. So, before you start looking for the mattress variant of your choice, it's always good to take the below-mentioned factors into consideration.
Warranty
Generally, a first-rate mattress would come with a minimal warranty of 10 years irrespective of the brand or type you select.
Trial Period
A lot of brands in fact offer a certain trial period to their customers where you have the liberty to return the mattress in case it's not serving you the desired purpose. Consequently, you will get instant cashback too, which is a great advantage.
The popularity of the brand
When it comes to selecting a brand, reputed gamers may not always be the best fit for you. Ask why? Because in spite of them selling outstanding mattresses in the market, some of the outputs may prove to be a bit lousy. Needless to say at the cost of an arm and a leg. So, it's always better to go with moderately eminent companies or for that matter online storefronts as the latter offers way better value for money, a lot of them even rendering customers with great discount offers.
Weather
If you reside somewhere exposed to tropical climatic conditions, go for mattresses induced with adequate air circulation and firmness. However, if the region's temperature seems to go down every now and again, then it's conducive to select a memory foam mattress as such a variant would let you remain clung to it entirely, making you feel utterly cosy and comfy every time you sleep in there.
Load-Bearing Capacity
No matter the type of mattress you zero in on, it will clearly specify the extent to which it can endure a person's body weight in total. In this matter, it is pertinent to mention that mattresses having greater thickness are meant for individuals who are a little on the heavier side, offering them the desired support they have been looking for.
Edge Support
If you shop for a mattress that has viable edge support then be assured that comfort is right at your fingertips. Consequently, you can snooze or nap on the edge whenever you feel like and you don't even have to roll off the bed for that. In fact, mattresses of this sort are best suited for those who have young kids, and share the same bed with them and their spouses.
Motion Isolation
The more motion isolation in a mattress, the better it is as this aspect refrains a person from feeling disturbed when someone else is turning on the bed. So, in case you or your spouse tend to fidget a lot whilst sleeping, then a mattress with adequate motion isolation is what you should look for.
Sleep Position
As your sleep position changes, the body's pressure distribution over the mattress will vary along with. So, factoring in this point is really imperative when it comes to picking the ideal mattress for your bed.
Say, for instance, side sleepers must go for a softer variant to ensure adequate pressure relief on the shoulders and hips whereas a sturdy mattress is more conducive for gut sleepers as it lifts up the hip in tandem with the shoulders. On the other end, if you are a back sleeper, then a mattress option offering a moderate level of firmness will do the good.
Mattress Firmness
Undoubtedly the most important factor to ponder over, how firm your mattress is can play a crucial role when it comes to rendering you with adequate support. In fact, the firmer the mattress, the better the spinal alignment and backup will be. In this matter, it's always good to go with the sturdier options as compared to the slenderer ones as the former comes with a greater deal of firmness, ensuring the desired support you need to sleep as comfortably as possible.
By any chance if a sag comes in between, it can lead to severe back pain in you and that's for sure. Coming to the measurement part, the firmness of a mattress is generally evaluated in ILD (Indentation Load Deflection), nevertheless, brands rely on a 10-point scale to get customers a clearer understanding.
So, if back pain problems are what you are encountering, consider buying a firm mattress which necessarily doesn't indicate a hard mattress as the latter may cause immense pain when set at certain pressure points, subsequently inflicting your health to a great extent.
Top 5 Mattresses in India under Rs.30,000
At present, the market of India is loaded with tens and thousands of mattress variants and it's no wonder. To aid you in making an informed decision, here is a checklist of the top 5 mattresses in India along with their individual price points.
SleepyCat Ultima
If you are having to live amidst hot weather, then this mattress must definitely be on your bucket list. It comes with a CoolTEC external fabric that keeps the outside atmosphere four degrees cooler as compared to your actual body temperature.
Foam is the chief material using which the SleepyCat Ultima has been made, particularly the open-cell memory foam, the latter being way more breathable, unlike the conventional memory foam.
Coming to its CoolTEC fabric, predominantly comprises a cold yarn, a component meant to absorb heat from inside, while retaining a coolness of 4 degrees for the entire day. Not only that but the anti-skid-oriented property it comes with gets this product an edge over the rest of the mattress variants in the market.
Aside from that, you will also find a yellow zipper within, too cute to be adored. In addition, the side walls of this mattress are composed of linen, adding on to its eye-appealing factor even more.
Pros
Luxurious and Comfortable
Keeps the room temperature cool up to 4 degrees
Machine washable and removable external cover
Warranty of 10 years to the minimum
Cons
The external cover gets dirty easily
Price: Rs.20,799 onwards
Flo-Anti Gravity
An amazing combination of foam and latex, investing in Flo-Anti Gravity will surely be worth it. And as far as its features are concerned, they are simply outstanding. Just the way the side walls are made of a 3D mesh fabric, this mattress also comes with a pin core latex structure, the former known to retain adequate air circulation throughout the entire day while the latter focuses more on the cooling and comfort part.
Subsequently, the outer cover of this mattress is made from cotton that is primarily charcoal-infused meant to keep allergens and bacteria at bay. Also, you can remove the external cover as and when needed since it has a zipper to it, a component totally machine washable.
In addition, it comes with an anti-skid-oriented property as well that prevents any sort of sliding for the users. On top of everything, the mix of blue and white gets the Flo-Anti Gravity an enviably cool look as compared to the other mattresses in the market.
Pros
Doesn't get easily dirty
Doesn't produce body heat even during peak summers
Assures a minimal warranty of 10 years and not less
Features an outer cover teamed up with a super-cute zipper
Displays an amazing zero partner disturbance technology
Either side can be used for sleeping
Comes with a pin-core latex structure
Cons
The delivery of the product may take a little longer time
Price: Rs.16,112 onwards
Wakeup Luxuriate
If a pocket spring mattress is more your thing, then Wakeup Luxuriate won't let you down. Again, it's a super-duper combination of foam and pocket springs, adding to the immense demand for this product in the market.
Aside from that, it features a side wall that seems utterly pleasing to the eyes. In addition, you will find a non-removable outer cover within, solely made of anti-bacterial cotton, a feature that stands out for being downright breathable.
Most importantly, it gives off a typical 5-star mattress-like look and feels for its users and there is no doubt about it. And the good news is, you can customize this mattress variant as per the size of your bed, simply put a sturdy mattress protector on it and you are all good to go.
Pros
A totally noiseless mattress
Offers a warranty period of 10 years at the least
Provides users with a zero-partner disturbance technology
Doesn't produce any heat even during peak summers
Extremely responsive and bouncy
Expect a 5-star hotel-like impression
Cons
The external cover easily gets dirty if a premium mattress protector is not put on it
Price: Rs.24,743 onwards
The Sleep Company SmartGrid Ortho
Are you feeling intense pain in certain parts of your body and back? If you say yes, then the Sleep Company SmartGrid Ortho is just the right fit for you. Even if you don't have such pain-related issues, you still can bring this product to your home, as you expect an utterly comfy and luxurious sleeping experience every single night.
Let's shed light on its notable features now. It is made of an exclusively sturdy material resembling memory foam. However, the component is totally non-toxic so will not at all produce any heat even during the hottest summer days, letting users enjoy the comfiest slumbers ever.
More often than not, manufacturers call it the SmartGrid material primarily for being designed in the format of multiple grids. Aside from that, the product also comes with a non-removable outer cover that is totally knitted of cotton fabric, weighing 550 GSM to the minimum.
Furthermore, you will find about 2500 airflow channels in this mattress variant and it's surely the icing on the cake. Consequently, you can expect a better deal of air circulation that ultimately leads to reduced heating.
Coming to its colour, you will generally get the SmartGrid Ortho mattress in two individual shades, grey and white, so you can pick the one that best complements your décor.
Pros
Offers an outstanding motion isolation technology
First-rate look and feel
A minimum warranty of 10 years
Will not produce any body heat at all
The grey variant doesn't get easily dirty
Appeases back pain
Made of food-grade material
Price: Rs.20,230 onwards
Durfi Original Mattress
Primarily made of cotton candy ''memory foam'', the Durfi Original Mattress is definitely a cost-efficient option to consider. Since the material is totally Certi-PUR-US certified, it would certainly keep all kinds of toxic chemicals at bay, letting you experience a comfy and euphoric sleep every time.
As compared to the conventional memory foam, the one infused with cotton candy is way better in terms of ensuring adequate air circulation as well as comfort so that you remain cool even when peak summers are there.
Again, like the Wakeup mattress variant, Durfi also offers custom options to their consumers and you too have the liberty to personalize your product as per the measurement of your living space.
And the way it is comprised of a 400 GSM non-removable external cover made totally of a breathable fabric teamed up with an anti-skid-oriented property is enough to make this product the need of the hour.
Search online a bit and you will see that the base surface is white in colour while the upper surface is grey as the former gets easily dirty unlike the latter.
So, to the best of suggestions, try and find out an option that is all-in-all grey to avoid frequenting dirt and filth. Last but not the least, the Durfi mattress astonishingly showcases an elegant look and feel that you will surely fall for.
Pros:
Elegant look and feel
Made of cotton candy memory foam that is Certi-PUR US Certified
Doesn't get hot even during peak summers
Doesn't get dirty easily
Available in a zero-partner disturbance technology
A minimal warranty of 10 years
Totally hypoallergenic, so can preclude infestations of bedbugs and dust mites effectively
Prevents sliding chiefly due to its anti-skid-oriented property
Cons:
In many cases, the designed textures may jut out should you fail to use a sturdy mattress protector or bedsheet on it.
Price: Rs.19,678 onwards
Dos and Don'ts while Maintaining a mattress
There are certain things that you should and shouldn't do while taking care of your mattress. Consider adhering to these instructions.
Dos
In case you have a reversible mattress, make sure you rotate and subsequently flip it as per what is specified in the manual
While lifting your mattress, you must certainly hold its bottom that too without a miss
Use the mattress solely for the purpose of relaxing and sleeping and nothing else apart from that
Make sure you are imperatively sleeping on a dry mattress
To make the most of the warranty period, preserving the MRP label of your mattress is of tantamount importance
While using a mattress, doing it in a flat condition would do the good
Always keep your mattress in a dry condition in order to reap its maximum benefits
Try and keep the mattress away from smoke as much as possible
If a long-lasting mattress is what you are up to, then putting a sturdy mattress protector on it would be a conducive idea
So, as you continue implementing these precautionary measures back-to-back, it will reward you with an utterly sturdy, durable and comfy mattress and be assured about that.
If cleaning is needed, make sure to use professional mattress cleaning services instead of trying to clean it on your own.
Don'ts
Avoid using a reversible mattress solely on a single side of it
Don't always bead the mattress while lifting it up
Avoid frequently ironing or keeping a hot substance over the mattress
Try not to use the mattress in case it seems somewhat smelly or moist
Never ever remove the MRP label from your mattress for sure
Avoid folding the mattress at all costs
Evade pouring any sort of liquid over your mattress
Sitting and jumping on the edges of the mattress would be the last thing you must do
Smoking on the bed can prove to be detrimental, so, don't do that
Avoid using your mattress without a premium mattress protector
Try and avoid keeping the mattress in an uneven position as much as possible
Note, the abovementioned pointers are meant to prevent you from any kind of unwanted accidents and mishaps pertaining to your favourite mattress. So, try and comply with them strictly as you expect to use a mattress smartly and efficiently, subsequently getting some of the finest sleeping experiences in return.
Get hold of your dream mattress!
As matter of fact, buying a mattress is no easy task. But if you are studded with the right information and guidance, making an informed decision will just be a matter of minutes. So, make sure you read through the post above as and when needed, skim through each section carefully and at the end purchase a mattress that caters to your unique sleeping needs in the best way possible.
Good Luck!