Valentine's Day is on Tuesday 14th February 2012 and there could be no special day than this for a couple or for those who are in love. I don't wait for any special day to express my love and I am sure for most of you it is true, but then valentine's day is really-really very special and it's a day for those who are in love.
For those who want to express their special love to their spouse, Valentine's Day is one of the best occasions. How about adjusting the Interior designs of your bedroom and decorate it to make it look just perfect for the Valentine's Day? Give it try to awaken your passion for love.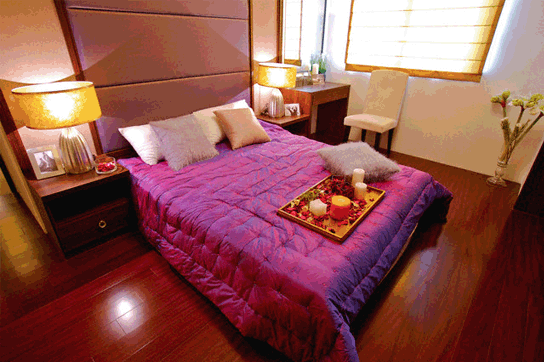 First thing first, you have to select a perfect color for this lovely occasion. For couples, combination of Pink, Red and any lighter color like white or off white or a lighter golden color works well.
Pink Color to bring that sense of feminine, red is to show that passion and love and the other white or light golden shade is to bring that ambience and balance the first two primary colors. Now just visualize it in your bedroom and see how and where what color you would love to use. Whatever color you select, make sure to not over-use that.
Use lighter color (the third color that you have selected) bed sheet, pillow covers, curtains etc followed by a few nice red colored heart shaped cushions. You may like to spread some flowers or may be make a heart shape using flowers on the bed itself. But remember to not make it too crowded or look busy.
Make these small changes in the Interior Design of your bedroom to decorate it perfectly for the Valentine's Day.
You may also like to put some pink and red colored flowers in the flower pots, light some nice candles, spray room fresheners for a great aroma and so on. Most importantly since you know your spouse better, try different things based on the likes and dislikes of your spouse. I wish you a Happy Valentine's Day.