Often we rely on the expertise suggestions of professional Interior Designers and Decorators to decorate our home or office and there is nothing wrong in doing so. After all they are the professional and have gone through extensive training and have done several design so enough experience and one should take their suggestions and feedback for great designs.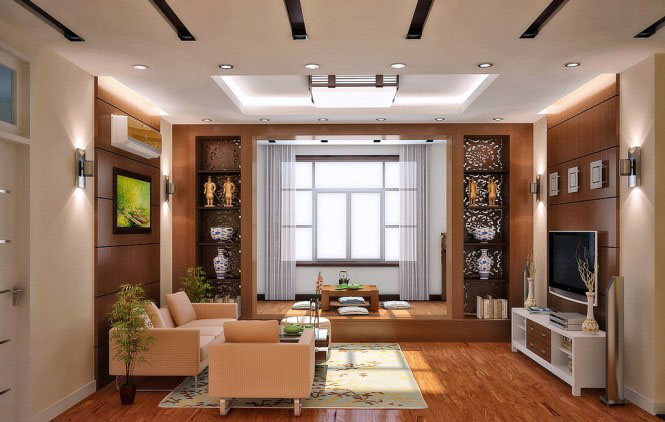 But lets see the other side. When it comes to your home, you will be living there and probably you know your own taste better than anyone else. How many of us wear designer clothes designed by the reputed fashion designers? After looking at a designer wear have you ever felt that you won't wear those clothes, even if you know that it's designed by a famous designer? I have felt like that at several occasions. Anyway, the point what  I am trying to make is, you can do the interior designing yourself without hiring Interior Decorators, just follow certain thumb rules. I am not convincing you for not hiring Interior Decorators, but at times you might feel like doing it yourself without hiring an Interior Decorator. Listed below are a few of the tips to help you improve the interior decoration of your home.
Budget
First of all allocate and fix a budget. Some one have said "for decoration of your home or wife, no matter what kind of budget you allocate, there is always a chance of improvement". So having a budget is very important
Set your Expectations
You must have a clear idea of your own expectations. No matter from where you have taken inspiration, a friends home or a magazine or from an interior decorator, make sure you know what you want and whether it fits your taste well or not. After all we don't do renovation every now and then.
Select Colors and Shades
Choose colors shades carefully. While choosing colors, make sure you visualize it in day and night. There are some color that looks great during day, but not at night. You may look at several magazines and other references for color ideas.
Know your floor and its structure
This is very important. You must understand that something, which was looking good in 10X10 room, may not look good in 20X20 room. Something that looked good in a square floor may not look good in a diagonal shape floor. So while visualizing your designs, consider thinking about these things.
Furniture and Accessories
Remember each of the elements like sofa, tables, flowerpots; curtains etc together make a perfect room. So pay attention to detail and finalize these elements carefully. Now when you have already worked or working on above, its time to consult your friends and spouse. A creative idea could come from anywhere, so take input, discuss and finally get going. In case you wish to hire a consultant Interior Designer then don't hesitate; it will further enhance your overall renovation plan. After all who can guide you better than a professional interior decorator.
Over to you
Should you or should you not hire a professional when you want to decorate or renovate your home? If such a question arises, don't get confused, do what you feel is the best. Certainly, both options present a series of advantages and disadvantages. If you decide to do everything yourself you get to save some money, but if you hire a professional everything will be easier and you'll even learn a thing or two. You can definitely use the above tips to decorate your home professionally, but you must also agree to the fact that hiring a professional is worth it.
image credit: home-designing.com