Interior Designers in Mumbai for Residence and Offices
Compare rates and offers from leading interior designers in Mumbai for residence and offices and save up to 30% on overall interior designing costs.
Call 07044123404 for a free consultation and to receive estimates now!
Are you looking for the best interior designers in Mumbai for residential or commercial interior designing projects? Are you wondering about the rates and charges of interior designers in Mumbai and wondering if there are better ways to get the most accurate estimate and budgets for residential or commercial interior projects? Well, we can help you.
We have on boarded some of the best and leading interior designers and turnkey interior contractors in Mumbai who have years of experience in designing and decorating residential and commercial properties.
We understand the importance of an experienced and friendly interior designer. We know how difficult it is to find a reliable and cost effective interior contractor in Mumbai, especially when you have no information about their past work, experience, and most importantly their rates and charges.
There are hundreds of independent interior contractors in Mumbai and choosing one among them for your project is not going to be an easy task. Obviously, you can't pick an interior contractor randomly, because that may be disastrous for the end result.
The hassle free way to find the best interior designer in Mumbai
Interior designing is a service, and there are no fixed rates for these services. Different interior contractors charge differently and produce different quality based on their experiences and expertise and hence it's seriously important to work with the most reliable and competent interior designers to get the best end results.
The best way to find a reliable and trustworthy interior contractor in Mumbai is to speak with two or three reputed interior contractors.
Ask them to do a free site survey and submit a detailed report. When you meet the contractors you get to evaluate them to a good extent. You can also ask for the portfolio and references of their past work. Now it will be much easier for you to evaluate them based on their past work, experience, site survey report and quotation.
Interior designers play a very important role and going wrong with the interior contractor you choose to work with, could turn out to be a disastrous decision and I am sure you don't want that.
And that's where we can help you.
We help you get matched with three leading interior contractors who are available and ready to help you. They will be happy to schedule a free site visit and give you tentative estimates for the entire project based on your requirements.
So just tell us your interior designing requirements by submitting the quote request form. Briefly describe the major functional requirements like false ceiling, wardrobes, TV unit, shoe rack, foyers etc. When you share the brief of your requirements and tentative budget that you may have set for the project, we match you with the most relevant interior contractor that may best suit your interior designing needs.
Your requirements will be sent to the contractors, who will call you back and schedule free site visit as per your convenience. They will also bring the digital portfolio of their past work and give you enough idea of the possibility, costs and timeline to finish the project.
Once you have met with all three of them, you will have enough of information that will help you to evaluate them based on their work, charges, and ideas that they have presented to you.
Once you are ready and satisfied with everything, you can hire the interior designer that you think best suits your need and work independently with them. Not only it saves your time, but it also gives you different perspective and helps you save money, because the service providers are going to be competitive with their estimates. They know they have to outbid the other two contractors to win the project. It's a win/win for both the parties, you get the contractor and interior professional get the work.
Hire interior contractors in Mumbai for residential and commercial projects
There is no shortage of interior designers in Mumbai, but there are many contractors who specialize in residential projects and there are others who only work on commercial interior designing projects in Mumbai and suburban Mumbai. Now the biggest challenge is to find the contractor who best suits your need. If you want a turnkey interior contractor for residential projects like independent house, flat, duplex or a bungalow, you ought to approach residential contractor and vice-versa.
Interior designing is a very subjective service. One fit all approach mostly won't work here because every customer has their own unique requirements. They have different kind of constraint including space, time, budget etc. You may only be interested in design consultancy or you may like to award the work to an interior designer on turnkey basis. You see, the moment your requirement changes, the suitability of an interior designer changes as well.
Not every interior designing agency in Mumbai offer design consultancy, there are many interior contractors who work on end-to-end turnkey projects only. There are many who work only on projects with certain budget like above 10L.
Finding the right match is really a bit tricky. With our advance technology and expertise, we rightly match you with the interior designers who may best suit your needs for free. All it takes is submitting the free quotes estimates form (the right hand side of this page) and you'll be on your way to find the best interior designer in Mumbai for all types of interior designing projects according to your budget.
We connect you with the leading interior designers in Mumbai according to your specific interior designing needs and budget. Whether you need help with just 3D drawing or you are want to award your residential or commercial interior project on turnkey basis, we'll match you with the top rated interior designers and decorators according to your needs and budget.
We have enlisted interior designers from all across Mumbai, Thane, Navi Mumbai and Kalyan. So whichever geography you are in, if you are looking for the best interior designers in Mumbai, Navi Mumbai, Thane or Kalyan, you can count on us.
So what are you waiting for? Get started by posting your needs or call us on 07044123404 if you have a question or need any help. We are well connected to all our users via live chat and email. Our main objective is to provide you services at best possible rates. You can contact us anytime, and we will be more than happy to help you.
FAQ on Interior design services in Mumbai
Finding and interior designer in Mumbai for residence or office is not so straight forward. We interact with hundreds of users like you every month and get to hear number of questions regarding the rates, process, various option, and list of top interior companies in Mumbai and so on. Obviously, you design and decorate your home for next 10 years and it involves lots of efforts, time and money. No one should take any chance in hiring interior contractors.
Based on our interaction with hundreds of customers, we have tried to answer some of the most frequently asked questions. Listed below are the most frequently asked question and answers on interior design services in Mumbai:
How much do interior designers in Mumbai charge for residential projects?
Rates and charges of interior designers in Mumbai, Navi Mumbai or any other city in India or abroad are not fixed. There interior designers may offer you various workable pricing models depending on the size of the projects. Some of the interior contractor offers flat design consulting fee + Labor charges and other may offer all inclusive quotes that include design fees, supervision and cost of materials.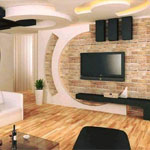 If you want to get a ballpark figure on rates and charges of interior designers in India, then the best thing to do is to ask for free quotations. You can get free quotation from leading interior designers in Mumbai by submitting the quote request form, right here on this platform.
We have published a detailed post on various pricing models, you may like to read this post for further guidance: how does an interior designer charge their clients in India?
What to look for in the agreement when hiring interior designers in Mumbai?
Hiring interior designers for residential and commercial interior services on turnkey basis is probably the best thing to do. Its saves you time, and the interior designer you are working with will be accountable for everything as per the agreement.
But what you should look for in the agreement?
There are many things that you should notice including
The warranty of work - Are you getting any minimum warranty of craftsmanship e.g. 12 months, 24 months?
Transparency - Overall time to complete the project, brands or range of products that will be used. There are laminates and plywood of various ranges, knowing which brand or equivalent will be used will help you.
Changes accommodation - Since it involves 2D and 3D drawings and designs, how much iteration will be entertained by the contractor? Some time, they give up after a couple of alterations in design and that could be crucial. You need a few layouts to judge which one looks and works better for you.
Price variance - Sometimes, the interior gives lame excuse like scarcity of products that leads to increase in price, clearly put these terms in the agreement.
Payment terms - this is seriously important, so clearly ensure that the quote you have got is all inclusive and if not, then what is not covered in the cost. Also agree on payment in cheque and avoid cash as much as you can.
Try to get in as detail as possible. Putting everything clearly in the agreement will help avoid any dispute as you move forward with the interior contractors in Mumbai.
What is the difference between turnkey interior and interior consulting projects?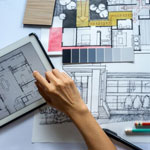 One of the biggest concerns for any customer hiring interior designer is the cost and trust on contractor. Everyone wants to ensure that they get value of every penny they are spending on their interior designing projects. To ease it out, interior designers offers two options for engagement. First being turnkey solution, which means the interior designer will quote you a flat fee that includes design, consultancy, supervision, materials, labor and everything else. They will take care of the entire project from end to end and ensure you get the best. They will create designs, source materials, execute and finish the project. Best thing about turnkey project is that they interior designer will be accountable for everything, and you don't have to spend time buying play wood, nails, adhesive and door handles.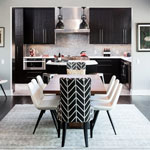 The other option is to engage the interior designer as a consultant and you get the work done on your own from different contractors. The interior designer will do the site visit, create workable sketches and designs and specification that you can take to your contractor for implementation. Here's you get the freedom to choose the make and model and quality of materials on your won and work is also done by your own carpenter. Since design is the key thing, you pay a flat fee to the firm as their consulting fees which may be anywhere between Rs. 30K to 100K, depending on the experience of the agency and scope of work.
How long it may take to finish a standard 3 BHK residential interior project in Mumbai?
If you are currently staying in a rented apartment and waiting for your project to get completed then timeline to finish the project is seriously important. Usually a standard 3 BHK project when goes according to plan, without much changes can be finished in 60-75 days. But since there are number of people like carpenter, plumber, electrician, painter etc who are going to work on the project delays for a week or two is not uncommon.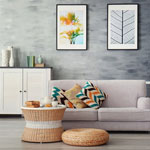 When choosing interior designer for your residence or office, you should clearly discuss the time to completion. Delay of a week or so is acceptable, but extended delays can become a costly affair. The delay of a month may cost you Rs. 20K or 30K, depending on the rent of your current accommodation. You can spend that amount in buying two geyser set for both your bathroom, no?
How to know if the potential interior designer is capable enough to execute the project?
This is a very relevant and important question because you have to ensure that you are getting the best for the price you are paying. After all, we are talking about a project that involves lots of money, time and efforts and there are emotions attached to it. Before awarding the project to the Mumbai interior designer, you should be sure of their experience and quality of work. In this digital world, it's very easy to fake the photographs and hence the best is to ask the interior designer to take you to one of their site that they are working on.
When you see the finished or nearly finished project physically, you get much better idea of the capability and expertise of the potential interior designer you are planning to work with. You can also ask for references of their past customers, understand their process and work flow and then you will be able to judge them much effectively.
Apart from visiting the site, you should also check their digital profile and ask for random documents like the copies of 2D elevation of a project that they have finished. If they have done the work, they will be able to show you all copies of 2D/3D elevation and designs. When you get these design sets, you can actually distinguish between the design and the finished product. This is a very smart hack and one should apply this when evaluating potential interior designer in Mumbai or elsewhere.
What do I get if I hire the interior designers in Mumbai just for design consultancy?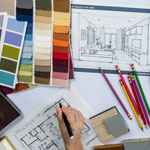 As you know, the Mumbai interior designers can be hired on consultancy basis for residential and commercial interior designing projects. In such engagements, the interior designers will do a couple if site visit for measurement and drafting the functional layout. Sometimes the layout designed by developer is not exactly the same and some variations may occur during construction.
After measuring and drafting the functional layout, the interior designers will create a design elevation document. This is basically an sketch of what will be placed where, this should give you the idea of the size and placement of objects like wardrobes, TV unit, seat out area, dining area etc.
Then comes the 2D layout, from this stage the design will start appearing. Then they will do the 3D modeling which will give you the full idea of how it's going to look after completion. The 3D modeling will show you everything from the colours of the wall to furniture, lights and everything else and this should be used for final execution.
Apart from all these documents, the interior designers will also present the specification with measurement and layout of the furniture that is to be used by carpenters. They will also offer electrical and false ceiling layouts/measurements which will be used by electrician and false ceiling contractor.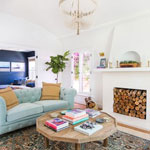 The interior designers may also offer site supervision if you require. This will help you ensure that everything work is being executed as per the specification given by the professional interior designer. This is more or less what you should expect from the Mumbai interior designers when you hire them for design consultancy and supervision.
What are the main benefits of hiring interior designers in Mumbai over directly working with a local carpenter?
Over 70% of interior work is related to carpentry e.g. bed, cupboards, Tv cabinets, kitchen cabinets and storage units, foyers, shoe rack, partition, dining table and chair etc. Obviously one can hire a carpenter and get it all done. So why hire an interior designer?
There are many who think on this line. But let me tell you that the interior designers add much more value. Some of the main benefits of hiring Mumbai interior designers are listed below.
Proper space planning - we are forced to leave in smaller home these days and wasting space will be a terrible idea. Interior consultants can help you get best of the available space by proper space planning.
Innovative design ideas for furniture and other elements - be it a simple partition or designing the temple room or TV cabinet, they'll come-up with several design ideas, as per the space and functional needs of the client.
Design escalation - 2D sketches, 3D modeling etc helps you understand how the end product is going to look. This is very important because after the initial work, if you don't like the end product, then that's a loss.
Color-coordination - they can mix and match color and patterns in such a way that everything will look much better.
Procurement and execution - The interior consultant can procure materials at much better rates than a normal retail customer. They know the vendors and executors well and they can manage everything much efficiently.
And if you think that carpenters are going to be cheaper, think again.
Which is the best interior design company in Mumbai?
We often receive calls from customers who are simply looking for the references of a few of the best interior design company in Mumbai. But you know what; this question itself is too generic, because what is best for Salman Khan may not be the best for me. I may have my own limitation in sense of the overall size of the project, my budget and my functional needs.
Instead of searching for the best, one should look for the interior companies who match your need. Look for an agency who are willing to work on projects like your and in budget specified by you. And if you have similar question, I strongly recommend you speak with a couple of different companies who you think have the experience in working on projects like yours.
Can I hire Interior designers to renovate an existing home?
We receive a lot of query about renovating a washroom or kitchen. But the fact is, Interior designing and home renovation are two different tasks. Interior designers usually prefer to work on new interior designing project which includes interior designing for new flat, home, office, shop, institution etc. Sometimes, interior designers also undertake renovation work like renovating the entire flat from wall tiles to floor tiles and all.
But if you are planning to renovate a just a washroom or replace tiles in the kitchen, then you should contact a home and office renovation contractor. Because interior designers won't take on small renovation project because most of them have a minimum budget constraints. Working on small renovation project like changing tiles and bathroom fitting won't be feasible for them.
How to find good interior designer in Mumbai?
We live in a digital world, where technology comes in to play in nearly everything we do. Be it finding an interior designer, or shopping for the home furnishing projects. But as the interior designers and consultants have a very crucial and serious role in shaping up your project, you got to be very sure about hiring an agency or any interior consultant.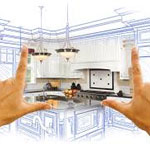 Ideally, you should look at the portfolio of the contractor. Ask for references of the clients that they have worked with; clearly check if they have a sound team to execute the project on time. When answer to all of these questions is satisfactory, evaluate them based on their proposal for the project.
That's the approach we have here on our platform. We connect you to independent contractors who meet you with their portfolio, share references and submit competitive quotation for both residential and commercial interior projects. The no obligation quotes covers everything that will help you take right decision about hiring the turnkey interior contractor in Mumbai at best price.
Can you help me hire interior designers in suburban Mumbai?
Yes. We have handpicked the most competent and professional interior designers in Mumbai, Interior designers in Kandivali, Interior designers in Goregaon, Interior contractors in Vashi, Navi Mumbai and other suburbs of Mumbai. The interior contactors of Mumbai cover all of the localities in and around Mumbai, Thane and Navi Mumbai.
Whether it's for an independent house, newly purchased flat, duplex or commercial property, if you are looking to get free estimates and offers from the leading interior designing firms, then feel free to use this platform. The services are fast, easy and completely free for you.
Have any other query or concern? Call us on 07044123404 and speak with an interior expert now.