Are you wondering how to design the interior of your flat or apartment? Don't be tensed, its not that difficult at all. All you need is just utilise your creativity, be a bit dedicated towards the project, and you'll see that you have easily design and decorate your flat or apartment's interior. You just need to plan it right before implementing, or starting the designing project.
Tips to get interior of your flat and apartments right
Here are some good and easy ways to help you design the interior of your flat or apartment. Just follow the tips carefully, and you'll see that your flat or apartment has turned into a mesmerizing palace. If you follow these tips, you wouldn't even need to hire a expert interior designer.
1. Create a Floor Layout of your flat
The most important part of any interior designing project is its floor plan. You must have a clear idea about your flat's rooms, that's why a floor plan is much needed. This type of a plan includes the dimension and location of the rooms, placement of its windows, main door, switchboards and etc. The floor and room layout, will really help you a lot in planning rest of the designs of the rooms, in your flat. For example, if you want to hang a painting in front of your bed, you should have a clear measurement of that area, so that, it can fit or accommodate in the space that exists.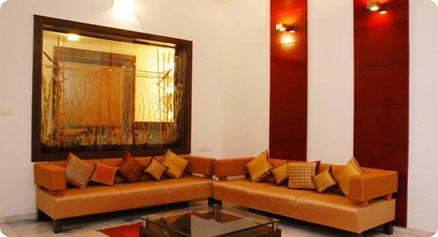 2. Choose a theme or Design for the flat
The entire task of designing revolves around a single thing, and that is, the theme. So, first choose the desired theme for each of your rooms, and then start decorating it accordingly. Read interior designing magazines, or take input from your friends and family members. Or else you can also seek help from a professional interior expert. They can surely help you to finalize themes as per your lifestyle and personality. And always finalize themes according to your taste, likings and dislikings because, ultimately its you who will stay in the flat.
3. Finalize Colour Shades
After deciding the theme for your design, its now time to select your favourite colour. Before you start painting your walls, always select a base colour, and a couple of secondary colours too for creating patterns, borders and etc. And also remember to choose the colours according to the themes, which you have selected.
4. Select Fabrics for your flat
Now, you will have to choose the right and matching fabrics for curtains, sofa covers, cushions covers and etc. It's best if you select the colour of the fabrics, according to the secondary and base colours that you have selected earlier. Or else, you can even mix and match. Do whatever you like, but try to keep everything balanced, to make it look magical.
5. Decorative Elements for your flat
After doing the basics of interior designing, think about the decorating part. Buy some good decorative elements such as Paintings, lamps, flower pots, decals and etc. You may also use the older decorative items, which you currently own. And if you are buying new ones, try buying things which suits the room's themes.
Over to you
Hope you'll apply the mentioned tips while you are designing or decorating your flat or apartment. But if you feel that you can't take this hectic task on your shoulders, then hire an interior designer. You won't design your home every now and then, will you? No, right? Then do not hesitate to consult a professional interior designer. They can help you give your home a completely different and fresh makeover. They are the masters, so its obvious that they'll create master-pieces.
What do you think about these tips? If you have any more suggestions, then let us know by posting it in the comment box.