Handyman services can be of great use for small repair and maintenance jobs at your home or workplace. Gone are the days when you had to rely on local plumbers and electricians to replace a kitchen sink or install an AC in your bedroom. Time has changed and today you can find a number of professionally managed home repair and maintenance companies who offer handyman services for home repair and maintenance services.
Today you can book handyman services from professionally managed facility management companies who have skilled technicians (e.g. plumbers, carpenters and electricians) and they are well equipped to offer wide range of home improvement and repairing services. Well if you are from an engineering background and consider yourself to be dexterous enough to do repairing work on your own, you might reconsider hiring a professional handyman service provider. But on second thought you can save your precious time and effort by hiring an adept handyman technician who are experienced, skilled and know how to get it right.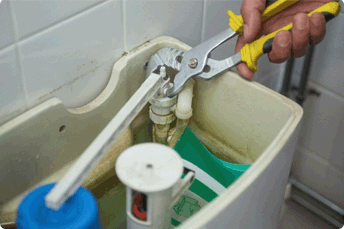 I know few workaholic people who would trade their Sundays to fix common repairing work at their home instead of taking rest on the only holiday of the week. If that is not your case then do consider hiring a professional handyman service for small repairing works.
Types of handyman services
Typically handyman services includes minor repair and maintenance jobs from electrical to plumbing, civil to carpentry and much more. But broadly these handyman companies offer following services.
Handyman for plumbing work
A handyman can do minor plumbing works like installing new fixtures or repairing a leaky faucet. From fixing flush to replacing steel sink or fixing leakage; all types of basic plumbing services are offered by handyman agencies. However for complex plumbing jobs which may require licensing such as working with the main water lines, just be double sure to check the license before booking. Usually handyman companies have licensed people working with them, but it's better to double check and be sure about it.
Handyman for electrical jobs
Handyman companies also offer electrical services such as installation of AC, servicing of AC, light fixtures, setting u new socket board for home appliances and much more. They can help you with small electrical jobs like replacing a plug point or creating new socket points.
House painting and touch-up works
A handyman can be hired to repaint a wall or garage door, touchup trim and scoff marks and repair small holes with spackle. Do remember that a handyman service typically charges by the hour, so larger jobs are better suited for a professional painting crew.
Installation and fixtures
These pity tasks can be easily done by yourself, but hiring a handyman service with the right tools and experience will ensure that these wall-mounted items are hung properly without damage.
There are several other repairing works where a handyman service can come in handy like bathroom repairing, tiles, deck repair, drywall service etc.
All in all by hiring a handyman service saves you from taking the trouble on yourself, and you can avoid any possible injury that can happen while your attempt on doing the repairing work.
A handyman will be working closely with you in your home so you want to pick one that you feel comfortable around.
Handyman service rates in India
Rates of handyman services may vary from city to city and from one specific handyman company to another. So it's worth understanding how they charge. You may book handyman service for one time job or go for an annual maintenance contract.
For one time call services, most of the handyman companies would charge you a fee for visiting and it may be from Rs. 250 to Rs. 350, out of which, Rs. 150 to Rs. 200 can be adjusted against the service. For annual maintenance packages, handyman companies would charge you a fixed fee and offer fixed number of services and hence it's better to understand the terms and rates of services and then take a call.
Since there are various types of services from plumbing to carpentry and electrical services and hence rates and charges of handyman services may vary.
Package for one time call and visit
Plumbing + Electricians service between 8am to 8pm Rs.399/- and 8pm to 8am Rs.599/-
Annual Package
Plumbing + Electrician Rs.2499/- unlimited calls
Plumbing + Electrician + 1 window or 1 split AC service (2 visits a year for AC) for Rs.2999/-
Different companies have different kind of service package and obviously rates for services will also vary accordingly.
How to find and book handyman services in India?
There are many ways to find and book a plumber or an electrician and there are plenty of options for you as well. You can find one on the streets or use technology to boom professionally managed handyman companies. This local service place have started to get organized and as I explained above, there are well placed and organized players out there who have large team of trained and skilled technicians and offer transparent and quality home repair and maintenance services.
Irrespective of whether you use ServiceSutra, facebook, LinkedIn or Google search, there are certain things that matters when booking a handyman service in India.
Let's take a look at it.
Articulate your handyman service need correctly
It's always better to articulate and explain the handyman task you have properly to ensure that the professionals know what is to be done. That way, they can estimate the effort and give you much accurate estimate. So start by listing the entire home repairing work you want them to perform. Remember, a handyman is best utilized for small jobs such as installing light fixtures, patching drywall and interior painting. If the job requires pulling a permit, or moving plumbing or electrical wiring, you should rather consider hiring a contractor.
Properly inspect before finalizing
It's always better to know about the technicians and interview them well before you take a decision. Ask them about the years of experience they have got, their specializations, and request references from homeowners who may have worked with the handyman company in the past. Make sure the potential handyman has the skills, expertise and license to complete your project in time.
Ask for a written agreement
Virtues like keeping word through verbal commitment is long gone, so insist on a written agreement laying out the job details, costs and a payment schedule. Tell them clearly about the stipulations and your expected time you want to get your project done. It's extremely important to get all guarantees in writing.
Inspect the handyman work before paying
After the completion of your project, inspect properly before making any payment. Make sure that everything has been done accordingly to your satisfaction and at the agreed price. Most handymen will be happy to explain the finished work because they want you to be satisfied.
Take precautions
Avoid handymen who contact you with unsolicited phone calls or directly visit your home without prior appointment. Make sure to check their ID cards and clearly know the prices. Avoid any handyman service which refuses to guarantee the price of the job or asks for payment in advance. Reputable handymen services don't expect to get paid before the project is completed.
Over to you
Handyman services can be useful for small repair and maintenance jobs for your home or office. It's worth letting a pro drill and fix something than doing it yourself especially when you are unsure about how to fix it. Picking a handyman can be little tricky; either you can rely on the recommendations given by your friends or relatives or you can compare and book one on ServiceSutra.
How do you take care of small repair and fixing jobs at your home or office?