If you are planning to relocate to another state, you would undoubtedly opt for interstate packers and movers who can help you relocate without any hassle. Or if you want to save money, then you can obviously spend some time on carefully packing, hiring labors, and of course, hiring a means of transport. Now after your goods are relocated, comes your turn to travel to the other state along with your family, which isn't difficult at all. Oh, wait! Do you have a pet and wondering what is to be done to move your darling pet? Interstate pet transportation is not all that easy, you can't take it with yourself in the train, can you?But there's always a way out. There are many relocation companies who also happen to offer interstate pet transportation services in India.
Interstate pet transportation in India has developed in the recent past, previously there were no such agencies who would deal with the pet. Earlier in India, what most of the people did was either sell their innocent furry companions or gift it to someone else. But have you ever thought how would the other family keep the pet? Why would you let that happen anyway? Just carry your pet with the help of an interstate pet transportation service. In this post, we will discuss the steps needed to be taken before interstate pet transportation in India.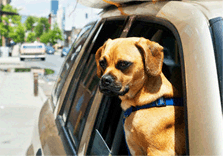 How to do interstate pet transportation in India
Interstate pet transportation is as tough as interstate goods relocation, and guess it is tougher than the good relocation because you'll be transporting a living being. And while transporting an innocent pet, your tension will be pumped up more because you'll be thinking about his/her health, the way they are taking care, and many other things. But if you follow the steps mentioned below, you will be able to relocate your beloved pet at ease.
Here are few step that you can follow while transporting them through airways:
Step 1: If you are not willing to send your pets with the relocation services, then now you have the option to transport them through flights as well. Yes! You heard it right. Some of the flights in India such as Air India and Jet airways, transport your pet to another state. So, hope your worries about interstate pet transportation has reduced a bit.
Step 2: After booking a flight for pet carriage, what you need to do prior transporting is take them to a veterinary doctor. Thinking why would you need to do so? You need to go to a vet before shifting your pet because the airlines service needs to accept your pet for travel, which they'll accept only after seeing their health condition. Ask the doctor to provide you with a certificate having the proper and complete description of your pet's health, because you'll need to show it when you check your pet in for their journey. And show the certificate of rabies and other vaccinations too.
Step 3: Buy a proper container if you are going to transport your pet. In case of interstate pet transportation, buy plastic or steel mesh containers. And make sure the container has enough space for your pet to stand up fully and lie down inside. If they cannot stay freely inside the cage, it can make them depress and get a nausea kind of feeling. Containers come in various shapes, sizes and styles, so buy the one that tailors your pet's needs
Step 4: You need to give some other essential stuff along with a pet cage, such as secured drinking cups to keep your pet hydrated during the journey. You can also provide a protective kennel mats inside the cage, which can absorb liquids (urine) and odors. These things can help your pet stay comfortable throughout the journey.
Step 5: During interstate pet relocation, always pack your pet's essentials so that they don't lack any comfort. Things such as their food, medication, toys, leash and etc must be packed for the trip.
Step 6: Lastly, on they day of the journey or few days before the journey, give them plenty of attention and keep them calm as much as possible. They are very sensitive, once you start showing them that you are tensed, they will immediately understand that and start getting tensed as well. If they panic, it will be tough for you to handle them.
Over to you
Do you have a pet and want to relocate it to a new state? Then follow the above six points/steps, and relocate without any hassle. If you feel a bit shaky about relocating them through flights, then you have another option and that is hiring an interstate pet transportation service. They will thoroughly take care of your pet, and will also follow all the steps mentioned above. If you lack time to implement the above-mentioned steps, only then avail interstate pet transportation services which is easily available in major cities including Delhi, Mumbai, Pune, Kolkata, Chennai, Hyderabad and other cities. We can help you by quickly connecting you to relevant relocation companies that offers affordable interstate pet transportation services.