Anything and everything in your home are prone to dirt and stains including floor, carpet, sofa cushion etc. Whether it is your clothes, your curtains, bed sheets, pillow covers, table cloth and probably every single thing has to be prone to stains and dirt. Carpet is also one of those stuff in our home that gets dirty, and it gets dirtier than our clothes! The obvious reason is it keeps lying on the floor and gets dirty due to the floor's dust. There are many other reasons that may result to carpet stains, such as it gets stamped under the feet of your family members and the other guests who visit, we walk over it munching some snacks or maybe accidentally spill a drink.
Fortunately there are professional professional cleaning services available that can be used to remove carpet stains. But you can't call cleaning agencies every time you notice some stains and hence it make sense to find out ways to remove carpet stains yourself.
So there are plenty of reasons for your carpet to acquire stains. But can you leave your carpet stains as it is dirty? No, isn't it? You need to clean your carpet stains as quickly as possible, once when you discover it is dirty. If you leave it as it is, then it can attract loads of pests who would love to infect your carpet and later lay eggs there.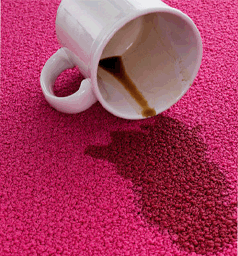 Carpet stains can be of various types, and unfortunately you cannot use a common method to scrub or rub away different types of carpet stains. And you cannot use common chemicals to deal with various carpet stains too because this might harm the carpet's fabric, and may also discolor it. Do you have the solution to such carpet stains? No? Relax, we have many tips for you to deal with some of the common carpet stains.
Cleaning tips to remove carpet stains
I have tried various types of cleaning to remove carpet stains but you know what, different kind of stains require different types cleaning. Here are the most common carpet stains and tips to remove these stains.
1. Removing liquid stains
This type of stain is the most common type of stains sustained by maximum people's carpet. Liquid carpet stains can be sustained by an accidental spill of tea, coffee, or ink stains, and some of them can be hard to remove as well. But if you are desperate to remove these tough liquid carpet stains then you need to use volatile solvents or products containing ammonia. But remember one thing, do not use these solvents directly on the stain. First apply a small quantity of any of any of these solvents on a piece of clean white cloth, and then use it gently to wipe the stain.
2. Removing red wine stains 
If you have spilled a bit of red wine on your favorite carpet, then it is understandable that you must have felt really upset. But don't worry; just like any other liquid carpet stains, red wine stains can also be removed, but using a different method. You can use white wine or club soda to wipe off the red wine stains on your carpet.
3. Juice stains
In case you have spilled some juice on your carpet, then don't worry at all! It is also one of the liquid stains and can be managed. You can remove a juice stain by using vinegar. Don't apply vinegar directly to the stain, just mix it with water and then spray it on the stain and blot it; never scrub the carpet or else its fiber can get destroyed.
4. Removing mud stains on carpet
In case of muddy stains, what you need to do is leave the mud stain to dry. Why? Because if you start scrubbing the mud stain when it is slight wet, it can spill even more and create a bigger stain. Therefore, leave it till it dries up then vacuum it, followed by rinsing with water and detergent. No! It's not the normal detergent, you will get plenty of carpet stains cleaning solvents or detergents in the market. All you need is understand your carpet's material and then use the appropriate detergent.
5. Removing rust stains
Rust is a form of carpet stains that is extremely hard to remove. But, there is a way out to get rid of such a stain. All you need to do is soak the carpet having rust stain in raw milk for around thirty minutes, then leave it to dry under the sun for an hour. Later wash it with a little carpet cleaning detergent/solvent, and finally risen the area with warm water.
6. Removing chewing gum from the carpet
A chewing gum can completely ruin the carpets fiber. You can easily take out the lump of chewing gum from your carpet, but what about the stubborn stain? There is a natural remedy for such carpet stains, just place a few ice cubes on top of the chewing gum stain and you'll be able to remove the stains easily, in fact the stained area automatically rises.
7. Cleaning blood stains on carpet
What if you accidentally cut your hand or leg and a tiny blood drop falls on your carpet? Or maybe your pet has sustained a cut, but unknowing sits over the carpet? Obviously you need to clean it asap before the stain becomes more stubborn. For removing blood stains, you can use either lemon salt or hydrogen peroxide, then rinse the area with cold water.
Summary
Whichever type of stain your carpet sustains, always try to remove it as soon as you can. Because if you keep the carpet stains pending, then there are high chances that it will become very stubborn and hard to remove. Even if it fades, some percentage of stain will still remain on the carpet. Hence, it is always wise to remove the stains as soon as the carpet sustains it. But just be a little cautious in removing carpet stains yourself, try cleaning one spot and if all goes well, do it for other stain spots. That way you will gain confidence and risk of damaging carpet would be minimal.
If you are unsure about removing these stains yourself or feel you may end up damaging the carpet, then you may take professional help. Professional carpet cleaners are available in major cities including Kolkata, Bangalore, Pune and other cities in India. And we can help you find professional carpet cleaning services in minutes.