Diwali is almost at the door, and everyone is busy preparing to celebrate this festival of lights. In India, the main element for décor on Diwali is loads of lights, especially Diyas. But there's another thing that is seen in most of the home's on Diwali, and that is none other than Rangolis, which is an ancient folk art practiced or made on the floor. But most of us don't know about the importance of Rangoli, about its origin, and why or how we draw it. This art form has a deep history behind its flourishing; so let's not waste much time and dig in the history of Rangoli, and know in details about the importance of Rangoli.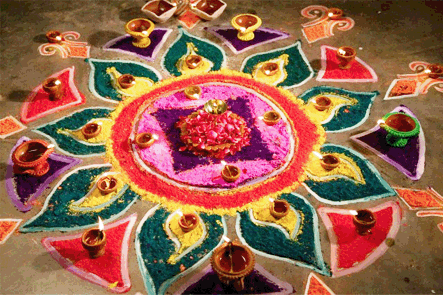 Origin and importance of Rangoli
The emergence of rangoli, an ancient traditional folk art form is said to have sprouted from the ancient scriptures and Purana. And this folk art was said to be practiced first in the state of Maharashtra, and then the importance of Rangoli dispersed to the other states; and it is named differently too. For instance, it is called as Alpana in Bengal, Aripana in Bihar, kolam in south India, madana in Rajasthan, and etc. Rangoli is said to have started by a king (name unknown) who drew a sculpture of a boy, who was the son of a priest in his Kingdom. And he drew this portray on the floor abiding Lord Brahma's words, who had promised to gift the boy's life back if the king drew an exact picture on the floor. So, this is why the importance of rangoli has gone to the peak of Hindu culture. But there are many other myths related to Rangolis, which claim things different from the above mentioned story. So, basically there are multiple stories in Hindu mythology that portray the origin and importance of Rangolis.
Why we make Rangolis?
After knowing the origin and importance of rangoli, let's discuss why we do it. Doing rangoli depends from one state to another. For example- In Hyderabad Rangolis are done every morning, which the telugu people refer to as muggu. They consider drawing it is scientific, as it pushes away negative vibes. They claim that after sweeping the floor, certain subtle lines are formed that posses irregular frequencies, and could cause harm to the body, eyes, and the mind. Hence, these people draw holy patterns after sweeping everyday to overcome such bad vibes and welcome goodness. But, if you focus on "why rangolis are drawn during Diwali", then the obvious answer is, to please Goddess Lakshmi. Even during kojagori Lakshmi puja, Rangolis are made (which Bengali calls Alpana) depicting the legs of Goddess Lakshmi, in order to please her. Now when we know that the importance of Rangoli is solely because goddess of wealth Lakshmi is related to it, then we must make sure to make rangolis this Diwali to please dhan ki devi Lakshmi. So, do focus on the importance of Rangolis and draw it at the entrance on Diwali.
Things needed to make Rangolis
Since rangoli is a type of folk art, you can surely use your creativity at its best. The patent type of rangoli is made using white chalk powder, but nowadays many powdered colors are also used to make Rangolis. Let us have a look at all the possible things that can be use to create Rangolis:
Rangoli colors (gulal): Gulal is mainly used on the day of holy to play with colors. But, if you want to make your rangoli look amazing, you can again use these gulals. Gulals are available in abundance at the market; so you can buy as much as you want, and as many colors as you want.
Eco-friendly colors: Gulals are used in Holy and also to make rangolis, but they are said to have certain percentage of chemical based colors mixed in them. Therefore, if you want to ignore chemicals this Diwali, then go for colors that has no added chemicals. How would you create or buy eco-friendly colored powder? Well, you might find them in the market, but you can also make them using rice. All you need to do is color the rice by pouring few drops of added color in a bowl filled with water and rice. Let it soak for a while, then take them out, and let them dry. After drying them, grind it into fine powder. That's it! You are done with your eco-friendly powdered colors for rangoli.
Flower petals: You can also use flower petals and flowers to make a rangoli design. Just take some good flowers, tear the petals, and use it to make various designer patterns on the floor. Rangolis made of petals would look lovely!
Diyas: If you want to make your Rangolis more gorgeous, then use tiny diyas to make your rangoli look ravishing. Just draw a design on the floor, and place the diyas accordingly. You can also use tealight candles instead of diyas, to make a rangoli.
Combined rangoli: By combined rangoli we mean that, you can combine all the above mentioned things together to make the rangoli. For example, you can use colored powder (chemical or natural) to create a design, place some flower petals in the empty spaces, and finally place some diyas on the rangoli. But, make sure the design doesn't look clumsy.
Procedures to make Rangolis
So, now when you have an idea about what to use for making rangolis, it is time to see the procedures to make them. Are you ready?
Step 1: Decide the place where you want to make the rangoli. Mostly people choose the entrance area to draw it. But, if you want, you can choose any other place too such as your pooja room. Whichever place you are choosing, make sure it is has plane surface and not a rugged one.
Step 2: Clean the area thoroughly by brooming or mopping. In fact, it would be better if you do both the task, that is brooming and mopping, to make the place squeaky-clean. Since rangoli is considered as a holy art form, and is dedicated to please the gods and goddesses, it is very vital to clean the area before doing rangoli.
Step 3: Make a initial sketch of the design you want to make by using a chalk. A sketch can help you to make the rangoli flawlessly.
Step 4: Now, take a powdered color and use it as an element to make borders or outlines, by using them just above the lines made by you earlier. This would make the design prominent, and create borders so that you can fill in colors or petals. Usually people use white color powder for this task of bordering.
Step 5: Now fill in the empty areas with powdered colors, petals, or diyas. And you are done!
Hope you will make awesome rangoli at your home this diwali.