An air conditioner is an indispensable piece of household equipment to combat the summer heat. The cooling system has proven itself and is used both in homes and offices. The wide functionality of the air conditioner allows setting necessary parameters to stay indoors in the summer time with enhanced comfort. At the same time, due to some functions, you can use such a device not only in hot weather but also in cold weather.
Many owners of air conditioners have no idea about all the features of this device or treat its functions with great apprehension. That is why you should not neglect HVAC service in Houston. It is necessary to be oriented in how and, what is equally important, under what weather conditions it is possible to switch on the air conditioner. Be very careful and stick to the instructions, as actually turning on the air conditioner in winter is fraught with serious problems.
Why do you need to clean your air conditioner?
Air conditioner cleaning is just necessary to provide the basic parameters of work to avoid the next breakage, and it is not a usual change of batteries in the remote control or cleaning of the filter. It is the whole complex of periodically performed work, which requires the company's employees to the highest level of training and some skills in practice. Moreover, due to the high price of the used diagnostic equipment, air conditioner servicing can be performed only by real specialized companies. The cost of the work is not high, and the result is for years.
The cost of air conditioner service
Before you begin to study the prices for air conditioner service, it is worth knowing – what the price of the service depends on.
The cost of work always depends on such parameters and factors as:
Type of service: cleaning, repair, charging, drain cleaning, installation, etc;
Model and type of air conditioner itself: split-system, ducted, ceiling, mobile, or industrial air conditioner;
If it is a repair, it all depends on the nature of the breakdown and the model/type of your air conditioner;
In the case of complex service, which includes charging the air conditioner with freon, it also affects the degree of refrigerant leakage, and as a result – the amount of freon charged;
In the case of air conditioner installation, besides its type and configuration, a considerable value influencing the cost of installation works is the type of premise, its peculiarities, degree of difficult access to the installation area, and also the distance between the blocks, which affects the number of consumables.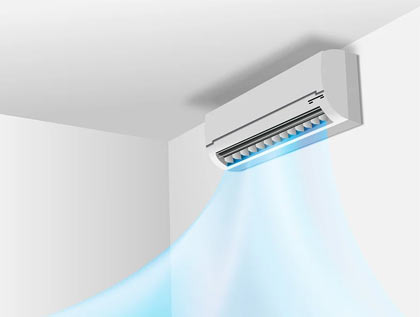 Conclusion
The national average cost for annual air conditioner maintenance ranges from $100 to $200, with most homeowners paying $150 for annual cleaning and tune-up of the central air system. The low cost for this project is $65 for a portable air conditioning unit maintenance check.