Seeking the utmost convenience, comfort and security in our living space is what we all long for. The importance of creating a smart home lies here as such a residence is often quite energy-efficient as well. Home automation is becoming popular these days for the right reasons. Aside from offering safety and comfortable living, smart homes are guaranteed to boost efficiency.
Just feel how great it would be if you are able to manage all the devices in your home via a single remote. Well, modern days home automation system brings all these features and convenience to your mobile device. If you are wondering about how to set up a smart home in 2023, then we have got you covered.
In this home automation guide, we are sharing everything you need to know about how to set up a smart home easily and effortlessly.
What is a Smart Home?
In simple words, a smart home is a place where most of the operation is automated. You are able to use most of the appliances, tasks and utilities electronically. A system comprised of the internet, mobile applications, electrical devices, hardware components and related forums are optimized to make this thing happen.
How to set up a smart home?
Before you commence your Smart Home Automation Project, it's better to ponder over a couple of things. With that said, below are some of the most advanced devices using which you too can turn your ordinary home into a smart home.
Read on to find out more
Smart Kitchen
To create a smart kitchen, you need to invest in a number of smart devices. A smart dustbin that can scan the barcodes on packaging and cartons that you put inside, creating a grocery shopping checklist based on that can be an amazing addition to your kitchen, no?
However, it's better to start with the basics first. Suppose, you connect the fridge to the internet. In return, it will let you know what's inside and you don't even have to open the door for that. Also, it can play music as per your instruction while you are working in the kitchen.
That's wonderful, right?
Avant-Garde Switchboards
Alter the switchboards and go for the latest versions in order to upgrade the bulbs and lights to smart fixtures. Since the syncing can work very effectively, doing so has become imperative these days if a better functioning home is what you are up to.
Smart Cleaning Products
With technological advancement, house cleaning has also become a super-easy task for us. Thanks to robotic vacuum cleaners that can perform the cleaning automatically. Just give them the instruction and they will roam around your living space, subsequently cleaning all the dirt, dust, pet hair and other filths with utmost perfection.
Aside from that, smart cleaners have also come up in the market that can open their lids automatically, preventing you from opening them so as to throw the garbage. So, this time, bring home these devices and ensure a spick and span house while putting in the least effort.
Smart TV
Millennials are always up to the various over-the-top (OTT) platforms out there. So, upgrading to a smart Television is the only choice you are left with. In fact, these devices have come into operation to get viewers a better binge-watching experience. As a result, you are free to access your favourite shows and movies without even connecting to those umpteen cables and wires.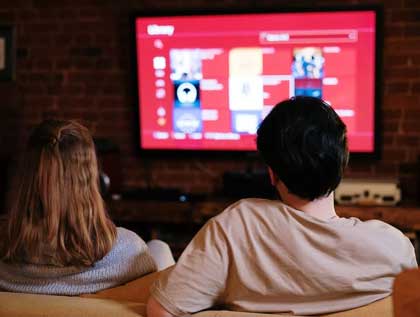 Smart Smoke Detectors
Tired of using the customary smoke detectors? Switch to smart smoke detectors and carbon monoxide identifiers available in the market aplenty nowadays. And the best part is these devices continue to charge themselves up from time to time as compared to conventional devices which start beeping as soon as they run out of battery.
Not only that, but you will also receive notifications about the smoke levels on your smartphone via these devices. Also, they are connectable to thermostats, preventing the latter from heating the concerned area unreasonably due to the increasing level of carbon monoxide.
Advanced Security Cameras
To ensure a better safety level at your home, installing smart cameras can be a good idea. You can use them both indoors and outdoors at your convenience. Doing so will allow you to watch over your pets and kids and protect them from any unwanted danger.
If need be, you can also connect these cameras to your smartphone, to retrieve all the data from time to time.
Smart Doorbells
Smart doorbells are undoubtedly the cheapest and the most essential device that you must install these days in order to convert your ordinary residence into a smart home. No need to seek professional assistance, as you can install them yourself.
This will let you watch over your imminent visitors and in case you find any of them shady or suspicious, you can talk to them via video chatting no matter if you are at home or outside. In fact, some smart doorbells can also capture an image of the visitors instantly after they press the button.
Smart Locks
Safety comes first while you strive to create a smart home for yourself. Needless to say, there is no substitute for smart locks in this matter. You will get them in various shapes and sizes in the market as they predominantly function on passcodes for the sake of fingerprint entry and exit, face recognition and so on, leading to keyless access that is utterly secure. You also have the liberty to operate them via your smartphone, subsequently setting different passcodes for your visitors as and when needed.
Advanced Thermostats
With a thermostat, you can retain a favourable temperature in your home that also for the entire day. Also, you can set the temperature at your convenience, keeping the aspect of comfort in mind.
And you know the best part? You can link it to your smartphone or smart home assistant, operating the device to keep your living space warm while investing little to no effort into it.
Smart Bulbs
What if we could operate the fans and lights using a remote? That's totally possible, all the more when technology is already progressing in leaps and bounds. In fact, smart lighting has taken the notion of smart home automation a notch higher and there is no doubt about it.
Just connect these bulbs to advanced speakers, give them a voice command instantly and you have a well-lit-up home. Coming to the recently introduced LED appliances, let you regulate the brightness, colours and intensity of these smart lights as well, making your residence even smarter than before.
Voice Assistant
Wish to make your everyday life utterly convenient and easy-going? Then installing AI- integrated smart speakers or voice assistants is the way to go. With a simple voice command and you are able to do everything from setting daily reminders, to turning lights off and on aside to playing music whenever you feel like it.
So, why waiting for? Bring along these high-end devices to your home ASAP as you take the next step in converting your standard house into a smart living space.
Cost of smart home devices in India
With the several Internet of Things (IoT) devices available in the market, you can surely get a few of them for your home for as low as Rs. 30,000.
Coming to the more expensive options, they won't cost you above Rs. 50,000 and be certain about it. In case you are short of budget, you can start by adding smart security systems, lighting fixtures, TV and doorbells and install the more advanced appliances in due course.
In a word, attaining a smart home is something that cannot be done in a hurry. You must keep adding smart devices and components as per your financial capacity, gradually actualizing the smart home automation project you have been dreaming of.
Frequently Asked Questions
Below are some Frequently Asked Questions related to Smart Home Automation in India in 2023.
What is the function of a smart home?
As the name suggests, a smart home chiefly operates on smart devices Wi-Fi integrated Televisions, automated alarm clocks and light bulbs etc. In fact, you can control these devices anytime, anywhere by using a smartphone or tablet or any other application over there.
How much does a smart home cost in India?
A smart home in India at its most basic won't cost you more than Rs.30,000 and that's for sure.
Is having a smart home important?
Yes, having a smart home is very important nowadays as it will reduce your energy and water bills to a great extent. You can use internet-enabled touchscreen devices and operate your entire home in a single click. It's that simple!
Final Words!
A smart home is definitely the need of the hour, particularly when the market is already loaded with a gamut of tech-friendly devices and appliances. Check out the listicle above and integrate all those things in your home that you need imperatively to create the smartest residence ever.
Carpe diem!