Car transportation services in India are offered by car carrier companies. But most of the movers and packers companies in India are involved in car transportation and car relocation services. If you are planning to get your car transported within India, you have two options. You can hire a specialist car carrier company who only offer car relocation services or you can talk to movers and packers service provider who specializes in handing domestic home shifting services in India, but can relocate and transport your car or SUV as well.
There could be many situations but usually either you will be shifting just one car or you will be moving your entire household goods as well as your car and bike if any. When moving entire household goods along with car, it's better to deal with one service provider because that way you can save on overall relocation costs as well as don't have to rely on two different service providers for two different assignments. After all, even coordination takes time and from finding to finally hiring a movers and packers or car carrier service provider is going to take lots of your precious time.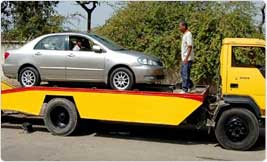 But in a situation where you don't want to move your domestic household goods and its only one car that you want to transport, it's better to hire a specialist car transporter who can get it right. We have published lots of tips and articles about home shifting (both local and domestic shifting services), so this post is limited to car transportation services in India.
I am assuming that you want to hire a car carrier company who offer car transportation services in India. So are you ready to learn about finding and hiring a car transportation service provider and saving some extra money while getting your car transported? I heard you saying yes, so let's start then.
How to find a car carrier for car transportation services in India
First thing first; while relocating household goods, you have to prepare and plan for lots of things. But when it's about relocating a car or an SUV, the very first thing that you have to do is to find a car carrier company who offer cat transportation and relocation service.
So to begin with, you may like to search on Google and note down the contact numbers of some of the car carrier companies. You can also post a tweet or a help message on your Facebook or Google plus profile to check if a friend of yours can suggest a car carrier company to you.
You can also post your car transportation requirements on ServiceSutra and get matched to three of the most relevant and competent car carrier in your city. ServiceSutra is available across India, so no issues with that.
Choose any option that you like because at this stage you are simply finding name and contact numbers so that you can start communicating and researching about rates, charges, process and tentative time to transport your car. Yes, it's better to understand everything before hiring.
Compare rates of car transportation services and understand the process
Obviously, the next step is to find out rates and costs of car carrier companies for car transportation services. Good thing about car transportation is rates and charges are more or less fixed because there is no such complication. Calculating rates of home shifting is usually complicated because it varies of multiple factors. But car transportation, route and distance is all that matters and there are no other huge factors that affect the costs.
But even for car transportation services you have a couple of options of types of the truck that you want to use. There are open trucks, there are closed ones. And there is drive-in service as well as door to door car transportation service. But it's less complicated.
Little bit about door to door car transportation services
Door to door car transportation means a car carrier company will come over to your home, take your car and drive it till the loading point which is usually outside of the city. They will load it on to the truck that you have opted for (open or closed) and get it transported. Again they will drive your car from unloading point to your home and deliver it to you. Naturally it costs a little more than loading point to loading point car transportation service.
Open and closed car carriers
Car carrier companies in India use car carrier truck which is specially built for car transportation services. You can choose between both these options. Closed car carrier trucks are obviously safer from all respect than the open ones. Closed car carrier vehicle will cost you a little more than the open one.
Process of car transportation in India
Process of car transportation is very simple here in India. When you approach a car carrier company and tell them your transportation needs, they will present you with all these options. Once you have decided which type of truck you want to use and whether you want it to door to door or not, they will quote you a rate.  Rates are usually inclusive of everything from insurance to handling charges. You can ask for rates from different car carrier companies and then later evaluate all of them. After comparing rates and charges, you can deal with a car carrier or car transporter that you liked the most and obviously who offers you better rates.
Once you have decided on which car carrier company you want to deal with, you can fix a date for inspection, transportation and delivery of the car at the destination.
Car carrier companies will do an inspection of your car. Inspection before moving is required because it gives them the real idea of any defects or damage that's already there in the car. The idea is to know about any fault/ damage/scratch etc in the car that exists. When delivering, they will match everything in front of you to ensure that there is no new damage; scratch or fault in the car and that they have delivered your car to you in same condition in which they took it from you.
At the time of inspection they will also suggest you about how to prepare your car for transporting. There are certain precautions that you should take. For example you should detach the music system and any other detachable accessories and decorative items like perfume, teddy or any other belongings.
Summary
Car transportation in India is not at all complicated like home shifting. All it takes is a reliable and affordable car carrier company and rest will fall in place. It's always better to give priority to the well placed car carrier companies and choose closed car carrier trucks. But then I am sure you know safety is most important and rest of the things comes second.
If you have hired a car carrier for car transportation in India then feel free to share your experience here. What do you think was the most challenging part in getting your car transported?