Ever felt like getting rid of mosquitoes is not easy? I felt like that when I moved to Kolkata for the first time in a rented house. I really could not handle the kind of mosquitoes I saw. Mosquitoes are really bad because apart from depriving you from sound sleep, mosquito bites could cause, itching, pain and abnormal swelling on the skin. Mosquito bites could cause disease like malaria, dengue etc ad hence it is important to keep yourself protected from such mosquitoes.
I was hell irritated with the mosquitoes in my house and decided to do something. Chemical repellents like sprays and coils are good to an extent but you can't continue using them all day and night. First there is a cost involved in it and secondly because of the side effects of these repellents. I am not quite sure or qualified enough to claim the side effects of these chemicals based mosquito repellents, but I have heard from friends that there is a side effect of these repellents and one should use it within the limits and carefully.
My grand mom is a firm believer of natural ingredients and remedies. Till today, she prefers to make natural soup (or KADHA) in case of cold rather than taking a cough syrup. She has tried and tested many natural ingredients for various day to day problems and i was sure she will be able to help me in getting rid of mosquitoes. So I turned up to her for tips to get rid of mosquitoes.  As usual, she shared some awesome tips and ideas that I applied and got rid of mosquitoes from my house.
I tried and tested some of the natural tips and remedies as suggested by my grand mom and I am happy I did. So if you are tired of mosquitoes and looking for natural home remedies to get rid of mosquitoes then you should read this post till the end and try some of the remedies I am discussing below. I am sure you will love it and you will be able to get rid of mosquitoes from your house. And also you won't ever feel like using chemical based repellents for mosquito control in your house.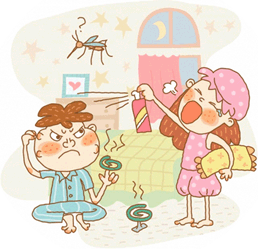 So are you ready? Here we go.
Top 5 natural home remedies to get rid of mosquitoes
There are many pesticides and chemical based mosquito repellents available out there, but using natural remedies has its own benefits. Natural ingredients are mostly available in our house or kitchen and if we can use it to get rid of mosquitoes, there is nothing like that, no? So let check which ingredients we can use as mosquito repellants.
Tulsi as mosquito repellent
So I am sure you know about Tulsi, this is one such herb that you can easily find. Most of the Hindu family even worship Tulsi plants. But did you know that you can use Tulsi plant as a mosquito repellant? Yes that's true. Researchers have found that Tulsi plants can kill the larva of mosquitoes and it can help you keep mosquitoes away.
Garlic to get rid of mosquitoes
It has scientifically been proved that garlic has certain elements that make it the one of the best repellents to get rid of mosquitoes. As we all know garlic has a pungent taste and smell and probably that's the reason it keeps mosquitoes away. To use this as a mosquito repellent, you may simply take a few inches of garlic, crush it and let it boil in a little bit of water to ensure that the juices and smells is there in the solution. Now spray it around to prevent mosquitoes.
If you don't feel like doing that much of work, you can simply cut a few inches of garlic in to smaller pieces and sprinkle it around the bed to keep mosquitoes away.
Using oil as mosquito repellent
Mosquitoes hate certain oils like mustard oil, neem oil etc. Neem is very beneficial for our body and skin. In fact many of us in West Bengal eat neem leaves during summer and it is said to have great impact. It purifies your blood and helps you get rid of many skin diseases and infections. Neem oil can be used as great repellents for mosquitoes. In fact if you can, you should plant a neem tree in your backyard as well to keep mosquito and other flies away.
Lavender is a great repellent
There are a very people on earth who may not like Lavender. Scent of lavender is liked by most of use, but thankfully, mosquitoes can't take it and they hate lavender scent and you can take advantage of it. Lavender oil is said to be a great repellent for mosquitoes and flies. You can use lavender oil to keep these mosquitoes away. Lavender can be used in many ways like you can make a repellent solution by mixing lavender in to vinegar. You should let it infuse properly for a couple of days and use this oil mix as a repellent. It will work like wonder.
Use basil to get rid of mosquito
Basil plants and basil oils are one of the natural repellent that you can use to get rid of mosquito and other flies from your house. If you can, you should plant it in your backyard to keep mosquitoes away. You can also extract oil and use it on your skin as a repellent.
General precautions to avoid mosquito bites
Apart from using various home based remedies, you should also take some of the basic precautions to keep mosquitoes away from your house.  Here are some general precautions you can take;
Wear full sleeve clothes because mosquitoes usually bite on the body part which is not covered.
Use mosquito net at night and also use window net if your locality is highly affected.
Make sure that there is no constant water around your house, mosquitoes infests in standing water, so go eliminate them first.
Keep your surrounding as clean as possible.
Planting mosquito repellent plants in your backyard garden can be of great use like tulsi, basilm lavender, merry gold etc.
Over to you
There are a number of seasonal diseases which is primarily caused by mosquitoes like dengue, chikungunya, malaria etc. These diseases can be treated, but if treatments are not done on time, one may even die. That's how terrible a mosquito bite can be.
Whether you are someone who like to try natural remedies, or someone who would rather use chemical, do whatever it takes and get rid of mosquitoes now. If you don't have time to experiment, you can always call an expert pest control company who can help you get rid of mosquitoes from your house.
Before I close this post, I would like to urge you to not ignore mosquito and get rid of it by any means. Have you ever tried any natural home remedy to get rid of mosquitoes? I would like to know about your experience.