Did you know that the best way to decorate your living room is not by spending lots of money on various decor elements and you can decorate your living room well by spending way less? Living room is one of the most important parts of your house because that's the area where you are supposed to welcome your guests and friends. Obviously we want our living room décor to be the best – best in style, look, and comfort … and the list goes on.
I personally like to keep it simple and elegant. I rarely spend money on costly decor materials and rather try using handmade stuff to decorate my living room. The problem with living room decoration is we often get bored with one set of décor and hence we feel like experimenting. I am sure you have experimented with various ideas too to decorate your living room.
Often we assume décor has to be a costly thing, but that's not true. If you are open to experiment with various decorating ideas then it won't be hard to make small little tweaking here and there to revive the look and feel of your living room. In this post I am sharing some of the best living room decoration tips to help you decorate your living room without spending hell lots of money. Obviously we can't turn-up to an interior designer every time and hence it make sense to give it a try yourself.
So are you ready to explore various tips and ideas you can use to decorate your living room?
Let's dive in then.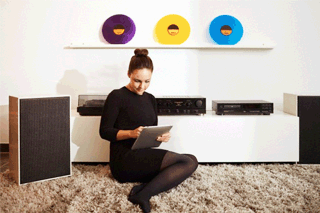 Amazing ways to decorate your living room
I usually believe my mom is very creative when it's about décor and up keeping of house. She likes to experiment with various decor elements like re-arranging certain elements to give entirely new look to the living area. But my elder sister is the ultimate boss these days and when she returns from Pune during vacations, she takes charge of decoration of living room and other areas of our house.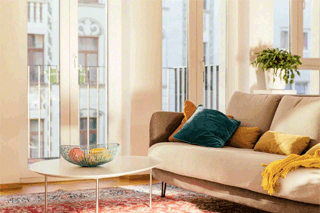 Recently when she was here in Kolkata, she told my mom that the current look and feel is boring and how it can be improved. Here are a few things she did and suggested we try in decorating our living room;
Decorate living room with greeneries
Green is life and when you want to make a place like much living, you need to think of plantation. There are various types of house plants that you can try while decorating your living room. Besides providing oxygen, house plants can really make all the difference in look and feel of your living area. You should definitely try some house plants in your living room. When we see garden in a bungalow, we get mesmerized. Can't we emulate that in to our living room? We certainly can. For an instance, you can implant a tree in to a vessel and can place it on a table. Will this not enhance the beauty of our house? Certainly, this will. You can do the same to any of your table.
Creative painting for Living room
Hanging good quality creative painting in your living area is certainly the most common thing we do in India. Apart from family photographs, we like to hang different types of paintings. But did you know that which color you use on the walls of your living room is also very important. So choose a nice base color like sky blue, lemon green or any other color you like for the walls and hang painting accordingly. When you get in to your living room after working, by seeing the painting you will certainly be feeling charming. It will always bring new dimension in your life. I bet you will love it.
Lighting is important for living room decor
Lighting is important part, if you are looking to decorate your living room or any other room for that matter. There are various types of lighting solutions available these days but you should opt for one that gives a soothing effect. If you like to experiment, try tall corner lamps, pattern based lights etc. Whichever light you decide to use, just make sure to create a natural look and for that to happen, white light like LED will work best. While we are on it, always encourage natural light in your living area.
Use books
If someone says books are not beautiful, then I must say despite having eyes; he is blind. I am pretty much sure and you would agree with me on the fact that books are a must have in your living area. No need to create a library out there, but strategically place a few books like Veda, History etc in your living area. Books can be used as filler for costly accessories; then you are better of using your books to fill up the open space in your living room.
Re-arrange and keep it clean
Rearranging as we already discussed in the beginning is one of the most common thing we do and it's important too. So just re-do the placement of Sofa, center table, carpet etc. Divide the room into various parts according and then think of decorating each part with ultimate goal of decorating the entire place. You may also like to arrange your furniture in such a way that there is enough space between wall and the furniture like sofa bring it towards the center of the room. Such floating arrangement of furniture can really spice up your living room and it's uncommon too. Usually in India, we like to keep sofa closer to the walls, but do the reverse and see the effect.
You do all the stuff but without vacuuming your living room, your decoration can't get over. For an instance, you rearrange all your décor elements in its proper order but forget to wipe out the floor then all your efforts will be kind of wasted. So just keep it clean so that you can live comfortably.
Over to you
To decorate a living room, this is not a onetime thing I can tell you. If you decorate your living room and leave it as it is for long, you may get bored and hence it is worth experimenting with various ideas.  Apart from above ideas, you should do some mix and match kind of a thing – mix color, style, old, classic, modern and create a cocktail of your own style to decorate your living room. For example, try changing curtains, sofa cover, mattress etc and use a modern print in unique color and see how it goes. Recently we tried lemony green/yellow combination for curtains, cushions, sofa cover etc and it looks amazing in summer.
How do you decorate your living room to keep it fresh and inviting?