This not a general home decor tips because what I am going to share with you is based on my personal experience. Today when many of us live in flats which are not big enough to accommodate all our belongings, proper space planning and using right kind of décor become really important. Whether we live in a smaller by choice or by compulsion, we some time complain that we do not have enough space to accommodate all our stuffs. Sometime we feel home decor is not right and we need to do something on this. Fresh Interior designing of entire flat sometime may not be viable options because of several reasons.
But you know what, recently I visited an old time friend who is settled in Bangalore and I was amazed to see how well maintained her apartment was. With hardly the carpet area of 900 to 1000 square feet, the way she has done the space planning and the way she has decorated her entire apartment flat was incredible.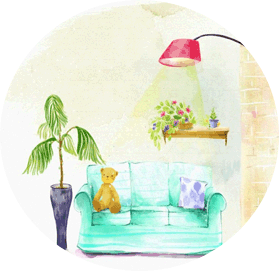 I am sharing some of those basic home decor tips as I observed at her place. Trust me, it does not require hell lots of effort to buy efficient modular furniture or choose colors wisely and be creative enough to create nice looking decorative elements using old used goods which you would throw away anyways. I could not take photographs, but sure to share sometime soon as I am planning to see her soon.
But here's what I noticed and how you can improve the way your apartment or flats look.
Use space friendly furniture to get extra storage space
Well you can redefine the ways of living in a small apartment which generally means that you have limited space for experiment, but still the decorating options are limitless. By finding creative ways to add storage space and giving each area of the apartment a distinct feel, even the smallest living spaces can be transformed into a warm, inviting environment.
Today various kinds of furniture pieces are available in the market which contains storage compartments, such as chairs, ottomans, benches, and beds that have drawers underneath. These furniture items can be extensively used for solving critical storage and space issues while serving a very functional purpose, such as providing an area for sitting or sleeping.
Divans and Sofas with storage drawers are the best choice for efficient storage utilization in your room. If it's an open area then you can store books or magazines or even shoes. If it's a close area then you can store winter clothes or other relevant stuffs that you will not require any time soon.
Most people prefer to wear clothes on a day-to-day basis which come from a mere 20 percent of the clothes in your closet. In other words, 80 percent of those clothes are just taking up space and never worn. Go through your closet and remove all the apparels and garments that you never wear. Donate them to the people who need them most. Or simply Your closet will be ready to store any outfits you feel wonderful wearing.
Declutter your room to make it spacious
Do you like to collect magazines? If you do then, you most likely have a few piles growing throughout your home. Try and make time to go through them and sort out only the important ones. Unnecessarily keeping the entire lot will only make your room look dull.
Create illusion by installing mirror and other means
Use full length mirrors, which can be used to make your smaller rooms look bigger and elegant. In fact, it acts as the focal point of the room. Along with mirrors, you can use bright colors in your walls and shinny floors and lights can further enhance the style of the space. Your room will illuminate sunlight in the morning as well. Marble floors are best in reflecting light though.
If you cannot do much below, try stylizing your ceiling. Beautiful hangings such as wind chimes, lamps, or even small potted plants can enhance the beauty and elegance of the room. If budget is less, you can use exquisite wall decals instead of false ceilings or complete tiles.
Use old stuff creatively to create your own decor elements
We often throw our old worn out stuffs that we have bought long ago. For example bedspreads which are always readily hemmed, so you can use them as curtains. All you have to do is simply pleat the top, stitch on the hooks and it's ready to go. If you are planning to use a heavy bedspread, do ensure that the curtain pole is strong enough to support its weight.
You can turn an old shoji screen into a room divider for your living room. Simply buy old shoji from some old garage sale in a dirt cheap price and modify it by cleaning and painting.
Choose right colors for walls, ceiling and floors
Coloring of walls is one of the most pocket friendly solutions for the makeover of your room. Add a matching light to suit the color of your room. It is observed that the combined effect of these will not only make your room look beautiful but also with certain combinations of colors in walls & floor along with the light gives an effect of added room space in our minds.
At times, the way the light is directed from a bulb or CFL can make all the difference. For instance, if you have a lampshade that directs light downwards, change it for a shade which will project light upwards and see the instant change that it creates.
Add Plants to make your living area look fresh and living
By adding a small plant in your room adds a little greenery which is the best way to liven up a space. See if one of your friend or neighbor is willing to exchange one of their plants and then find a small vessel around the house for your new organic friend.
Over to you
It's art, its science. It's your love for you place. Look around and see what small changes can be done to make your place look better, efficient and lively. What I have shared above is just a few tips that you may consider. Keep on looking for inspiration from wherever you can and make small little tweaks and changes and enjoy your place.
As always, if you change your mind and plan to consult Interior designers to renovate your flat, you can always use ServiceSutra and we'll be happy to help you.