Minimalist interior design is all about simplicity, functionality, and the use of minimal elements to create a clean and uncluttered space. Interestingly, going minimal has been the trend for quite a while now as it can turn any abode into an utterly kempt zone to live in, yet it never goes out of style.
But, the million-dollar question is what exactly a minimal home décor is and how to attain that for your residence.
As a homeowner, you may assume that all it means is to eliminate the extra stuff. And that minimalist interior design is all about getting rid of the redundant kinds of stuff in your house.
But, deep down it entails a different notion altogether.
Though, keeping everything minimal and smart is the mantra but a minimalist interior design doesn't solely believe in the concept of minimalism.
So, whether or not you want to implement minimalist interior design tips and design ideas for a certain portion of your house such as your bedroom or living room or the whole of it, you will get familiar with each of the aspects and nitty-gritty of the same.
Read on to find out more.
Minimalist Interior Design Overview
To be upfront, the concept of minimalist interior design is primarily based on simplicity.
This means less is more.
As a layperson, it's obvious that you think that to attain a décor like that, you need to throw everything out of your living space to make it look uncluttered which is not always the case.
Rather, if you contemplate functionality, sober colour palettes and smart furnishings, then it would surely serve you the much-needed purpose.
However, that doesn't mean that you have to compromise on the aesthetic part at all.
So, be unapologetic when it comes to embellishing your residence with eye-appealing décor articles and art pieces, no matter how big or small your apartment is.
In a word, striking a balance between minimalism and that oh-so-comfy factor is imperative if a cushy interior design is what you are up to. A
And if you are looking for the best and trending minimalist interior design tips and ideas worth stealing, then we have got you covered.
Consider these minimalist interior design tips for a spectacular home
So, are you all set and ready to create a minimalist home interior design for your home this time? By incorporating these minimalist interior design tips, you can create a clean, uncluttered space that's both functional and stylish.
Shed more natural light on your decor
Good lighting is essential for any space, but it's especially important in a minimalist design. Adequate lighting plays a key role in making any home look brighter and more welcoming, no matter what. In this context, it is pertinent to put more stress on allowing natural lighting as it can add that oozing warmth and luminosity all through your abode.
However, if organic illumination is not your thing, then going for warm-toned bulbs, chandeliers, floor lamps and table lamps would be a great idea. Also, you can make your favourite lighting the fulcrum of attention in your living room or bedroom, whatever you feel like.
Say for example, if you have a penchant for accent lighting, then light up your hallway or balcony with it to set the upbeat mood, perfect to spend your me-time in quietude. Alternatively, if your kids' bedroom is lacking that surreal kind of illumination, then a few shades of ambient lights are all good to go.
A neutral colour palette can do wonders
A neutral colour palette must be an indispensable part of your minimalist home interior design as it has the power to make any space look spic and span, that also without losing on its aesthetics.
In this context, lighter and sober hues can do wonders. So, why not splash greige on your textiles, and white on your walls yet a succinct monochromatic colour scheme prevailing all through your abode?
It's indeed a fab idea to inculcate that enviably cool vibe into your living space without making it feel overdone.
However, should you desire to give your dream home a minimalist appearance without changing the base colours in every nook and cranny of it, you can certainly do that. Wondering how? Simply opt for neutral artwork, furnishings, bedding and curtains and you are done.
Don't stress about it seeming bland or unappealing as subtle tones add that pop of colour to any monochromatic palette out there and it's no wonder. In addition, you can incorporate sleek furnishings, greenery and wall hangings into that space for intensifying its enthralling factor even more.
Invest in quality furnishings
When it comes to designing your home with a minimalist layout, there is one thumb rule that works for everyone, DON'T BUY WHATEVER YOU FEEL LIKE.
Yes, you have heard it right.
So, make it a point to buy furnishings that are of top-notch quality yet pretty captivating to look at.
Want to purchase a dining table, sofa, closet, bed or anything for that matter? Well, irrespective of your choice, each of the pieces must be adequately sturdy and entrancing aside exemplifying the latest décor trends to perfection.
To say in a nutshell, fitments that are complementary to your house interior design must be of the highest importance to you apart from anything else.
Devise a prim and proper storage
A minimalist interior design would remain incomplete without proper storage solutions. So, make sure that the storage spaces you integrate as a part of your interior design spree are space-efficient aside from being adequately functional.
Before you embark on this journey, ask yourself a few questions. Do you need entryway storage to put stuff inside when you get back home or putting some of your essentials down in a cramped space is more your thing?
Well, whatever the case may be, ascertaining cabinet doors for every of your storage areas would serve you the purpose of practicality, a perk that would allow you to enjoy a clutter-free home around the year.
Simultaneously, you can integrate a tiny box or chest wherever you feel necessary as you tuck away your chargers, pens and notes comfortably over there. In a word, playing with your storage solutions well can render your living space with the much-needed spotless appearance it deserves.
Declutter the entire space
Making your house a clutter-free space is probably the stepping stone towards implementing a minimalist interior design for it. So, just take a walkthrough of your residence, starting right from your entryway to your kitchen, living room to that your bedroom.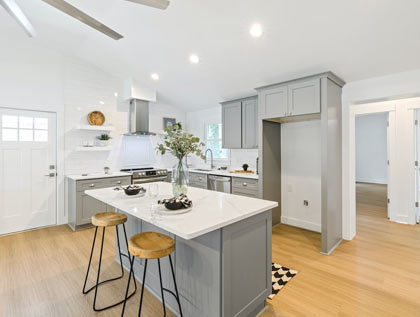 What do you see about you? Loads of impromptu objects in and outside the bathroom, heaps of craps around the kitchen and shoes at the entryway, right? Dude, it's just the tip of the iceberg, the closets, cabinets and drawers of your house have not been rummaged yet, so, what about them?
Decluttering these spaces is therefore of tantamount importance if attaining a minimalist interior design is what you are up to. To get started, throw away the unnecessary and redundant items first and then organize each of the spaces one after the other.
Also, make it a point to keep the imperative stuff back like the essential papers and receipts etc. and continue decluttering every part until the desired results are achieved. Always remember, an uncluttered abode can give life to even a minimalist interior design and the moment you will steal a glance at it, you would be super-astounded.
Benefits of minimalist home interior design
So, are you still wondering whether or not a minimalist home interior design is right for you? Well, to help you get over your confusion, here are some startling benefits of putting a minimalist home interior design into action.
Spacious and welcoming
Makes your living space seem less cramped and more welcoming. As a result, you can find your essentials easily.
Easy to manage
Cleaning and managing your home gets easier as a minimalist design is more about cushy and uncomplicated furnishings rather than those complex or heavy-duty pieces.
Long-lasting simple fittings
Sturdy and good-quality fitments are part of a minimalist home interior design that you can use for many years to come.
If done in the right way, a minimalist interior design will never seem out of style year after year.
Give your small and compact apartment a commodious appearance by incorporating a minimalist interior design over there.
Although the aforesaid perks must have given you a clear idea why a minimalist interior design should be an inseparable part of your home décor, there are many other advantages that a layout of this sort can entail.
So, if you want, you too can implement a minimalist interior design for your residence this time to give it a mollifying yet utterly stylish look and feel.
Actualizing a minimalist home décor is now a cakewalk!
A minimally done abode is not only easier to clean and maintain but quite enjoyable to live in as well no matter whether you reside there solo or in the companion of a fully-fledged family.
If you were looking for the best trending minimalist interior design tips and ideas, then consider the ideas shared above. By implementing these minimalist interior design tips, you can make your abode eye-appealing yet it will serve the desired purpose in an effective manner.
Last, but not least, a minimalist interior designing spree is perhaps the most affordable and there is no doubt about it.