As a homeowner, we all want an interior décor that is comfortable and aesthetically appealing at the same time. A compelling interior design is enough to enhance the mood of the residents living in that abode.
However, finding a savvy interior design company in Bangalore can be tough and challenging. Besides, the dimension of interior design is evolving with each passing day. So, once you step into this magnificent city, you got to get several quotes concerning interior design cost in Bangalore first.
Gone are those days, when heavy-weight furnishings with gorgeously ornamented architecture would define interior designing. Now, we all live in small apartments comprised of compact and limited spaces.
In fact, how you decorate your living room or bedroom can say a lot about your innate nature. A captivating yet comfy home décor would give your invitees that vibe of camaraderie and hospitable mindset.
Conversely, a bland and unwelcoming design can be a huge turn-off for them. Hence, it is imperative that you pay attention to every single aspect of your home's interior décor especially when residing somewhere like Bangalore. Read on to learn more.
Create a spectacular Walk-in Wardrobe
Walk-in wardrobes exemplify elegance and luxury that no other space of your apartment can. So, if you have adequate space in your dwelling, consider making one. Speak to your interior design company in Bangalore and they will customize a superb walk-in wardrobe for you that fits your space and heart impeccably.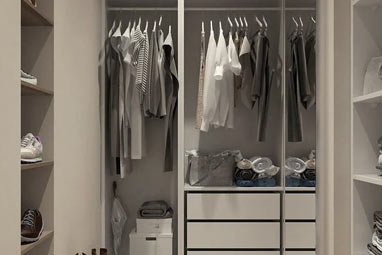 Once the space is made, your interior design specialists would further recommend you to decorate it with eye-catchy lighting, accessories, doors and of course some ritzy drawers. Just a hint of mind-boggling designs to this amazing space and you are done.
Walk-in wardrobes are a ravishing choice for those who have always craved for a deluxe living area to chill out.
Go for the complimentary swing doors
Wardrobes are a must no matter where you are. Why not make it a little more easy-to-use? Install swing doors for every closet of your home in that case. These doors are apt for wardrobes of any sort.
Whether it's those L-shaped wardrobes or the triangular corner and pentagonal variants you can integrate these swing doors for a wide range of cupboards. So, as a layperson you may ask that what's the use of attaching swing doors to my wardrobes.
Well, the primary advantage will be that you can expect a great deal of enhanced visibility instead. Not only will you get a lot of clarity every time you peep into your closet, but you can hang more clothes there from now on.
Enhance the modern-day appeal of your room with sliding doors
Generally, sliding doors open horizontally in a parallel position to the wall. Professionals either suspend them from a track lying above or mount them on a track lying below.
When these doors are usually fixed to the wardrobes of your living space, they add that enviably modern, sleek and contemporary feel to the ambiance all around. So, do you want to transform the entire appearance of your bedroom or study area this time?
Then, install sophisticated sliding doors onto your wardrobes as they exude that distinct look and impression to alter any place of your house noticeably.
Foyer area can be a visual treat for your guests
Living in an awesome city like Bangalore and not having that foyer area in your dwelling is simply not done. This is the space where we usually have a gala time with our guests. So, the more compelling this part of your home is, the more fascinated and amused you can make your invitees feel.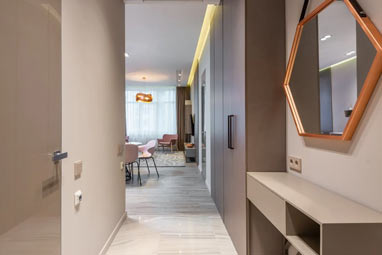 Also, it is good to know that it is the place that will create the first impression on your invitees' mind about the rest of your residence. However, building this segment of your house is not as easy as it may seem.
It requires a great deal of expertise, knowledge, creativity and most importantly a keen eye for details. So, it is imperative that you seek the assistance of a reputable interior design company in Bangalore regarding the same.
Usually, they've a team of interior décor pros who know their craft well. After evaluating the entire design and colour scheme of your apartment, they'll set up a foyer area which is a sheer reflection of your discerning tastes and preferences.
Indulge in a gastronomic extravaganza in a magnificent dining room
The dining room is the heart of our home, and we all know that. It is the place where all the family members get together while noshing some of the most delectable food items ever. Aside from just fine dining, we also share our feelings and emotions in this area of the house.
So, if you have newly shifted to Bangalore but don't have a dining space yet then, contemplate upon building it as soon as possible. You will find plenty of interior design firms that specialise in creating personalized dining rooms.
Simply specify them your individual needs and they'll happily devise a dining area of your choice. In fact, all of us want to de-stress ourselves after a hectic day with our family. Needless to say, a comfy yet enthralling dining room is the best place to do that over a sumptuous meal.
Build your living rooms tastefully
Have you ever thought where you feel the most relaxed after returning home? Yes, you've guessed it right, they are your living rooms. What's more, you can certainly express your distinct choice and liking through this particular place of your house.
Interestingly, how the rest of your abode will look has a lot to do with how your living rooms appear. So, it's high time that you take the initiative to decorate the latter as classily and elegantly as possible. Remember, striking living spaces are the key to making any residence stand out in the crowd and yours is no exception.
Get your interior décor an edge!
Moving to a spellbinding city like Bangalore is a privilege in itself. In such a scenario, getting a jaw-dropping décor for your brand-new apartment can be worth the investment. Reach out to Houseyog and come up with a residential interior design that is second-to-none.