Nowadays homeowners are opting for carpet flooring, as it is definitely one of the best ways to make your rooms look classy and stylish. Placing a beautifully decorated carpet on the floor, can transform your house and make it look great. It also adds to the comfort and the carpets are available in various ranges, so it's kind of affordable for everyone these days. All in all, carpet flooring is quite an in thing today. In fact, if you live in colder countries where you experience extreme cold and snowfall, then carpet flooring actually becomes a necessity. It keeps your foot warm and comfy all the time. But despite all these positive aspects, one cause of concern with carpet flooring is the carpet cleaning and maintenance. Vacuuming once a week seems a good option for removing the dirt accumulated in it but to remove the fungus, bacteria, smoke, pollen and other harmful chemicals, you definitely need deep carpet cleaning. And for deep carpet cleaning, you need to take the help of the professional carpet cleaner who offer carpet cleaning services.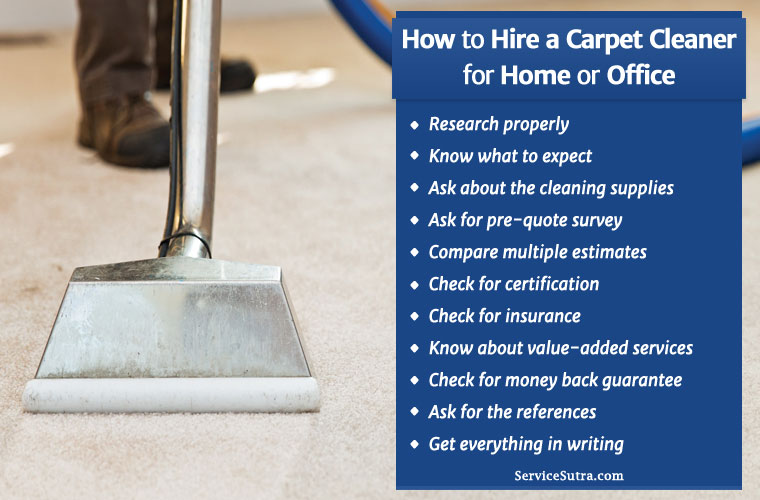 But, choosing a good and trusted carpet cleaning service provider is essential for carpets are costly and one should not compromise in the maintenance by using the services from an inexperienced cleaning company. There are a number carpet cleaning service providers in major cities like Delhi, Bangalore, Mumbai, Pune, Kolkata etc and choosing one can be confusing at times. And if you are wondering about how to hire a carpet cleaner for carpet cleaning needs, then here's a detailed post worth checking. Today in this post, I am going to discuss about everything worth knowing about how to hire a carpet cleaner for carpet cleaning needs at home or offices. And if you follow these tricks closely, you should not have any issues in finding and hiring carpet cleaners in India or elsewhere.
There are many carpet service providers in mega cities, but not all of them are equally good and efficient. In fact, it is a very common thing when you hire a carpet cleaning service at cheap rates and end up in getting bad results. So, basically you thought that you had to spend quite less but in reality; you end up in loss as your carpets will still remain dirty and you will have to hire another service provider soon and have to spend money again within a short period of time. Therefore, to avoid all these hackles it is best that you remain alert from the very beginning and choose an experienced carpet cleaners in the first place. And in case you are wondering about how to get it right, then read this post and you'll be on your way to hire the best carpet cleaners in no time. Here in this post, I will be discussing about the questions that you should ask the potential carpet cleaner, how to verify their credential and what to expect from them. If you follow these hiring tips properly, then chances of fraud and disappointments will reduce to none.
So are you ready? I think you are, so lets us start discussing about how to hire a carpet cleaner for carpet cleaning service at home or office.
How to hire a good carpet cleaner for home or office carpet cleaning
Carpets may not look so dirty but they do accumulate a lot of dust and dirt that may not be readily visible but hides amidst the fluffy surface. While frequent vacuuming is a good cleaning option, but deep cleaning if equally important at least once or twice every year or else the carpet will slowly turn dark and ugly. Moreover, unclean carpets are also prone to easy damage and hence it becomes important to clean and maintain the carpet at home and office.
To get it properly cleaned, you need professional cleaners. Carpet cleaners are available across major cities and towns these days and you can find one easily. But choosing the well equipped and experience carpet cleaners is not going to be easy, because you have to be smart enough to distinguish between the average and best carpet cleaners and that's what we are going to discuss below.
Here's how you can hire a good carpet cleaner for home and office carpet cleaning:
Research properly
Whenever you plan to hire for any service, background check is mandatory and you must do the same in case of hiring carpet cleaning service as well. Visit the websites of the agency, read the reviews shared y their customers and then choose the service provider. You may also take the reference from your friends, relatives, neighbors in case they know any good carpet cleaning service provider, but even in that case, proper research about the quality, process, cost etc can't be ruled out.
Know what to expect
When you are talking to any carpet cleaning service, just ask them about the basic services they provide. There are various kinds of services like dry cleaning, steam cleaning, carpet shampooing etc. so you have to decide which is best for you and since it will be confusing for you, take the help of the carpet cleaning service to decide. If they are good and experienced then they will be able to suggest you what is good for your carpet.
Ask them which services are considered basic and what are extras and accordingly take the decision. If you find that they guided you well and did not concentrate only on making profit, then you may like to hire that carpet cleaning service provider. However, for that you yourself have to remain updated about the basic facts.
Enquire about the cleaning supplies
Knowing about various types of cleaning supplies they will be using is essential. While consulting with the carpet cleaner, take a note on the carpet cleaning products they will be using. This is very important as there are various chemicals that are used in carpet cleaning and not all of them are good and safe. Different products react differently when they come in contact with the carpets, and by chance if they use the wrong chemicals, then that may badly damage your carpet.
Like, for example, chemicals that have high alkaline level or have optical brighteners can lead to yellowing, fading or discoloration, so you must discuss about these with the cleaner from the very beginning. This is indeed one of the basic tips on how to hire a good carpet cleaner for carpet cleaning needs.
Ask for pre-quote survey
There are many carpet cleaners that give you quotes over the phone but I personally do not prefer that. This is because over the phone, it is very less likely that you are going to get appropriate quotes and, in all probability, they will mostly charge you more or may ask for extra charges once they come to work. So, to be safe, it is best that you go for companies that come for a pre-survey and then give you exact estimates for carpet cleaning services. It is always better to have a face to face conversation before coming to any conclusion. This will help you eliminate the chances of price dispute post cleanups.
Check multiple estimates
Make sure you do not take the decision after talking to any one carpet cleaner. Talk to at least 2-3 of them, take estimates from them and then after comparing and evaluating, you should take the final call on hiring the carpet cleaner.
On consulting 2-3 agencies, you will have enough of information about the price, process, tools and equipments and cleaning materials being used. This information can help you to make the right decision about hiring the cleaner. You will get an idea of the standard market rates and process of cleaning and so it will help you in making the decision about hiring the service provider.
However, please do not always consider the cheapest price because service providers who charge below average may not be trustworthy or may not give you the best results. So, compare the rates properly and go for the one who charges reasonably, sound convincing and uses best of technology in carpet cleaning.
Mostly, the carpet cleaner generally charges on two basis criteria's that are per room or per square foot. So, if you do not want to be over-charged do a bit of study on the rates and charges for carpet cleaning services in your city.
Check for certification
IICRC or the Institute of Inspection Cleaning and Restoration is the most significant organization that certifies carpet cleaners. So when you are hiring a carpet cleaning service, make sure you check the IICRC certificate. It is certainly one of the most important tips on how to hire a good carpet cleaner. If they are able to provide you the certificate then you can go for them as they won't be able to get that unless they meet a rigorous set of standards in expertise and business ethics.
Moreover, any carpet cleaning service that is IICRC certified will have technicians that are aptly trained and have to participate in various ongoing educational programs in order to maintain that certification. So, you can be sure that they are quite technically updated and strong.
Check for insurance
Before hiring for any carpet cleaning company do not forget to check whether they are insured or not. This is mandatory as it is obvious you do not want to be held liable, if any of their workers gets injured while working in your home. Also, in case of any damage done to your carpet while they are cleaning, you have to be aptly compensated by them. And, for all these to happen they need to have the insurance and you must check that thoroughly before hiring them.
Ask for the references
Most of the well-known carpet cleaners have their official website and social media pages and accounts which you can thoroughly check before hiring. If there are too many negative comments, then that must be considered as a red signal. But, in case they are not present online make it a point to ask them for the references or the reviews from the previous satisfied clients. In all probability, if they are genuine they will readily show you the feedbacks that their clients have given.
Check for the value-added services
Every company will make the promise of cleaning your carpet effectively, only the method and the equipment used may vary but what else? To be more specific, you need to ask whether they provide any other value-added service that sets them apart and make them stand out among the rest. This is important as in many cases, the extras that the companies provide actually makes a huge difference.
Like, for example one of them may apply fiber shield along with each cleaning which helps to protect your carpet from getting stained easily in future. On the other hand, the other one may include repairs and spot cleaning in their standard service packages. So, basically these are unique services that the specific carpet cleaning company may offer which are not given by other companies. So, you need to know about the value-added services as this is definitely one of the important tips on how to hire a good carpet cleaning service.
Check for money back guarantee
Some of the carpets cleaning companies that are trustworthy and branded have immense confidence in their work and they often give you money back guarantee in case you are not satisfied with their work. This is really good and I personally prefer such cleaning companies. So, if you want to take my advice then please do not run after very cheap rates and hire companies that offer money back guarantee, as it proves that they are confident of their process and quality.
Get everything in writing
All the companies speak high of themselves but not all of them speak the truth. In other words, in order to convince you they may tell you all the good things and make fake promises which they at any moment may deny. So, to be safe on your part, it is advisable that you take everything in writing. Make written agreements with all the terms and conditions in it and keep that as a proof. Also, be sure that the papers and the documents they provide you are properly stamped and signed.
Uniform and Id cards
Although it is not mandatory but uniform does play an important role in determining the type of carpet cleaning company that you are hiring. See, most good companies are highly conscious of their reputation and they love to flaunt their companies uniform when at work. This is a kind of good thing and so you may check whether the company you are hiring also has a specific uniform and ID cards for their technicians or not. I am not telling that this would indicate 100% authenticity but it definitely is a strong indication that the company is above average.
Conclusion
Cleaning your carpet at least once or twice every year is very important if you want to keep it in good condition for a long time. This is because normal weekly vacuuming will clean the dirt but until and unless you deep clean it, it is not going to be easy to make your carpet fully clean. And, for that you need to hire a good carpet cleaner.
However, the number of average quality cleaning companies has increased on a large extent and so you have to be extra careful when hiring a carpet cleaner. I have already shared some of the best tips that you can use while hiring a good carpet cleaner for home or office carpet cleaning needs. Most of the tricks are based on my personal experience and with my interaction with some of the best cleaning companies in India, so it is going to work for you.
Basically, you have to be smart and confident while conversing with them and please do not hesitate to do proper verification of the information being shared by the potential carpet cleaners. I have mentioned what documents you have to check and what questions you have to ask to be double sure before hiring the carpet cleaner. Just do a bit of background check of the cleaning company and also about the general market standards and procedure so that the companies do not dare to fool you.
I sincerely hope that these tips on how to hire a good carpet cleaner for home or office carpet cleaning needs will certainly help you.
If you have hired a carpet cleaner, then I would like to know, what tactics do you use to hire a good carpet cleaner?