One day is too less in order to pack the entire household for moving to a new home. But, if you are moving locally within the city, then you can still manage to pack everything properly and move. For that, you really have to act swiftly and strategically and get things done without wasting much of a time. Generally, no one keeps such short time in hand if they have plans to relocate but emergencies can happen any time and so if you are also in such a situation, then you cannot help but pack things in 1 day. It might turn a little hectic for you considering the very less time you have in hand but still, if you try a little hard, you can manage to pack all your household and move in one day. Always remember that you cannot expect things to be exactly perfect but you must aim at making your relocation near to success and leave the rest on time. And if you are up for the challenge and wondering where to start and how to pack for a move in one day, then read on this post because today in this post, I am going to everything worth knowing about how to pack for a move in one day.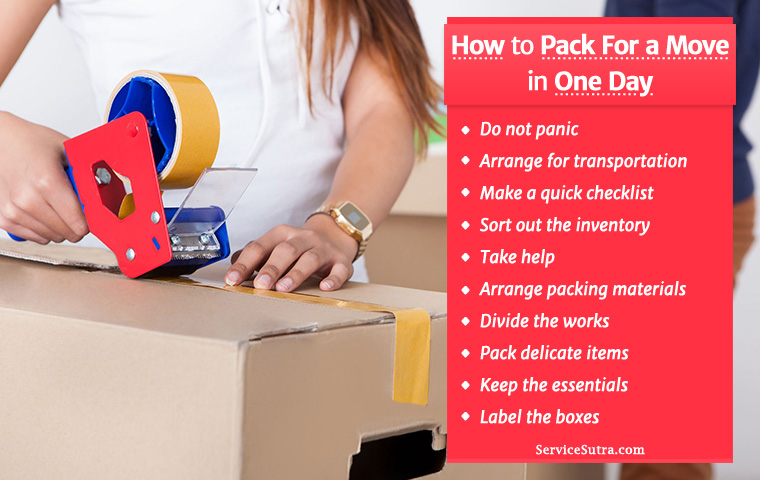 I had once shifted locally due to an argument with my landlord. He didn't even game me a week's time to arrange a local packers and movers company for relocation. But then, I managed to pack all my household goods in a little more than a half day and finally moved the same day to my friends place. I decided to concentrate only on the important items and get rid of a few of the old ones. So, based on my practical experience I am sharing a few of the quick and simple tips on how to pack for a move in 1 day. I hope these packing and moving tips and hacks will help you pack for a move in one day easily and efficiently.
Well, I strongly believe that you must act as per the situation at hand. When you got time in hand, you may wait, do a lot of thinking and then take required steps. But, when you are left with just 1 day in hand to pack everything, then you will have to act fast and act smart. Let go of the minor things and pack the items which you cannot live without. You know, mental preparation is the most vital thing, and if you are mentally prepared to move the same day, then believe me, nothing is impossible and you will be able to pull it off successfully. after readinh these hacks on how to pack for a move in one day.
I am sharing the step by step hacks that'll help you pack and move all of your household goods and articles in one day.
So are you ready?
Practical packing hacks to pack for a move in one day
Packing all the household item properly is a crucial thing in moving. More so if you have got just one day in hand to pack all the items. I personally find sorting and packing the items to be the most difficult part and so of late I have implemented certain packing strategies that have helped me a lot in moving even on a shorter notice like a day or two.
And if you are wondering about where to start and how to pack for a move in one day, then listed below are the most practical packing hacks that'll help you to pack everything for a move within one day.
Do not panic
I understand that when you got just one day in hand and have the whole home to pack, it definitely is very nerve racking. But, tell me something, will you really benefit anything by panicking. Well, certainly not. Instead, you will mess things up more. So, the first thing that you must do is to get rid of your worries. Have that belief in you that you will make it in due time. If you can once gain that confidence level, things will get swift and easy for you and you will be able to pack for a move in one day. Trust me on that.
Arrange for the transportation
See, transportation is really important and it is best that you make the arrangements even before you start packing for the move. You will anyway need a truck and labor for loading and transportation, so instead of keeping it for the last moment, go find one as early as you can. But, if yours is an emergency case, then I suggest you to book a vehicle for the transportation immediately as without a truck and manpower, it is not possible to carry your belongings to your new home. If you are transporting locally, then you may still be able to arrange on your own but for emergency interstate transportation, you have to contact a good professional packer and mover who can help you in transporting your goods safely.
There are many dedicated platforms including Servicesutra that can connect you with the best packers and movers all over the country. You can simply create a request for estimate or directly call our helpline number 7044 123404. There are many relocation companies on board that can be booked even on a short notice, so call in the number and check out. And don't worry about the emergency costs as the costs will remain same even if you book them at last minute.
You may also ask your close ones who may help you in arranging for the transportation vehicle as well. Whatever be the way you prefer, but arranging a proper vehicle and manpower to transport your goods is of highest importance.
Make a quick checklist
If you want to pack for a move in one day without any hassles, then spend a few minutes in planning your move. No matter how much is left in your hand, making a quick and simple moving checklist with list of items and activities of packing and moving can increase your efficiency and ensure that nothing important is left behind. It is the time where you have to decide what to carry to your new home and what to leave behind. What kind of packing materials are available and what is to be arranged and so on.
The checklist will help you to remember what you are carrying and what you have not taken with you. You will always refer to this while packing so that you do not miss out things. Remember, that it is not a wise thing to carry all of your belongings mainly when you just have 24 hours to pack. So, concentrate only the important ones and keep the rest aside. Take it as an opportunity to clean your home, leave old shoes, clothes, furniture which is broken etc; things that is not usable, can be left behind.
Here are some of the basic steps based on which you can sort the items:
Firstly, mark the essentials that you need and simply cannot leave without. These generally includes the important documents, certificates, bank details, your cards, basic clothing, your mobile, charger, primary kitchen utensils, etc. You must not forget these at any cost.
Second comes the items that has an emotional value attached to it. In other words, some items are irreplaceable when it is gifted by someone special, orsome ornaments that you wore on some special occasion like your marriage etc. Basically, some items are priceless and it is better you carry these to your new space.
After that, concentrate on the things that carry some artistic importance, aesthetic value or something that is antique and rare. It is preferable that you carry such rare items. It may include any artwork or show piece etc. which you find really timeless.
As far as clothes are concerned, you need to carry your basic clothing and the rest you must decide depending on the condition of the clothes. For example, dump the tattered, torn, ill fitted, faded ones and carry with you the newer, well fitted, beautiful ones.
The condition of the items matters in case of other things as well. If you find something in good shape and can be carried easily, then take those but if they are old, then it is better to buy new ones in place of them.
Here's a post move checklist, that may be required to handle important and essential post move tasks.
Start sorting the items fast
After you have made a list of the items which you decide to pack, start sorting them out quickly. It is preferable that you do it room by room so that you do not miss out things. Also, remember that you need to keep the things which you carrying in one room where you will sit and pack. And, as far as the items that you are not taking, please keep them aside so that things do not get mixed up. The better you sort the things, the better it will be for you to pack quickly.
Do not shy away from taking help
When there is only one day left to pack, it is important that you ask for some help from your relatives, neighbors, friends etc. If all of you work together, then you will not face the pressure alone and your work will be also done at a fast pace. You may give them the instructions how to do and pack the things with proper coordination. And, in case, someone is a real expert in packing then things are going to be super easy for you.
Arrange the packing materials
Before you start with actual packing, it is important for you to arrange for the packing materials like boxes, cushion, tapes etc. However, remember that no matter how less time you have, you cannot compromise with the safety of your belongings and so buy the boxes, tapes, cushioning materials of good quality. Buy the items in more numbers so that you do not have to rush to the market in case of shortage.
And, as far as the boxes are concerned, buy them of various sizes so that most of your belongings can fit in well. You may also take second hand packing items from any shop or from someone who has recently shifted but consider the condition of the items well before taking.
Divide the works well among all of you
Since there is lack of time, you have to apply strategies to get the packing done in time and one such tip on how to pack for a move in 1 day is to divide the work well among all the family members. See, in case you are alone with none to help, then you got no choice but to do everything yourself but if you have a family and have others to help you, then please do divide the work. If all of you concentrate on one thing, then that will simply be the waste of time. Divide the works among yourself so that things get done simultaneously and you alone do not feel so much of the burden. May be the ladies can pack the kitchen; gents can pack the bigger home appliances. Kids can put things together of their room, including books, toys etc. I hope you get the point?
Take proper care of the delicate items
The way you are packing the items is important as the safety of the goods depends on how well it is packed. In other words, while transporting, it is very obvious that they will be subjected to jerking and collision, so if the items are not are not well protected with proper cushioning, then it may get damaged during transportation.
So, special attention must be given to the delicate items like costly crockery, television set, furniture and cupboard with glass, glass table top etc. Pack them with proper cushions, bubble wrap them etc. You may also use your clothes (like towels, bed cover, pillow etc can be used for cushioning) to wrap them as that is a good way to protect them. This will actually serve both the purposes of protecting the items as well as fitting your clothes inside the boxes.
Keep the essentials in one bag
We all have the essentials which we cannot live without even for a day, so you can keep those very important items in one bag. The reason I am telling you this is that you will most definitely need most of these while transporting or just after reaching the new place, so if those items are kept in one bag, it will be easier for you to locate them.
Also, keep that bag with you as you may need them any time. Moreover, shipping may take time, so keeping the bag full of essentials along with you is actually a good option.
Label the boxes well
You may think it to be time consuming but trust me, labeling the bags actually helps locating the items better. It reduces chances of misplacing. In fact, it is important to label the box carrying delicate items as "DELICATE ITEMS" so that the person handling the items, know that the bag has delicate items inside, and it needs to be handled properly.
Properly labeled boxes will also help you locate items easily. So you are looking for the bed cover, open that particular box, labeled as bedroom essentials or bedding essentials. That way it helps immensely, otherwise if you do not label the boxes, you may have to open each of the boxes that you guess have clothes and you may still fail to find it easily.
Handle the items you are not moving
Although you may have just a few times that you are not carrying but if possible try to sell them or give it for free to someone who needs them the most. Take the help of your friends, relatives or neighbors in case they want to take the item or know someone who may take it. Also, there are shops who purchase second hand items and you may consider selling it to them for a fee. See, you may not earn too much profit but at least earn something to cover the moving costs? And if you are giving it for free, then you earn good karma.
The other option is to donate them in the charity. In fact, it is a good idea instead of dumping them, as it will be of help to some needy people. And, if none of the things happen, then there is no other option than to throw them, because you can't keep them in the house for you need to make that house empty.
Over to you
Packing all household goods for a move in one day may sound too difficult but if you follow the step by step packing hacks as discussed above, it will help you pack everything for a move in one day. These hacks will help you do the packing and move your household goods in due course of time. It's all about acting fast and smart with a bit of planning.
The most important thing for packing and moving in one day is to act in a systematic manner. You cannot afford to waste any of your time. Start with the sorting of items, then arranging for the transportation, after that arrange for the packing materials and then start packing. Follow the instructions well and plan everything accordingly.
Do not hesitate to take the help of others as that will speed up the entire process. Divide the work and act in a coordinated manner. I sincerely hope that these packing hacks on how to pack for a move in one day will help you plan, pack and move conveniently.
Ever relocated your house in such a short span of time? Which packing and moving hacked worked well for you? Share your valuable packing and moving hacks by commenting below.
Happy home relocation!