Storage and warehousing services are offered by movers and packers companies where you can store all types of domestic household goods and appliances like TV, Fridge, Washing Machine, Sofa sets, dining table and chairs etc. The process of household storage and warehousing is pretty simple.
When you are moving out on temporary assignments or planning to renovate your home, you can transfer all of your household goods in a storage facility. All that you have to do is, call a movers and packers who offer storage services and ask them to give you an estimate. They will come over and look at everything physically and based on the space you need, they will offer you a price for storage.
But that's not all. Before your goods can be stored, it has to be packed as if you are moving your house. After properly packing your goods, the mover will transport it to their warehouse. So naturally apart from the cost of storage, there is packing cost and cost of both ways transportation involved in it.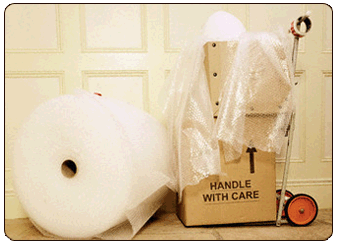 You can't really do anything about the cost of storage and cost of transportation. But you can definitely save some of your money that a mover will charge for packing your goods. If you manage to pack everything yourself, then you can save on overall storage charges.
Here in this post, I am going to give you a good idea on how to pack household for storage. These packing tips for storage of household goods in a warehouse will help you save your precious money. Give it a thought and continue learning some economic packing tips.
Arrange boxes and cartons for free
You need different types of packing materials, but most importantly you need cartons and boxes that you can arrange for free. Items such as cartons, duct tapes, bubble wraps, packing paper, plastic covers will help in protecting your goods whilst in storage. After packing them, if you put them in the boxes they will stay in a better condition. The storage will also be an organized one and you will be able to find more space for storing goods.
The entire space inside the cartons should be accommodated. Old books, if are needed to be kept in the warehouse, should be packed in small cartons and kept flat on their faces. Put in some naphthalene balls to prevent the worms from damaging the same. Do the packing in a sequential manner. It will help in unpacking later on. Keep the cartons labeled with a list of items hanging outside it to know which items are packed inside it. it makes identifying the objects easier.
Furniture
The furniture is to be rubbed with bubble wraps and its legs removed, if possible, in order to protect the same from damage. Clothing and personal goods should be packed in strong secure cartons with some naphthalene, mothballs or similar product to protect and maintain their condition.  Separate the clothing out from the wardrobes, drawers and cupboards. Vacuum clean the furniture before wrapping them up. This will remove the vermin.
Metal items
Use NON ACID tissue papers or plastic bags to reduce tarnishing. Keep the iron items oiled with a little machine oil to prevent them from getting rusted. And when possible wrap them well.
Battery operated appliances
The batteries inside the appliances like inverter are to be removed and kept separate. Batteries tend to spill out the chemical inside them when they wear out. This could damage the appliances permanently. Hence it is advised to keep them separate.
Packing computers
Computers are very sensitive items. They need special care. It is best if they are stored in their own cartons. Otherwise, good quality bubble wraps packing cartons can help do the needful. Read the manufacturer's instructions carefully before packing them. On top and bottom of the carton use some packing paper for better protection.
But you should contact your retailer if you have to store the machine for a longer period of time in the warehouse.
Electrical appliances
Fridges, freezers and other white goods should be thoroughly dry and clean before storing. The door should be kept ajar whilst in storage. A deodorizer may be placed inside fridges or freezers. Don't place items inside fridges or freezers as the shelves and linings can be easily marked and damaged. The ideal boxes to repack these items would be to use their own cartons.  One more reason to not throw away original cartons of these appliances J
Dishes and glassware
Being the most fragile items, these should be kept separate from other hardy items so that the latter does not topple over them and break the former. As usual, a layer of items should be placed at the bottom of the carton before keeping the items. The cups, bowls, saucers, stand plates and casseroles should be kept nested on their edges.  These should be kept standing on their edges after having them packed up in a flat carton. Fragile items will thus be protected from damage.
Planning is the key thing to successful packing and storage. Dissemble any item that can be dissembled yourself and start packing them one by one. Here are some quick smart packing tips:
Use all the space available.
Do not make the carton too heavy.
Label each carton as you finish packing.
Keep the items frequently used near the front of the space.
Over to you
In case you are not able to do the needful, seek professional help from trusted movers for they provide your goods with the preparation they need for storage and maintain their condition for the term of the storage.