Whenever I used to visit my friends place and get vindicated by the grandeur and elegance of the interior design and decoration of his house, I used to believe that Interior design and decoration is a a very costly affair and only rich people can afford it. But when I asked my friend about his total expenses, what he told me was amazing and then only I realized that one can hire an interior designer for interior designing and decoration of flat even on a low budget.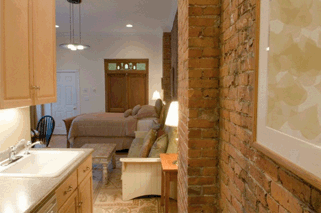 Design and décor need not to be too costly, but elegant and that can be achieved even by spending less, but spending logically. The luxury and opulence can take you by surprise, but there are several economical ways that can transform your interiors like a dream home that you crave for. But before you began searching for a prospect, first you need to determine whether you need an interior designer or interior decorator by specifying your exact requirement.
What to expect from Interior Designers and Interior Decorators?
Interior designers are responsible for supervising the whole building project along with working with the architects for taking care of the minute details of architecture of a particular space. They also help to create functional or interior space by understanding how the inhabitants will use different areas and rooms. They also take account of other important aspects such as light and sound. They are also well versed with the building codes and structural considerations. Interior designers work with developers and owners to improvise on ideas that will eventually precede a dynamic combination of finishes. The outcome differs depending on the type of space given.
Interior decorators work in dressing up of a given space. They did not work on building or the layout of the interior space. They focus entirely on the furniture, colors, textiles and textures of a room and also help in determining which fabrics, accessories, color patterns, and floor finishes will suit the best interests of yours to achieve the desired look for the space. A decorator doesn't need any official training to adopt the title, while a designer needs an official training and a license to claim their title. Hence a decorator's service can be hired at a much lower price compared to a designer. But do not put this as a deciding factor to make your decision as you should hire them as per your requirements.
Now you must have finally arrived at your decision to hire a designer or decorator as per your specific requirement. Now I will pinpoint few smart and easy ways to make a complete makeover of your room's interior that too for a price that you can easily afford.
Having a budget for interior design and decoration is important
Having an initial budget is always better and you should tell a potential interior designer about your budget upfront and be realistic and specific about your expectation in your budget. Encourage your designer or decorator to state whether they can meet your expectations within your budget or not. You might also bump into people who will show you dreams of Mercedes but can't even afford a scooter. I think you got my indication. Beware of those people.
Understand your design and decoration needs
Gather colors, measurements, fabrics, carpets and pictures of things that you like. Doing some initial research over the internet might help you to save valuable time and money and allow your decorator or designer to concentrate on commencing the project successfully.
Work with a professional interior designer and decorator
When you have so many constrains like fixed budget, fixed design specifications, fixed time frame, etc then recommendation from a friendly neighbor or relative might be helpful to get hold of such a person who can fulfill all your requirements keeping your budget in mind. You should interview a prospect interior designer or decorator before hiring them, as blindly believing your friend's recommendation can be costly if you have a different requirement.
You can use interns and student services too
There is another extremely economic idea that you can use but it might be a little risky as your interior looks are on stake. A lot of people are pursuing interior designing or decorator courses in various renowned institutes. They will be happy to work on your interiors (even for free) as they can add it to their portfolio and flaunt them as a successful project under their belt before they appear for their finals. But it is up to you that whether you are willing to gamble your interiors for them to experiment. I will only recommend this if you know someone personally and you are well aware of their credibility (or past works in this regard), who match the above criteria and are willing to do it for you.
How to spend on furniture's and upholstery
While buying furniture, look for available discounts and added services that follow. Often few staff members can authorize discounts or know of upcoming sales that will help you with your budget. I have recently bought a wooden almirah from a shop where one of the staff members offered me a strange proposition; he told me that I can get the same quality of almirah but from a different brand for a much cheaper price. When I enquired about the legitimacy of that offer he even put his career on the line for that. This might sound a little unethical and corrupt practice then you may pass or you can go for it keeping in mind the risks associated with it. It's your choice, they will also promise you to give proper services. Be wary of such people and take your decisions diplomatically.
Save money on miscellaneous decor items
Furniture and flooring cost is going to be the main agenda while buying stuffs for your rooms. You should focus on investing on these kinds of things as they are the main items that are going to serve you both with their looks and utility. Don't waste money on less important things which only have a visual appearance value like you would not like to buy a 1000 Rs flower vase, which you can easily afford for a much lesser price. The idea is to not invest heavily in items that will need to be replaced frequently or updated in less than five years time (especially electronic equipments and decorative, given the recent degradation in the  quality of these items irrespective to the price of these equipments).
Get a general plan
Ask your designer or decorator to provide a room layout or color scheme for your interiors to help you in choosing one, or if your budget allows, then ask them to provide a detailed plan. While you got to take care of the rest like painting, picture hanging, reupholstering, etc, but with a complete and detailed plan, you are already ahead in your project that will help you to reach your desired result in a effortless and economic way.
Conclusion
To get a complete makeover of your interiors might seem a distant dream to you considering the cost and other constrains but once you follow the above tips you might actually save a lot of money on your interior designing project. Feel free to add any relevant thing that I have missed and good luck on your project.