Looking for the top interior design professionals in Kolkata to give your recently purchased home that wow interior design? Well, finding a professional like that is not easy as there are plenty of individuals in the market who claim themselves as first-rate interior designers in Kolkata. Choosing a pro who can design your interior space may not be easy all the time. There is so much to consider and look at before hiring a pro.
Wondering how to get it right?
Just, continue reading the post. In today's post, we are discussing everything you should consider when hiring a Kolkata interior designer for your home or office design project.
Consider this when hiring Kolkata interior designer
We often hire interior designers to get our dream abode that looks and feels like a dream abode. However, it is imperative that you take every step carefully and select a professional interior designer who is truly knowledgeable, resourceful and experienced.
To do this effectively, there are certain things that you must factor in so as to hire the best professional Kolkata interior designer to design and decorate your space.
Here is how!
Contemplate your requirements
What kind of interior design project do you want to implement for your home or office space? Reflect on this aspect and then hire a Kolkata interior designer that best matches the project needs subsequently. Also, ponder over the spaces that you want to allocate to each room of your house and the things that you want to throw away or keep back.
Do you want a modular kitchen that is made exclusively for your needs or maybe a dreamy bedroom for your little ones where they can have fun and enjoy their own me time? Well, whatsoever the case may be evaluating your own tailored needs is of utmost importance even before you employ an interior design specialist for the project.
Also, make it a point to discuss all these aspects with your interior designer or architect to get a clearer understanding of whether or not he or she would be able to meet them. In case they can, why not hook up with a person like that and convert your much-awaited interior décor into a reality?
Type of engagement
Every interior designer works in a different way. So, make sure to discuss the kind of requirements you have and how you can best engage a professional interior designer for the job. This can vary based on factors such as design-only consultation, design plus supervision, or complete turnkey execution.
Aside from that, the project completion time, payment terms, material specification, overall interior project cost etc should also be considered to set the expectation right.
Provided you find feasibility in each of these areas while discussing these matters with the interior designer in Kolkata, it's better to hire a professional like that right away.
Evaluate your budget
There is a fine line difference between how much you want and how much you can spend on your interior design project. So, give a thought to this aspect before you hire the Kolkata interior designer of your choice.
Make sure you hire someone who has the skills and expertise to make the most out of any budget that too without compromising on the quality of the project. Accordingly, strike a balance between your needs and wants and set a realistic project budget that you can comply with. Also, ensure to include the fees of the interior designer as well in the project budget.
Should you find this task a little tricky, feel free to discuss your unique specifications with your interior designer and subsequently, they will help you form a budget that will suit you for sure.
Take reliability into consideration
Before you plunge into the search for your favourite interior designer, make sure the person is adequately trustworthy and has already served a lot of clients previously. After all, an interior design project is no joke; it takes time as well as effort.
So, to play safe, get a contractual agreement signed by your interior designer where they would be stating your tailored needs and requirements, their mode and style of work and most importantly the payment options they are able to accept from you once the project is over.
Keep a copy of each with you and ask your interior designer to do the same. Thereafter, let your interior design specialist do their job as you sit back and relax, waiting to see your interior space in a stunningly impressive condition soon.
Work schedule and completion deadline
Do you want your interior design project to get completed within a few weeks, months or maybe a year? Think about this aspect time and again and hire an interior designer based on that. Always remember, the shorter the deadline, the more it's going to cost you. And, if it gets delayed, it may increase the cost.
Also, give a thought to the fact that whether you want to be involved in the project or not. Do you want to opt for customized products or those over-the-counter products to finish off your project? In most cases, the latter often produces undesired and ostensibly favourable outcomes that may not meet your interior design needs to the full.
As a result, you will have to rehire your interior designer once again to get the job done, thereby adding to the overall duration and cost even more.
Take all these facets into consideration, and if need be discuss them with your interior designer, subsequently devising a tentative timeframe within which your dream interior design project has to be accomplished without you worrying about anything at all.
Hire only a pro
You must have set certain goals and aspirations related to your interior design project. Sure thing, there is something that inspires you and that you want to see as a part of your home revamping project as well. Contemplating this factor is of the highest importance before you hire a Kolkata interior designer.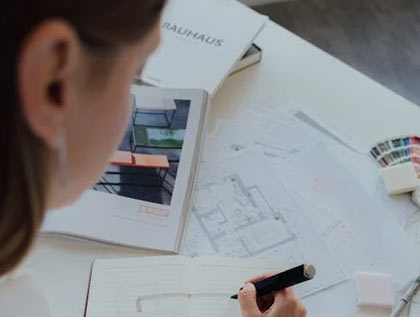 If you feel like it, you can create an inspiration board or inspiration folder too by using Pinterest. Subsequently, save the images of the spaces that you like the most over there. Thereafter, discuss all these aspects with your interior designer so that they get a rough idea of what according to you a perfect space is.
Also, don't hesitate to specify them your unique likes and dislikes, so that the professional can start off with his or her work as soon as possible. Look, the thing is if communication is clear between both parties not only it will get easier for you to keep constant track of your interior design assignment, but your interior designer will also find it way more effortless to create a stupendous layout for you that too in tandem with your tailored tastes and preferences.
Verify the credentials and go for referrals
There is a huge disparity between interior designers and decorators. In fact, every person operating in either of the spheres will claim to be a top-notch interior designer which is not always the case.
But the million-dollar question is, do they really know the nitty-gritty and nuances pertaining to interior designing? Also, customer etiquette matters a lot when it comes to hiring only the choicest interior designer to be precise.
So, make it a point to glean adequate information on all these aspects before finalizing the deal with someone. Besides, it would be a great idea to visit their physical office if need be and go for one-to-one communication.
How confident and knowledgeable your interior designer is sounding? Is the person really enthusiastic about the interior decoration arena or doing the work just for the sake of money?
Take each of these factors into consideration and ask your friends, colleagues and family members about the same if possible. Alongside, verify the credentials, testimonials and other documents of your interior designer really well.
Is the individual properly accredited, licensed or certified? Ascertain all these things for sure and if you find everything feasible, then kick-start your interior design spree with a professional like that.
Over to you
As easy as it may sound but hiring the best Kolkata interior designer that too within your vicinity might get a little tricky at times. However, if you take the necessary steps and give thought to the imperative factors, then you may be able to hire someone who can create the interior design layout of your choice.
So, ponder over each of the facets as discussed above and employ a specialist Kolkata interior designer who has the expertise and resource to turn your much-awaited interior design project into a beautiful reality.