One of the best ways to avoid interior designing mistakes while renovating and decorating your home is to keep a note of everything that's functionally important for you. Your functional needs, design preferences, color preferences are important so keep a note of it and then discuss the same with the interior designer and architect you are working with.
At times you may know what you need and at other times you may get confused and that's where an expert can help you. Guidance of an expert interior designer can help you avoid interior designing mistakes. That's why I always say, interior designing and decorating a house should be done after lots of planning. Even small little things matters a lot. And even small interior designing mistakes could ruin the entire aesthetics and functional need of your house.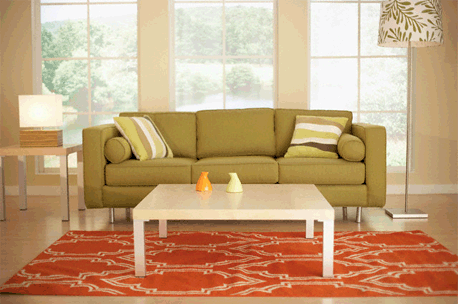 13 interior designing mistakes worth avoiding
It costs a lot money to design and decorate a house elegantly. And, there are many things that's important to get your interior designing right. I have worked with several interior designers and know what it takes to get best of interior designing and decoration. Listed below are the most common interior designing mistakes worth avoiding.
1. Not choosing a theme
Make sure to have a theme in mind. When you start picking décor items randomly, chances are you will end up in a mess. Hence it's better to keep everything around a theme and avoid picking items randomly.
2. Buying fabrics
Today we often buy most of the stuff online, but when it's about fabrics for curtains etc, it's always better to buy it from a store. Best thing about buying fabrics from a store is that you can touch and feel everything and then buy the fabrics.
3. Over decorating
Less is more when decorating and you should not forget that. If you over decorate your room or space, it won't look aesthetically pleasing and nice. It's better to decorate around the theme and take the minimalist approach. Avoid overdoing and overcrowding your space, leave some breathing space inside your rooms
4. Wall paints
How you paint your house is seriously important and you should pay adequate attention to the painting job. Don't just apply any shade and any paint. There are verities of options and choices of materials, so better take advice and opinion from your interior contractor and even if they recommend something costly, you should consider that. Because repainting the entire house once again is not going to be easy. Hence it's better to choose the best quality paint and work with professional contractors who are experienced at it.
5. Placement of furniture
Irrespective of how expensive and classy furniture you buy, if you not place it strategically, you will end up messing the overall look and feel of the space. One of the most common mistake we tend to make while placing sofa and other such furniture is we place them facing each other and that's just terrible. Never place sofa set facing each other.
6. Size of furniture
Size of furniture matters a lot when it's about making a room functionally efficient and aesthetically pleasing. Choose the size of the furniture strategically. Even if a room is small, you can put a little larger furniture there and that's going to add to the overall look and feel of your room. But remember if not handled well, it may just ruin the look and feel of the room. Another thing to keep in mind is to make sure that the furniture you are buying will actually enter the room through the door.
7. Small size mirror
If you are using mirror, make sure to use a little larger one.  Sing small size mirror in bedroom or bathroom can ruin the look and feel, so go for big ones instead.
8. Quality matters
So whatever you buy, never buy cheap stuff to decorate your space. It's better to take minimalist approach and be choosy about what you are buying to decorate your space. There is no harm in buying slowly, but buy good stuff that lasts and complement the overall interior of your house.
9. Decorate kids' room strategically
Decorating the bedroom for your kids could be the most difficult thing because your kids will grow every year and their needs will change dramatically. Just keep this simple mantra in mind because what sound like best today won't look good tomorrow. Make it just future proof and renovate it in such a way that changes can be made easily and quickly without spending lots of money as your kids grow.
10. Hanging photos and paintings
Placement of photos and arts are very important. Ideally you should hang such painting or family photos at a visible height, not too high. But that does not mean you have to hang these paintings too low. So find a perfect height to hang such paintings.
11. Not using home plants
This is one of the most common interior designing mistakes we make. Irrespective of the theme of your interior design and decorating, make sure to accommodate a few home plants in your decor. Home plants bring lots of natural feeling and make the space vibrant and lively. It's a must have thing, but unfortunately, most often we don't keep home plants.
12. Proper lighting
Lighting is an essential part of interior designing and this where we make the mistake most often. Bad lighting can ruin the space, so be very careful with lighting. Use proper light fittings and avoid using high power or too low lights. Make sure to have adequate lighting and use energy efficient lights to keep the electric bills as low as you can.
13. Make a budget
Not having initial budget is one of the most terrible interior designing mistakes you could make. Make sure to have an initial budget in mind and if required take input from the interior designer or the consultant you are working with. Its okay to keep the budget a little flexible, but having no realistic budget is a bad idea.
Over to you
Interior designing is all about planning and execution of plan to make your room aesthetically great and functionally efficient. Even small little mistakes could ruin the look and feel of your space and it's not going to be easy to get it redone.
Best way to go about decorating your house is to hire an interior designer and an architect and then work with them patiently to figure out what is to be done and how. We have already discussed some of the most common interior designing mistakes that are worth avoiding and if you know of any other mistake, feel free to share it by commenting below.