Dreaming of a spotless and spanking impressive living room is very easy, but putting that into place is not. Ever since you built this area of your abode, you wanted to embellish it the way you, please.
And to make that happen, you have surfed the internet rigorously, skimmed through various magazines and journals, tried out plenty of resources and whatnot? Well, coining such ravishing ideas is a different story altogether, and so are the mistakes that knowingly or unknowingly occur in the middle of this activity.
Avoid these living room design mistakes
With that being said, below are 10 noteworthy pitfalls that you must avoid at all costs when implementing the interior design of your living room.
Not thinking out of the box
You don't have to always adhere to the conventional styles and designs to make your living room appear functional, aesthetically pleasing and elegant at the same time. Rather you can start thinking out of the box and experiment with these elements as much as possible. So, to the best of suggestions, listen your gut feeling and your unique tastes and preferences to give your living space that enviably cool look.
Missing out on wall hangings
Eye-catchy wall hangings can make even a bland living room seem utterly vivacious and welcoming for its invitees. And not decorating your walls with these artefacts would lead you to make yet another living room mistake and that's for sure.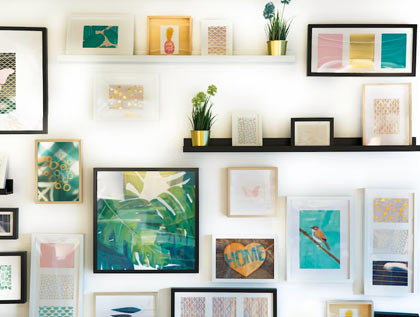 However, make sure the pieces you choose go well with the colour palette and thematic layout of your living space or else all your effort will go into vain. Alternatively, you can also hang a couple of photographs in sequential order, install them at eye level and guess what?
Your near and dear ones can't stop appreciating your acumen and sense of aesthetics when it comes to implementing an oh-so-impressive living room.
Spending money on impractical furnishings
Well, the aesthetics of your living room definitely matters, but that doesn't imply that you are going to compromise on the utility part in any way. Rather try and strike that much-needed balance between the two, so that you attain a living space that looks spectacular and immensely functional at the same time.
Going matchy-matchy with everything
We often want harmony in our living room, be it in terms of colour selection, furnishing or of the overall décor of that space. However, in the middle of this process, many of us often end up creating a dull and boring living space, right?
Instead, intentionally going for a few mismatches while experimenting with them as much as possible could be a fab idea. If a striking statement piece works out, then you can give that a whirl too.
In short, whatever makes your bland living area seems interesting and out-of-the-box would do good.
Not opting for a multi-faceted lighting
During the day, your living room seems like bathing in a pool of sunlight, so no worries about that. But as evening descends and night falls, a single source of light won't be enough to provide your living area with adequate illumination to be precise.
So, make sure that you opt for multiple lighting variants to devise a bright yet intriguing appeal all about your living space. In this context, it is pertinent to mention that pendant lights, spotlights and even table lamps can be outstanding options to opt for.
Be assured that in return, a dreamy kind of impression would be created in this part of your abode.
Placing the television incorrectly
As a matter of fact, positioning your television correctly is of tantamount importance especially when it comes to actualizing a prim and proper living room décor. So, regardless of the design, size and model of your TV, you must invariably place it at an eye-level distance, so that viewers can binge-watch and enjoy their favourite shows without feeling uncomfortable at all.
Avoiding replacing the sofa
Are you up to altering the appearance of your living room entirely so that is both pleasing to the eyes and gratifying to the soul? To make that happen, you got to bid goodbye to your old sofa set.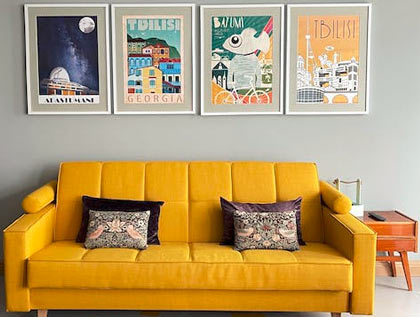 In this context, you may think that splurging on a heavy-weight and ritzy-looking sofa is the way to go but that is not always the case. On the contrary, investing in a simple sofa can dramatically change the appearance of your living space as such a piece has that enticing factor in it to complement the rest of the décor to perfection.
So, ponder over this fact today.
Pushing the furnishings against walls
Furniture doesn't only mean creating utilitarian sectionals, implementing layouts or refurbishing the entire area of your living space altogether. But, pushing the couches and upholsteries against the walls while you keep your Television as the centre of attention is a great mistake that you are making amidst this process.
An amazing alternative to this boo-boo could be using off-wall-placement and floating furniture that creates the illusion of a relatively larger and roomier-looking living area for your residence.
Selecting furniture of the wrong size
Of course, furniture plays a pivotal role when it comes to making or breaking the true beauty of your living room. Though texture and design matter a lot, what matters, even more, is the size of every piece that you choose.
Again, incorporating too large or exceptionally small furnishings can make your living space seem unreasonably cramped or commodious. Now, what to do? To the best of suggestions, measure every part of your living room properly first, including the size of your curtains and rugs too.
Subsequently, shop for fitments that you think would complement this portion of your house in the best way possible, striking that perfect balance between utility and aesthetics. What's say?
Not pondering over a fully-fledged layout
Everything needs a proper plan, so the interior design of your living room cannot be an exception in this regard. You might be pondering over a couple of themes or layouts for every part of your living area, hence, devising a thoughtfully curated strategy is of tantamount importance.
How will you curb the foot traffic? Do you want to create sectionals for your living room? What is the pivotal point of attraction in your living room? Which area in your living space have you dedicated solely for your "own me-time? Ask yourself these questions before you implement the master plan for your living space.
In fact, taking this aspect into consideration can save you from the hassle of repositioning the furniture in your living room and refurbishing that area repeatedly year after year.
Take your living room interior a notch higher!
Attaining a living room that is both functional and eye-appealing is now a whisker away only if you remain handy with the tips and tricks mentioned above. However, should you contemplate getting a full-on transformation for the living room of your home, feel free to hire a professional interior designer who would assist you design the living space of your choice by making the most of their skills and knowledge? And a combination of these two would just do wonders when it comes to implementing a living area that seems utterly professional yet reflects your individual tastes and preferences in the best way possible.