For many of us, kitchen cleaning sound like a tedious and terrible thing, but that's not the truth. We spend lots of time in kitchen making breakfast, lunch and dinner for our family and hence can't do without proper cleaning. Even if we know it is essential to maintain proper hygiene and cleanliness in the kitchen, some time cleaning take the back seat because of lack of time and energy.  I am sure there are lots of people who want to keep it clean and tidy but they cannot invest time on cleaning. I am one of you because I used to postpone kitchen cleaning, but not anymore because I know how to keep my kitchen clean and hygienic and this is something that can't be ignored.
I tried various schedules, learned various cleaning tips and advice from the experts and thankfully know after a lot of practice I have mastered the art now. I know there are many fellow users here who would like to know about smart tips and tricks for kitchen cleaning and that's my motivation behind writing this post. So if you are determined to keep your kitchen clean and tidy then just read this post till the end and I am sure you will learn a lot of tips for effective kitchen cleaning.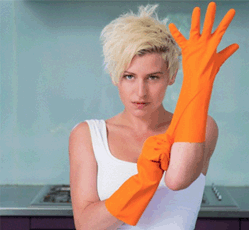 Kitchen Cleaning : start with greasy wall
Kitchen walls are most prone to the combined attack of steam, dust and oil residues in the air, which make the wall, look dull and grimy and leave a sticky residue behind and significantly affect the surface of walls, counter tops, slabs, appliances etc.
Clean the grease splatters and build ups from your walls, appliances like fridge, chimney, microwave & mixer and cabinets by washing them off with a sponge dipped in moderate concentration of white vinegar. After washing it use a fresh sponge, soak it in water and rinse, now wipe dry with paper towels.
Cleaning Microwave oven
The interior of the microwave often get messy with the buildups and spills inside it make it stink and dirty. All you have to do is take a bowl of water and vinegar and heat it so that the steam generated inside the microwave can help you in easily get rid of the mess. Take 1/2 cup white distilled vinegar and 1/2 cup water in a glass bowl, and boil the solution inside the microwave. After carefully removing the hot bowl, now you can easily wipe the loosened food buildups using a paper towel or kitchen fiber cloth.
Cleaning the garbage and litter bin
Keeping you garbage bin clean is extremely important as pests like cockroach, ants, rodents and other bugs love to reside in dirty and filthy places and likely to infest in your kitchen if they get moist and dirty environment there.
Traces of fluids coming out from rotten food items or other waste materials can make your kitchen atmosphere really dirty and leave a pungent and filthy smell behind. Scrub using a dish detergent or cleaning liquid and clean it properly. Rinse and dry thoroughly with paper towels or kitchen rags.
Cleaning of kitchen Chimney
This is not an easy task to clean a chimney, especially because there are several types of chimneys available at the market and each one of them have different approach of cleaning. Let's take a good look at some of the chimney types and how to clean them.
Charcoal filters: In this kind of chimneys there is no way you can clean them, they must be replaced in every three to five months.
Duct tape chimneys: In duct tape chimneys, it requires less maintenance compared to its counter parts, and the filters are more durable due to more suction capacity. You can simply use a soap scrub to clean DT chimneys. You can maintain it well, if you clean it atleast once in a month.
Baffle and mesh filter: This is the most commonly used chimneys in Indian kitchens. The filters of this kind of chimney are fitted with a double-layered filter with large suction capacity. It should be cleaned with warm water and detergent, this combined solution will unclog the pores. You should repeat the cleaning process every two to three weeks.
Caution: Do not use a harsh detergent on it as it tends to scar the surface. You can also remove the internal mesh layers and clean them separately for a better result and for the sake of its safety.
Modern day chimneys comes with an auto-clean feature that helps to reduce maintenance work as the sealed motor in the chimney does not allow smoke or dust to get in, moreover the advanced foils and oil collectors prevent oil-clogging.
Cleaning kitchen sink and sink drain
Cleaning sinks and the sink drains might apparently seem easy but by simply letting the water through the sink drain all day long is not quite enough to deal with the germs and bacteria presence. You need to find effective ways to sanitize the sink.
Materials required: You will require the following materials for cleaning your kitchen sink.
Distilled white vinegar, baking soda, Liquid dishwashing soap, salt, lemon, Ice, etc
Tools required: Mild soap, old toothbrush, soft rag and soft nylon sponges.
How to clean using natural methods: Cleaning is a regular affair; if you do it regularly then you will likely face less trouble while cleaning various parts and areas of your kitchen. Use the sponge or a soft rag to wipe the surface with the help of a mild soap. Just make sure to avoid using strong chemicals like bleaching powder, ammonia or other such strong cleansers on the stainless steel surface of the sink as they might damage its surface.
Sprinkle baking soda powder on the surface of the sink, due to the wetness it will soon turn it into a paste, rinse the surface thoroughly with that paste.
After cleaning it with the baking soda powder, apply the paper towels soaked in white vinegar into the sink surface. Let it sit for sometime (say 20 min) and then dispose of the paper towels. Rinse the sink with lukewarm soapy water.
Kitchen faucets and handles cleaning
Wipe them with a mild soapy solution. A toothbrush is the best match to clear the buildups and dirt from the fine places where you can not reach with your bare hands. For removing stains and spots use a cloth soaked in white vinegar to rinse it thoroughly through the affected surface. Thoroughly rinse with clean water one last time and dry with a soft rag to finally give it a clean and fresh look and smell.
Over to you
The above techniques are easy to implement and can be done quickly. If it still looks a cumbersome work to you, you can hire a professional cleaning service for regular or periodic kitchen cleaning services at your home or office pantry.