Pondering over some easy-breezy design ideas for your small kitchen? Then, today's post gets you covered. In fact, nowadays, most apartments have diminutive kitchens, hence, homeowners find it difficult to design and utilize that space well.
Luckily, professional interior designing services are widely available these days, and that even help design beautiful spaces remotely. Interior designers usually take on full projects, but they sometimes help design the smaller kitchen as well.
If the kitchen renovation is on your mind, then read on.
Today in this post I am sharing the hot and trending kitchen design ideas that are worth stealing.
Top kitchen design ideas and trends to look for in 2023
Listed below are 12 amazing small kitchen design ideas and hacks that you would surely fall in love with. Consider these latest kitchen design trends as you plan to give your small kitchen a surprising makeover.
Metallic sheen
Go for stainless steel as it is a very trendy yet classy option for your small kitchen. In short, when the shimmering glare reflects throughout your kitchen, it looks way larger than before. Plus, the aesthetic appeal will reinforce quite a bit as well.
Install black-coloured cabinets
If your small kitchen has adequate lighting in it, then installing black-coloured cabinets over there can be a fab idea. After you do that, try and balance it out with walls having relatively lighter tones and guess what? Your tiny kitchen will simply look wow!
Copper shelves are just amazing
Gone are the days when people would just use copper utensils. Now using copper in shelves and other furnishings is in the vogue, especially when it comes to small kitchen designs. So, make it a point to install copper shelves in your diminutive kitchen this time.
Not only will they resemble the appearance of the traditional kitchens of the older times, but your cooking room will start looking way more spacious and roomier than it would before.
Quite an interesting small kitchen design idea, right?
White cabinets
White as a colour has that innate capacity in it to brighten up any space adequately. So, it's quite obvious that the moment you will install white cabinets in your small kitchen, they will start appearing much larger and brighter than what it was before.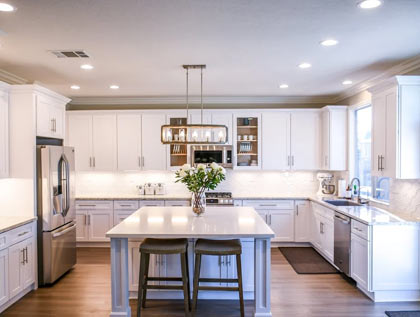 And you know the best part? White cabinets can very well complement different types of wall colours and that's for sure.
Pot racks
Are you reluctant about integrating pot racks in your small kitchen? Then, change your decision right away as it can be a ravishing addition to the tiny kitchen of your apartment. Just the way they look awe-inspiring, they are extremely functional as well, serving the purpose of both aesthetics and utility in one go. On the contrary, those heavy-duty vessels and pans really occupy a hell lot of space in your small kitchen and it's simply not done.
However, racks are portable enough to be placed anywhere comfortably, be it over the stove, windows or counters.
Zero in on open shelves
Open shelves are gaining increasing popularity amongst small kitchen users as their accessibility allows individuals to get to their essential items easily and effortlessly. And the good part is they are affordable too and you will also get the scope to display your dishware to your invitees imperiously.
All this and many more make your kitchen appear utterly hospitable and ritzy, without giving off the vibe of being overdone.
Tiny cabinets can do wonders
Diminutive kitchens are all about space utilization, where you need to put stress on your essentials first aside from getting rid of all the redundant items that will otherwise increase a load of your cooking space unreasonably.
A spectacular solution to get rid of this issue would be to install small cabinets in your kitchen without thinking twice. In fact, you can install them anywhere, be it on the walls, windows or merely atop the ceiling.
Give a whirl to this small kitchen design idea today!
Kitchen plate racks are feasible enough
The notion of plate racks has returned once again, especially since the vintage variants are prevailing in the market like anything these days. Not only can you showcase your dishware proudly on these kitchen plate racks, but they can be hopped on the walls too, transforming the entire look and feel of your small kitchen drastically.
Opt for a snazzy electric cooktop
Thinking that how to get rid of that heavyweight gas cooktop that occupies space unreasonably along your kitchen countertops?  Here is a fab idea. Replace it with an elegant electric cooktop and you are done.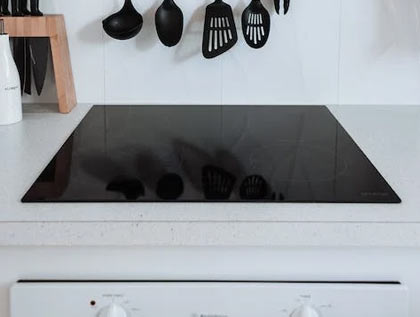 In return, the spaciousness of your kitchen will enhance and the extent to which the cabinets were taking up the space over there will diminish favourably too.
Monochromatic kitchen colour is the trend
Even if it's a small kitchen, it's all about fun and spending some of the finest gourmet moments with your near and dear ones.
So, why not give it a touch of vivacity and flamboyance by painting the entire space, using a monochromatic colour scheme? To the best of suggestions, choose a vibrant yet sober shade and dip your cookhouse in it to transform its whole look and feel magical.
Regal glass doors set the upbeat mood
Wondering about installing glass doors in your small kitchen? If you say yes, then it's indeed an opulent option to go with. Besides, after you integrate them, you would get this vibe as if your cook house has extended all the way to your dining area or hallway too.
And if the doors are installed right before the garden or balcony, then you can certainly presume the spectacular visa that you will get in return. Needless to say, it's absolutely a wow-small kitchen design idea to consider.
Mirrors are good to go
Install mirrors in your kitchen to make it appear way larger and brighter than before. This trick really works wonders, just the way it does for your bedroom and living room. So, why not give this hack a try? Go for it today.
Create an enviably cool and small kitchen design!
A small kitchen doesn't have to be a cramped cooking space if you know how to make good use of it. Hopefully, by implementing each of the 12 small kitchen design ideas stated above, you too can revamp your diminutive kitchen so as to turn it into an utterly spacious and utilitarian culinary area, that also without compromising on its aesthetics.