Whether it's a gastronomic delight with our guests or an easy-to-cook evening snack, we prepare everything in the kitchen. So, keeping your cookhouse clean and hygienic is of utmost importance. When you use spotless utensils and appliances while cooking meals, chances are there that you will fall less ill as compared to others. In short, the condition of our kitchen has a direct impact on our health. To know more, continue reading today's post.
Refrigerator cleaning
We store most of our foods in the refrigerator. So, better start off with the cleaning of this appliance first. Before you clean your fridge, make sure that you've turned it off. Subsequently, take out all the food items from there. Once you are done, it's time for you to remove the lightweight parts from your fridge such as trays, etc. You can simply try out these natural kitchen cleaning products to cleanse your kitchen impeccably.
Natural fridge cleaners
Mix a cup of white vinegar along with two cups of lukewarm water. Also, add a tablespoon of essential oil with it and pour the entire mixture into a spray bottle. Now, start cleaning the trays as well as the interior of your refrigerator using this deadly combination.
Alternatively, you can use a solution of mild detergent and tepid water to clean the whole fridge and its removable components. To remove the tough stains, you can use water and vinegar for better results. Hopefully, by implementing these techniques, your refrigerator will become squeaky clean and spotless like before.
Microwave Cleaning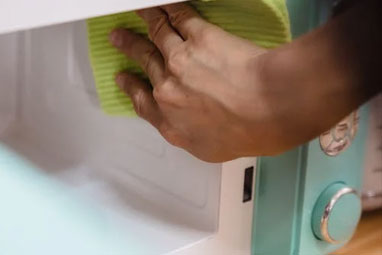 Homeowners who have a microwave oven understand its importance quite well. Ask why? This is because many of them must have experienced a blasting soup bowl or similar incidents in case they have this appliance. Such unexpected mishaps can leave your microwave oven dirty and grimed for many days to come. Get over all your worries as there are some easy-breezy micro-cleaning tips covered in this guide as well. You can use these organic cleaning agents to get back that sleek look of your microwave oven once again.
Natural hacks to clean your microwave
Squeeze lemon juice fully in a cup of water and drop the lemon inside it. Alternatively, you can make a solution with two tablespoons of vinegar and two cups of water. Place either of them inside the microwave oven and run it for the next five to ten minutes. Once, it's done, wait for some time until the mixture cools down completely. There you are, now, open the door of your oven, take out the bowl and use a dishcloth to wipe down every nook and cranny of your microwave's inside.
Here's a detailed and comprehensive guide to microwave cleaning that you may like t check for more tips and cleanign hacks.
Hacks to remove tough stains from utensils
Are you sick of those stubborn stains from the bottom of your platters, ladles, and other cookware? Then, there is an easy-breezy cleaning solution for you. All you need to do is implement the whole process given below.
Soak all the dishes and utensils in the sink at least for ten minutes
Now, wash each of them using a soft cloth or sponge
Then, lay all the kitchenware on a towel and make sure that the stains are showing up
Next, you have to pour two tablespoons of baking soda into a bowl of water and convert it into a thick paste.
Dip a toothbrush inside this solution and scrub the stains with it until they are removed completely. In case, some of the stains are exceptionally tough, consider leaving the solution on them for the next few minutes.
Ultimately, rinse all the dishes in lukewarm water and air dry the cookware over a dish rack.
Despite putting such hacks into action, cleaning utensils should be a regular part of your kitchen cleaning procedure. So, make sure that any of the cupboards is readily available with all sorts of cleaning agents that you often use to clean your kitchen.
Cleaning hacks for Hob/Stove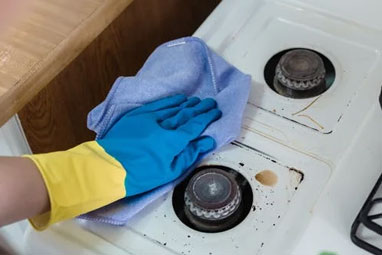 Spills and stains on your hob or gas oven are something that cannot be avoided. So, cleaning it from time to time is also important. Before you begin your cleaning spree, make sure that your gas stove is switched off. Also, cool it down and then apply any cleaning agent to it. Slowly and gently, wipe down the whole surface with a wet sponge or cloth in case the stains are too tough to be removed. To ensure deep cleaning, use a solution of water and baking soda and the results will be superb.
Kitchen sink cleaning is now easy
Have you ever paid attention to the sink in your kitchen? It is where most of the food items remain stuck, so, cleaning it thoroughly is essential. To get started, sponge the drain with water and mild detergent. Once done, rinse it well and dry it out using a soft cotton cloth. Now pour one cup of vinegar and half a cup of baking soda into the mouth and wait until you hear that gurgling sound again. To ensure an even better cleaning, pour boiling water along the drain and a bit of lemon juice into it, and guess what? Your dreadfully tarnished sink now looks immaculate.
What about cleaning the Chimney ?
Kitchen chimneys are undoubtedly the most susceptible to Grease, soot particles, and steam. These agents are mostly airborne that can leave your chimney utterly filthy for many days. So, unclogging the hole is important for which you need to scrub the inside plates of your chimney with liquid detergent and warm water. Use a solution of water, baking soda, or lemon to clean the rest of the chimney. Alternatively, you can use vinegar also to do the same thing.
Kitchen floor cleaning
Want to make your kitchen floors look dazzling? Mix lemon juice, white vinegar, and water together to sanitize the floors of your cookhouse and make them sparkling and shiny. In case, you have hardwood floors, consider using black tea as the tannic acid eliminates dirt from there and gives it a sleek appearance.
Clean your kitchen like a pro!
It's time to clean your dream kitchen like a specialist! All you have to do is use the kitchen cleaning products suggested above to get back that pristine cook room once again.
Besides, if you need professional help to get your kitchen and appliances cleaned thoroughly, then call us on 7044123404 for best price offers for kitchen deep cleaning services.