Moving to a new city is not easy. Right from preparing the list of inventory to be packed and moved to looking for potential movers and packers who can help you relocate conveniently. Finding a place to live and getting settled all over again is not going to be easy, especially when you are moving to a city you have never visited in the past. But it becomes easier when you have some prior information about the city where you are moving to. And if you are moving to Chandigarh then this is the post worth reading.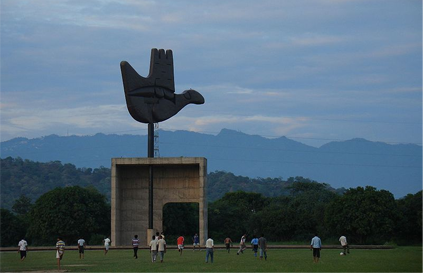 Things to know before moving to Chandigarh
Chandigarh is a Union Territory located in the northern part of India. Chandigarh is the capital of both Punjab and Haryana, though it is part of neither of the states. And if you are moving to Chandigarh and wondering about what's worth knowing then I am going to help you. When you are moving to a new city like Chandigarh, it's obvious to have some random questions. From its culture to language they speak friendliness of people to what are the good residential areas and means of transport. I am going to be your guide and help you know things that matters before moving to Chandigarh.
So let's start with the basic and the history of Chandigarh. Chandigarh, along with the adjoining cities of Mohali (Punjab) and Panchhkhula (Haryana), is known as the Chandigarh Tricity. Chandigarh was one of the earliest planned cities in the post Independence India, and is well known for its architectural designs and modernization. In 2015, BBC named Chandigarh as one of the perfect cities of the world in terms of architecture, cultural growth and modernization. This city bears a population of over 2 million and is the first smoke-free city of India. Chandigarh is also known as one of the cleanest and safest cities of India. So, if you are planning to move in Chandigarh, it is a very good decision. But before you go there and settle, there are certain things about the city that you must know.
Basic information about Chandigarh
Weather conditions: Chandigarh experiences continental type of climate with extreme warm and extreme cold weather. The city does not experience snowfall in winter. The city receives uneven distribution of rainfall.
Population: The city is vastly populated, with population above 2 million.
Sectors: Chandigarh is divided into 47 self contained sectors, each with its own shops, academics and healthcare buildings, place to worship, greenery and residential areas. The city is further divided into four major work areas. The east zone is the industrial area of the city. The western area constitutes the academic institutions, colleges, universities and other institutions for studying engineering, Architecture, Asian Studies and medicines. The northern part of the city consists of the Secretariat, Legislative Assembly and the High Court, with the hills as a backdrop of the city. In sector 17, there are government offices, shopping malls, banks, and other offices.
Language spoken: English is used as the official language. The other languages which are spoken here are: Punjabi, Hindi. 
Connectivity to Chandigarh
You can avail all the kinds of transport to reach here, by trains, by road, and also by air. Air India, Spice Jet, Indigo have flights connecting to various cities of India, like Delhi, Mumbai, Bangalore, Kolkata. There are trains like Shatabdi, Jan Shatabdi, and Kalka mail. Hundreds of buses are available; the bus service system under Inter State Bus Terminus Service is very smooth. There are Volvo buses and also economical buses and their fares is very pocket friendly. Chandigarh is well connected to the major cities of India by national highways. The condition of the highways is also worth praising. You can avail any mode of transport as per your choice to reach Chandigarh.
Local mode of transport in Chandigarh
Chandigarh city is blessed with convenient transport system. There are taxi cabs, auto rickshaws and cycle rickshaws for you to travel across the heart of the city. The taxis are new, air conditioned, and with uniformed drivers. The taxis have GPRS installed, so that they can be tracked from their respective control rooms. If you are unhappy with the service, then there is an option of lodging a complaint with the state Transport Service Authority. There is no charge for the first kilometer, except the meter down charge of Rs 15. Chandigarh is the first sate with radio auto service. Autos are available in bus terminals, railway stations and auto stands. They are unlikely to go on meter, so negotiate before taking an auto. Cycle rickshaws are also easily available in all parts of the city.
Foods
You can get multiple varieties of choice when it comes to food. You may be vegetarians or non vegetarians, but you have got thousands of choices here in Chandigarh. There are markets and bazaars where you can get all kinds of vegetables and fruits, fish, chicken, egg etc. The city is replete with hundreds of restaurants, both for vegetarians and non vegetarians.
Entertainment
There are hundreds of restaurants, shopping malls and movie theatres, and amusement parks where you can spend your weekends. There are many big multiplexes as well. There are pubs and bars where you can grab a drink to relax in the weekends. There are many cafes like Barista, Café Coffee Day in Chandigarh.
Work
Chandigarh has become the hub of various IT industries and BPO sectors. Satellite town of Mohali has developed the offices of several MNCs like Infosys and Dell, and many more. Most of the people here are employed in government sectors. The headquarters of all the administrative services of Punjab and Haryana are located in Chandigarh.
Education
Academic institutions like Punjab University, Chandigarh College of Engineering, Chandigarh College of Architecture, Government College of Art, and many other universities and colleges are present here in Chandigarh. There are many schools in Chandigarh under ICSE and CBSE board of education as well.
Hospitals
Hundreds of hospitals are present in Chandigarh. There is Fortis, Apollo, and also Chandigarh Army Command Hospital. You can also find numerous medical shops and pharmaceuticals in the city.
Places to visit
When you are in Chandigarh, you will have the opportunity to visit some of the most amazing places. The interesting places for you to visit includes, the Rock Garden, Rose Garden, Pinjore Garden, Sukhna Lake, Museum of Art Gallery, Chandigarh Museum, Mohali cricket stadium, Cactus Garden. Each of these places is significant in their own ways. You can visit these places by hiring a taxi cab.
Safety
Chandigarh has the lowest crime rates in India. You can feel safe at any hour of the day while in Chandigarh. You can find police assistance in the police stations and the patrolling booths. The STD code of Chandigarh is 0172. Some of the emergency numbers are: Fire (101), Police (100), Traffic Police Helpline (1073).
Over to you
Chandigarh is a very nice city, and you can find all the necessary services here in the city. Before you move to any city, it is always better to do some prior research. By reading this article, I hope you can form an idea about the city. The city is basically a very safe place to stay. Chandigarh is a major city if India with all the modern amenities and urbanized structures. Once in Chandigarh, you can use ServiceSutra for various lifestyle services. I hope you will not find any major difficulty while residing in Chandigarh.
Image Source