Do you agree to the fact that packing and moving all the household goods, cannot be done or proceeded well without hiring a professionally packers and movers company? Surely, you must agree to this fact. But, do not depend or blindly follow this fact because, at times when you hire a movers and packers company, things can still go wrong. Don't be shocked! They are human beings after all, they can commit mistakes at times. But, that doesn't means that you'll never hire a packer and mover if needed. One thing is for sure, they'll commit lesser mistakes than us, because they are trained.
5 Thing you should know before you hire packers and movers in India
Just a simple search in the internet, can help you find hundreds of packers and movers companies from your locality, or the city. But can you really trust them completely, and handover all your precious household goods and appliances for packing and moving? No, right? Your this decision of not handling them all your goods would be the most witty decision. So, whether you are moving your house for the first time or you have some prior experience, there are certain essential things that you should check before hiring a packers and movers in India.
Listed below are five things which you must check before hiring a packers and movers in India: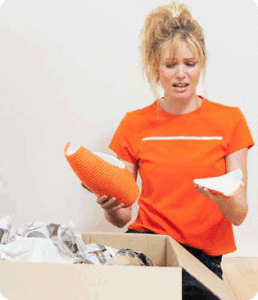 There is no regulatory body for packers and movers in India, which makes the industry very unorganized. You'll definitely find plenty of packers and movers, but they'll neither have a proper office, nor will they be registered. Therefore, before you hand over all your precious goods to them, verify their credentials and ensure that they are reliable. Be careful and trust only those packers and movers, who have a sound network, a well trained team, and have all the type of resources to handle the assignments properly.
Randomly choosing and hiring a packer and mover in India, is not a clever decision. You must choose and hire the one that's most reliable, and well equipped with every materials required to pack and move goods. Don't you want your goods to be packed and move with safety, and on time? Then for that, you have to be alert and sure about whom you are dealing with and hiring. Check out complaintsboard.com or mouthshut.com, and you will see plenty of reviews about the services of many Packers and movers in India. You can't completely trust on all those feedback and reviews, but still it'll give you an idea of what may go wrong, and how to avoid such packers and movers companies.
Another frequent problem that people face are related to the rates, and the overall costs of packing and moving goods. In the rates related problems, its often seen that the packers and movers in India, charged more than the fair rates. In case of packing and moving, things may vary from assignment to assignment, so there are no fixed standard price structure. The cost of every assignment depends on the distance required to cover, the routes, the number of items, insurance is needed or not, and etc. So, never hire a packers and movers in India without comparing the rates.
Always scrutinize the hidden costs involved in the packing and moving process, such as octroi, toll charges and etc. But you should be very keen on getting a much accurate quote from the service provider so that, you can prevent yourself from investing unnecessarily. Therefore, just double check before you hire a packer and mover in India. And always insist on getting a gross invoice, and to keep flexible payment terms. Paying more than 80% in advance, might be dangerous, you never know.
Getting an insurance done for the goods is very important, mostly in case of long distance relocation. You can also get it insured on your own, but movers and packers companies do it everyday, and they mostly do it from National Insurance Company. While insuring your goods, be careful with their valuation, and ask your agent to advise about which items should be covered and which not to, and how to make claims if need arises. Secondly, always keep the policy and bill of the insurance with you, so that, the companies cannot claim later that your goods weren't insured. Hence, ask for the paper and see it yourself, and keep it safe.
Over to you
Home shifting is a complicated process, where you can't afford anything to go wrong whether in the planning process, or while implementing them. Even if you have hired a trusted packer and mover, it's still better to supervise the process and take interest through the move. When you supervise every process, there is very less chance of hassles. So, follow the above tips and go ahead to hire the best packer and mover in India.