Packing and moving all your household goods and appliances would be a very complicated process, unless you plan it right. If you plan really well and list down the plans, and then follow the enlisted plans, it will reduce your stress a lot. Unfortunately, there is no shortcut while packing and moving your goods for a relocation. But, if you have time in hands and you have already started preparing a plan for shifting, then it can be a lot easier for you to relocate that too without increasing stress.
Packing and moving assignment is very unique, and its circumstances may vary from person to person, place to place, goods to goods, or even from companies to companies. So, you need to identify your needs or requirements, and accordingly plan for a safe and hassle-free home relocation. We have published lots of checklists and articles on home shifting in the past, but this post will help you understand everything that you'll need to know about pre-relocating and post-relocating to a new home.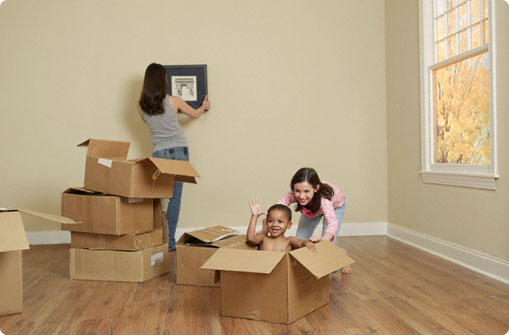 Planning and Preparation
There are so many things to look at while you are planning to relocate to a new home in the same city, or a new one. Right from preparing your inventory list to procuring packing materials, from finding packers and movers services to scheduling everything else, all these tasks will drain your physical strength and will gift you mental pressure.
The tasks such as packing, loading, transporting, unloading and etc might sound really simple, but they are really tough to do. If you want to ensure that your goods get packed and moved to your new home safely, then start planning right now! Don't leave any space for future planning. Plan everything well and create a tentative schedule so that you can plan for the rest of the process.
If you already know when you'll have to move, then it's going to be easier for you to schedule other tasks accordingly. Once that is in place, you can start preparing a list of household goods that you want to move and once that list is in front of you, you will be in a position to decide whether you want to move everything yourself, or you want to hire a packers and movers.
Arrange Essential Packing Materials
If you don't want to hire a packing service in order to save some money, then you'll have to do it on your own. Doing it yourself wouldn't be a tough job, only if you know the right ways of packing goods, and you have all the necessary packing materials. Things that you'll usually need for packing your goods are:
Cardboard boxes
Broad cello-tapes
Bubble wraps
Plastic Wraps
Card board Sheets
Old newspapers
If you can manage to pack some of the goods yourself, then obviously you can save more. But packing fragile and other valuable goods yourself, wouldn't be a good idea. In such cases, it would be wise if you hire a packers and mover company, because they have proper tools, materials and experts who can pack your things efficiently, and ensure safety. For example- Things like television and other glassware that require special attention should be packed by professional movers.
Find Movers and Packers
If you have too many goods to shift, then it'll be better if you involve a packers and movers company which is reliable, has proper equipment and resources to handle the entire packing and shifting process. If you can find a good mover, then a lot of hassles would flush away. A reliable movers and packers company can make a lot of difference. Are you wondering how to hire one that fits your budget? Then here's a very good post about 'how to find movers to relocate within budget'.
Already there are too many movers and packers companies in the market, and the best way to hire one is by considering the recommendations from your friends or a colleague. If a friend suggests you a service provider, you would be a bit relief and would trust him/her isn't it? Same goes with any relatives. So, ask someone who has experience of hiring a packer-mover service. Otherwise, you can use servicesutra to request free moving quotations from leading moving companies near you for free now. When you have those quotations, you can compare and choose a moving company  that fits your relocation requirements.
Time for real action – packing and moving
Depending on whether you have hired a mover to help you relocate, or you are planning to do it yourself, it's now time to take the real action. If you have hired a mover and packer company, then they will pack everything for you. But, if you are packing it yourself, then here are a few tips that you might follow.
First of all, get a lot of good quality packing materials and supplies that you essential need to pack your household items securely. The packing supplies are easily available in the market, and you can source from there. or else, you can actually manage to get some free moving boxes from the grocery store or other departmental stores.
While packing your stuffs, make sure to use loads of soft or cushioning materials such as bubble wraps, thermocols and plastic sheets.
Pay a lot of attention while packing glass wares or kitchen utensils, or any other fragile items. Make sure there is no gaps inside the boxes. You may use bubble wrap and scrambled papers to fill the gaps.
When you are packing glassware, you can pack them up in multiple layers.  Just ensure to use lots of packing papers and sheets to create the base, to fill the empty sides and even the top.
Never pack lots of stuff in one box, or else it will be too heavy to handle and may also break or crack beneath.
Seal each and every boxes with good quality packing tapes, and label it properly so that you know what's inside. This will help you in handling them with care if needed.
Whether you are packing it yourself, or a movers and packers service is doing it for you, make sure to pack an essential survival box that has all sorts of essential items like toilet soaps, first aid box, and etc. Similarly, pack a box with some snack and other food items. If you are moving with a baby, then ensure to keep baby's food in the essential box. Having these essential goods packed separately in a couple of boxes, so that it can help you in when needed.
Transit Insurance
Whether you have hired a packer and mover or doing it yourself, making an insurance is mandatory because, it can act as a life saver during certain situations. You never know due to a human error, or for other reasons something may get damaged. That is when you might need an insurance for your goods. Packers and movers companies can give you insurance for your goods, but you'll still have to double check whether your goods are insured against any transit damage or not. You'll also have to understand the terms and condition of the insurance. If your mover is helping you, then make sure to ask him about the process of settlements. Ask them clearly if they will be helping you, or you'll have to do it yourself. These are small things, but you should know it.
Post move: unpacking and re-arranging
There are so many things to do after moving to a new house, including unpacking and re-arranging household items. After your goods have been delivered to your new house, its time to unpack all the stuffs. This is probably the easiest part of your entire move, but if you don't plan it well, you may end up creating a mess.
Few important things that you should do after moving to a new home is to find the main switches, to ensure that water is running through the taps, to arrange drinking water and cooking gas. And do keep a first aid box nearby.
Before you start unpacking your items, clean your new home thoroughly. Once you are done with cleaning, start unpacking your goods room wise, and place items at their suitable places. There is no hard and fast rule for unpacking, so feel free to unpack as per your requirements.
Over to you
Early planning can give you lots of edge. When you have time in hand, you can discuss your requirements with multiple movers and even take tentative estimates for door-to-door packing and shifting services. When you have multiple options, you can compare them all and even negotiate and then take your final decision about hiring a mover. So, always plan before you pack and move. If you have any more suggestions for us, then mention it in the comment box below. 🙂