Are you relocating to a new house in Bangalore but the new house can't accommodate all the home furniture like bed or cupboards? Or are you simply moving out on a temporary assignment and concerned about paying rents for your flat even if you won't be staying? Thankfully you can use household storage solutions in Bangalore to store your stuff without hassles. Storage solutions in Bangalore can be used for temporary or short term use or for long term storage of household materials that you don't even need.
Bangalore is a growing city, and with growth comes the need of moving and relocating to different places. Often we receive calls from people who have to go out on a temporary assignment for a few months, and they are concerned about leaving their household goods locked in their flat and have to pay rents. If you are in same situation, you can hire home storage solutions in Bangalore and easily move your stuff there.
When you are moving out for just a few months temporarily, and you know that you will return back to Bangalore again after say six months, then shifting everything and again bringing them back is a lot of hassle, and usually not a feasible thing to do.
I have also seen people vacating their flat and renting a room at cheaper rates like Rs. 2500 a month, and move everything in that room. Problem with such arrangement is that you have to ask your friends, relative or parents to visit occasionally, in order to ensure that everything is safe. But again, this may not be practically possible for all of us.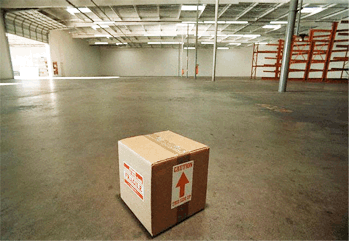 You may think of selling it out, but that's again an impractical solution to begin with and in such situations, storing everything in a warehouse is the most practical solution.
So, how does it work?
Here's how storage solutions in Bangalore can be used
Storage solutions can be used to store all types of household furniture, and commonly used household articles such as TV, fridge, washing machine, bed, cupboard, sofa set, shoe rack, show case and etc. These storage solutions in Bangalore can be used for temporary storage, as well as for long term storage.
The way storage solutions work is pretty simple. Companies that offer storage solutions in Bangalore, will offer you several options such as self storage, boxed storage, or all inclusive contractual storage services. Self storage solutions are limited, and so are the boxed storage solutions. Self storage and box storage are more of less of same kind, where you get your private space to keep your stuff and have access to your items whenever you want. Contractual storage is when a storage company offers you an all inclusive service from packing to both ways transporting, and storing your goods in their warehouse.
Obviously, the costs of storage solutions in Bangalore will vary based on the duration for which you store your goods and the volume of items. There are certain items that need special treatments, for instance the electronic appliances such as fridge, washing machine and etc, and that attracts a cost of packing as well.
Insurance for storage and warehouses
Most of the companies that offer storage solutions in Bangalore offer insurance. Standard Fire and Special Perils Insurance is something that you should pay special attention to, while availing such services. Storage companies should take insurance policy from a insurance company that covers standard fire and special perils, and even for earth quake. Insurance period and amount is crucial, and hence, you should ensure that they have an active insurance and that the premium has been paid. They should not have an issue in showing the insurance certificate to you, and you should insist on checking it.
How to pick a company for storage solutions in Bangalore
Availing storage solutions in Bangalore can be a life saver, especially when you have some extra furniture or household items to accommodate, or when you are moving out of Bangalore for a few months temporarily. But, choosing a company that offer storage services to store home materials is not at all easy. Since you won't be around, or you may not get a chance to look after your stuff, it's better to be double sure while choosing a storage company.  The best ways to choose right storage agencies is to ask them right questions, followed by some background check yourself. Here's what you should check while choosing a company for storage solutions in Bangalore:
Talk of security and theft and ensure they have taken care of it.
Ask for an active insurance certificate (standard fire and special peril insurance).
View interior and exterior photographs of the warehouse.
Visit the warehouse and inspect everything yourself.
Since its kind of rental agreement, do consider price because it's a recurring expense.
Over to you
Whether you are moving temporarily or for more than a year, or whether you are still around but want to keep some of your items away from home because you don't have enough space to accommodate all your furniture, you can opt for storage solutions in Bangalore. Just make sure to check the rentals, look for adequate security and insurance arrangements, and you are good to choose a company. There are many storage agencies in Bangalore that you can evaluate and book.
What do you think is best way to choose companies for storage solutions in Bangalore?