When it comes to packing, the ones that rob you of your sleep are the fragile items. A small mistake and crash! There goes your favorite vase. You have tried everything to keep the stuff safe and secure. Yet it breaks. Wait and think. You might be packing it wrong. Packing fragile items require good techniques along with quality packing materials like foam, wrapping paper, bubble wraps etc.
Proper packing of fragile items while moving is essential. There is no option but to pack all of your fragile items very carefully and using right packing techniques. In this post, I am trying to give you a very good overview what might be wrong with the packing of fragile items. if applied properly, these packing tips could help you protect your precious china bowls and plates along with other appliances and materials.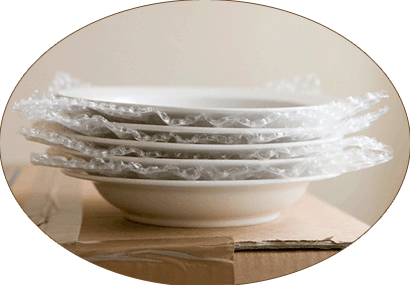 So are you ready?
Fragile items need to be packed first taking plenty of time. This would evade the chances of the items breaking due to last minute hasty packing. A big headache is relived once these items have been packed. Then you can easily rummage your house to pack the rest of the stuff.
Cushioning properly is the prerequisite of packing fragile items. This is best achieved through high quality bubble wraps. They provide great protection to the item. Afterwards to keep the item in place, you should fill out the spaces with crumpled papers. Even if you are using cell boxes, the rule stays.
Any empty space should be filled with pellets. Styro pellets are a good option to keep the contents of the box in place. It helps prevents breakage and also keeps the box firm.
Absolutely separate out your favorite crockery items from the regular ones because it is obviously they need more care.
Speakers, electronic items also need attention just like the fragile items for they are expensive too. Individual components are to be packed separately.
The boxes containing the fragile items are to be sealed tightly and shaken to see that the thing inside moves too much or not. If it does, you should unpack and then repack.
Labeling is a must, forgetting which could cost you your items. 'FRAGILE' should be written on top and 'THIS SIDE UP' to prevent mal handling.
Let the professional help know about the number of fragile items you might be having with you. They will tell you to do the needful.
Get an insurance done on the fragile items so that you can claim the compensation costs. Any damage or unfortunate incident may be tragic but at least you will be paid off with the value of the item to lessen your pain.
 Having professional assistance that specializes in packing fragile items is also a good step to take to ensure good packing of the items.
We have published several posts on how to do packing; you may like to check them out.
Over to you
Fragile items like wine set or imported china dinner set could get damaged with even a little bit of mishandling. But if you pack them well, it can be transported quite safely. Now that you have been made aware of the stuff you need to keep in mind, note these down if you can. These packing tips will help you a lot the time you need to pack fragile items when moving. Obviously, you have the option to hire movers and packers who can get it right for you.
So how do you pack such fragile items while moving?