Moving to a new city with all your household setup can often be overwhelming and tiring. Although there is so much to look forward to, packing and moving itself can be tedious due to a lack of planning and preparation. Finding genuine and professional moving services preparing the list of inventory, and making all arrangements can take a toll. Luckily, you can manage the entire move much more smoothly if you avoid some silly mistakes people often make while moving.
Are you planning to relocate elsewhere very soon? If you say yes, then today's post is for you. We often tend to juggle between a lot of preparations and plans and frequent FOMO bouts are a common sight whilst you are already entangled in this process.
Experts suggest avoiding these mistakes when moving
What complicates your shifting spree, even more, are some inadvertent mistakes that we tend to make while moving to a new city. In this context, mentioned below are 10 noteworthy pitfalls that you must avoid at all costs at the time of moving to a different city altogether.
Let's dive in!
Lacking a concrete moving plan
One of the most common mistakes people make while moving is not planning the move perfectly. This can turn out to be a major mistake that you must avoid while moving. As an activity, house shifting has got various facets. You need to deal with multiple tasks at the same time when planning your move. Unfortunately, while managing this situation we feel utterly perplexed, adding to our adrenaline rush even more.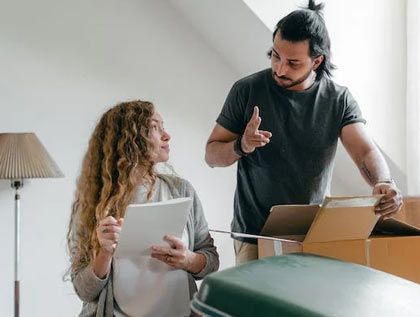 Don't stress, as with a full-proof plan you can turn your relocation into a more fun and gratifying encounter.
So, to get started, there are two aspects that you need to focus on, firstly the date of your move and secondly the relocation budget i.e. the overall relocation expenses you can bear.
While doing so, don't end up spending excessively on your move as it can hamper your monthly expenditure to a fairly good extent. To avoid a circumstance like this, try and choose a weekday in the middle of the month, preferably during the off-season as professional packers and movers charge relatively less then.
Always remember, planning your relocation can save you from a lot of hassles, judicious use of time and energy being the most prominent of them. Also, you can hire specialist movers and packers at affordable rates that will ultimately prevent you from overspending on your shifting spree.
Needless to say, this will have a positive impact on your monthly expenses as you hardly need to shell out a lot of money from there. So, keep this factor in mind.
Moving unwanted items
Packing everything whilst you are moving elsewhere is not a good idea at all. This is because there might be certain things that you may or may not need imperatively as part of your everyday living.
So, group these elements into different categories and get rid of all those stuff that you don't need any longer. To the best of your suggestions, start packing your belongings at least a month before your relocation.
This will not only let you declutter your house properly but you can also separate the goods according to their order of importance. Set aside a donation box if need be and put all the chattel into there that you wish to donate to your friends, family members or any revered charitable organization for that matter.
Should you find some of them absolutely of no use, consider putting them straightaway into the trash and you are all done. Consequently, the extra load of shifting will be dispelled and you can remain more organized and kept in your new home from that time on. Moving unwanted items is a serious mistake to avoid when moving
Not taking care of the utilities
Taking care of the utilities is of utmost importance when you are moving out. It is the most rudimentary feature of any modern-day unit nowadays, especially when we are residing in the digital age.
Some of the most common utility services are internet, DTH, gas, water, electricity and even the trash pick-up facility.
Hence, you must disconnect each of these services when moving from your old home to your brand-new apartment. Subsequently, make sure to restore each of these connections to reap their maximum benefits.
Having inadequate packing supplies
A great mistake or rather blunder that homeowners make while shifting is not having enough packing materials. Such a boo-boo will only complicate your moving spree. And, do not doubt it. Compromising on packing materials and the quality of packing can cost you dearly.
So, don't miss out on gleaning adequate Bubble Wraps, Labels, Tapes, Box Cutters and Permanent Markers in advance. You would need these essentials imperatively to wrap up your valuable household belongings, devoid of any errors.
Therefore, arrange each of these packing materials as per the fragility of your goods and valuables. Also, if possible, try and buy a few extra packing supplies, in case the size and volume of goods expands.
Forgetting to make an essentials kit
An essential kit is undoubtedly one of the necessities when moving elsewhere. In short, it is a collection of things that you would need immediately after shifting to your new house. Make sure that you plan a unit of this sort way ahead of time. If need be, at least a month before. Some of the items that you need to include in your "Moving Essentials Kit" indispensably are:
A well-crafted first-aid box
Rudimentary utensils
Cereals and dry snacks
Undergarments and must-have clothes
Soaps and detergents
Toiletries
Towels
Bedding and
Bedspread
On the contrary, if you fail to prepare a moving essential kit on time, you will have to rummage through each of those packed boxes to get to the essential stuff that you need then.
Not securing your valuables properly
Simply packing and putting your goods and belongings into boxes is not enough. Aside from that, you need to secure them well so that no unwanted breakage befalls your favourite chattel abruptly.
So, to avoid this pitfall, you must wrap up your valuables carefully first and then put each of them in groups inside sturdy boxes, ensuring your valuables are safeguarded and protected whilst you hop on your moving journey.
Again, if the items are too fragile then consider packing them with bubble wrap, subsequently teamed up with a layer of extra covering and you are done. If need be, you can make good use of unused paper or dish towels as well to fill in the voids between and guess what?
The apples of your eyes would hardly move around or collide as they remain unperturbed and intact all through your relocation journey.
Hiring a moving company without verifying
This is one of the biggest mistakes to avoid for a safe and hassle-free long-distance moving. No matter the moving company you are hiring, verifying their services and history is of serious importance. If you fail to do so, you are welcoming a good deal of trouble into your life.
So, it would be wiser to glean every bit of information about the packing and moving agency you are going to employ before you get entrapped by a team of sleazy professionals to be precise. You can easily avoid any pitfall by checking and verifying the movers and packers near you before hiring.
Starting from enquiring about their PAN Card details, IBA authorization letter (for bankers), and GST registration certificate to that trade license, you must not miss out on a single aspect when hiring packers and movers services without fail.
After all, your moving is no joke, and the persons who will take care of this task must be able to do it adeptly, devoid of any unexpected errors. Also, when making the payment, opt for digital gateways only while making sure that you don't render them with a hefty amount as an advance.
Also, in no case, you should make the payment without a proper bill or invoice and money receipts.
In a word, you got to play safe to get to the moving company of your choice, so that all your relocation needs and requirements are satiated in the best way possible.
Forgetting to label the boxes
When you label the boxes as per their categories, your moving spree gets way less stressful and complicated than before. No need to enlist the items back-to-back on every box. Just write the name of the section and where each of them will be kept in your new home and that would be more than enough.
Use permanent markers for labelling, tagging the boxes with labels such as "winter garments", "bathroom essentials", "electrical appliances", "portable gadgets" so on and so forth.
Labelling will not only ease the process of unpacking and re-arranging for you, but for your movers as well as they'll be able to read each of the segments written on the boxes clearly and without any difficulty.
Failing to avail of moving insurance
Taking full advantage of moving insurance while you are relocating elsewhere has become more important than ever. Not doing so means making a great blunder especially if you are on a long-haul move.
On the contrary, substantial moving insurance ensures the absolute safety of your goods and belongings and you can ask for compensation from your packers and movers as well in case any of the items breaks or gets damaged on the way without having you realise it.
Using plastic and bags as alternatives to boxes
We often use plastic and bags when packing our valuables and it's indeed a major mistake to make while you are planning a move. As a result, you simply put all your things into these bags, not pondering over the fact that they may even break in the middle of the journey.
So, to get over a tricky scenario like this, consider using rugged boxes for sure as you ascertain the safest and the most hassle-free relocation itinerary so far.
Planning the move at the eleventh hour
Starting from the day you plan to the day you move, any sort of shifting regardless of its type would involve a lot of preparations and timely completion of the imperative tasks. Yes, if you implement such a to-do checklist within the stipulated deadline, then it's fine.
However, if you set aside everything for the eleventh hour, you will get into big trouble, ending up making your moving spell even more complicated and tedious than it is.
Ponder over an unmistakable home relocation
Moving from one place to another is already a cumbersome task to perform. And the aforesaid goof-ups will intensify the complexity and trickiness of this process even more. So, make sure you avoid these mistakes while moving at all costs and make it an error-free move for yourself this time.