Ever wondered where to go and how to search for apartment interior designers in Bangalore? Looking at interior designers directories or searching for interior designers in Bangalore randomly will fetch you hundreds of listings; some of the information even may be incorrect or invalid. But here's an opportunity for you to compare and hire some of the best interior designers in Bangalore in just one click. No search, no hassle.
At ServiceSutra, we are on a mission to build a trusted a network of some of the best service providers across all of the major cities in India including Bangalore. We are working very closely with the best interior designers, architects and other service providers and only taking the best service providers on board.
So instead of making random calls and searches, simply post your interior designing requirements on ServiceSutra by completing the quote request form which takes less than one minute to complete. Once you post your requirements, you will be contacted by up to three different interior designer companies in Bangalore. You can talk to all of them, discuss your interior designing requirements with them and get detailed proposal on how to proceed and at what kind of budget.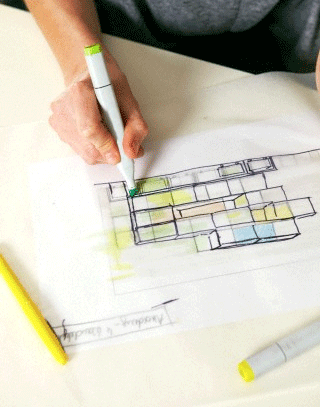 Cost of interior designing for apartment may vary depending on the carpet area, style, brands and many other factors. So it's better to get opinion from three different companies and then after analyzing everything, you can take a decision to hire an interior designer.
Other ways of finding Interior Designers in Bangalore
Apart from using ServiceSutra to compare and hire an interior designer in Bangalore for interior designing of your flat or apartment, there are other effective ways of finding them too. I am enlisting some of the other ways below.
Interior Designers on Google Local Business and Google+
Google started local business long ago and by now irrespective of what you are looking for, if it has anything to do with local business, you can find it on Google plus or Google local. Best thing is once you are on the local profile page; you can see reviews and feedback from other consumers. But be very careful before you trust those reviews randomly.
Interior Designers on Facebook
I am sure you know Facebook and you have an account on this amazing platform. Facebook has evolved from a mere friendship network to a full blown social network where users and business connects together. Facebook have started local search kind of a thing recently. You can search for local business on Facebook. So if you want to find out about Interior designers companies in Bangalore then you can simply make a search with keywords like 'interior designers in Bangalore' and you will come up with several business listing (business pages).
Facebook also shows likes, rating and which of your friend have liked that page (local business). Obviously this should give you a good starting point.
Interior Designers on Linked In
LinkedIn is not as popular as Facebook, but it's a good platform to find professionals and business who offers local and other services. Not sure if you are on LinkedIn, but if you are you can definitely search for interior designing service provider companies in Bangalore on LinkedIn. Its way more complicated than Facebook, but you can give it a try if you want to. You can search for business in same way here as well (company page) and then check if any of your friend is connected (follows) that specific page which you are interested in. You can obviously find link to the official websites as well as other contact numbers to get started.
It all comes down to comparing Interior Designers before hiring
Irrespective of whether you are using ServiceSutra, Google Plus, Facebook, LinkedIn or any other yellow pages or a business directory, you will get a contact number (or multiple contact numbers to be precise). But unless you do a quick check of their credentials, profile and get a fair idea of the process, you won't be able to take a decision. Even if you decide, that may not be the best decision.
Interior designing is an art as well as science. Your apartment or ft has to be designed in such a way that it lasts longer, give you best aesthetic feel and comes under your budget.  It's a good practice to take opinions from two or three different interior designing companies in Bangalore and then take a decision after evaluating everything; from budget to style and materials.
Over to you
If you are planning to renovate your apartment or flat then take opinions from a couple of interior designing companies in Bangalore to get started. As you speak to these service providers, you will get better understanding of the possibilities and costs. It's going to help you allocate right kind of budget and get your home renovated conveniently.