Dealing with dust in your house is crucial because dust is something that not only makes the house extremely dirty, but it is highly unhygienic as well. Dusts in house could cause too many problems such as allergies, and breathing troubles. That is why keeping dust away from the house is a smart and wise choice. But dealing with dust is not an easy task; it consumes both time and energy. But you are helpless in this case because you can't stay in a dirty house and cannot afford to deteriorate your health condition. So for that, whether you want it or not, you need to put in time and full on effort in cleaning and dealing with dust in your house.
As you know, you cannot completely remove or omit dust from your house, but there are cleaning methods that can help you control and drastically and reduce the amount of dust at your 'home sweet home'.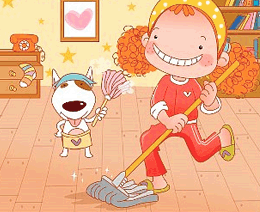 Here's how to deal with dust
If you want to deal with dusts efficiently then the best solution is to stick to a fixed cleaning schedule. There are many other ways to deal with dust and I have picked the following that l apply at my house.
Skip heavy draperies: Avoid using heavy draperies and curtains, because they capture a lot of dust. Instead of heavy curtains, you can use shutters and blinds to keep away the sun's heat, bright light, and maintain privacy.
Keep changing furniture's position: It is very important to keep changing the positions of every furniture in your house. If the furnitures are kept in an intact position for years, then it can attract a lot of dust particles in and around it. If you peep under a furniture you would see tremendous amount of dust particles have settled on the floor. So changing the positions every two months is needed.
Wash bedding: Washing your bedding items weekly is necessary. Bed sheets, pillow covers, mattresses attract a lot of tiny dust particles. Along with washing it, it would be great if one brushes it daily with a broom before going to sleep, and after waking up. Keep a separate broom for brushing the bedding stuffs.
Remove carpets: Carpets are one of the best decorating items one can have to decorate their rooms, especially the living room. But the bitter reality is that these are the biggest collector of dust in your house. If you want to make your floor look good, you can replace your old tiles with new designer tiles. Designer tiles are attractive, and can replace the need of a carpet.
Keep green plants: Different types of plants can help you to keep your home clean, and the air fresh. It's wise not to buy any artificial flowers or plants, because these attract a lot of dust.
Keep your pets clean: If you are a pet lover it's hard to keep your pets away. So I wouldn't suggest you to keep your pets away. Instead please keep your pets clean, and put a mat outside the door so that the dirt gets sucked off from your pet's paws before they entre the house. Brush your pets, and go to the groomer once in a month if possible.
Buy the right vacuum: If you think that a vacuum with good suction could clean every dust, then you are probably wrong. Vacuums with good suction don't do a good job if they don't have a powerful agitator. The vacuums with agitators work the best on carpets. For delicate area such as rugs, or on hardwood and vinyl floors, never use an agitator vacuum, it does more harm than good. For these floors use simple hand tools with soft brushes.
Clean it yourself: Don't try using feather dusters and yarn, or string mops to clear off the dust, they just push the dust around and don't capture it. Just damp a micro-fiber cloth or a waste cotton cloth with water or cleaning liquid, and use them to remove dust from glass items, furnitures, and etc. And a micro-fiber mop is best for cleaning the floors.
Over to you
Dealing with dust is a battle you can never completely win, but you will have to fight it anyway. So, why not do it applying the above methods? Remember one thing; keeping your house clean isn't just good for you but also for your family. So try keeping your house dust free, and lead a healthy refreshing life.
Let me know what else one can do to deal with dust much efficiently?
Over to you now.