Choosing the right colors for the walls is perhaps the most difficult, as well as most important activity before decorating the rooms because, colors accounts for around 60 percent of our response to an object or a place. Not only responses, but the walls colors also determine the ways in which one chooses the right decorating items too, such as the curtains, pillow covers, paintings, and etc. So, choosing right colors for your home is really important.
The buzz about color is usually called 'color psychology'. One usually selects the color based on their mood. And some even say that the choice of colors reflects one's personality. So, it is wise if the person owning a particular room chooses the color which he/she wants to be painted. While selecting colors for the walls, the mood of the room has to be kept in mind. 
In this post i want to to give you a good overview of how to choose colors for your home.
Here's how to choose colors for your home
Every room has its own mood, a living room cannot attract a person to sleep, and a bedroom cannot attract a person to party hard. These tiny differences must be kept in mind, and the colors must be chosen accordingly.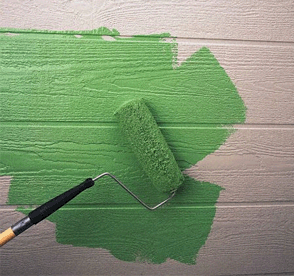 Colors for living room
This is that one room which has to be extremely attractive because every guest is seated here first, and then taken on a whole-house tour. In case of a living room, people tend you use dark shades of colors, which isn't wrong but the darker shades must be applied on the suitable wall of the room. Strong color might be too bright and overpowering when used on all walls or next to a large window, but it might be effective when used as an accent wall with indirect light.
Colors for bedroom
Everyone craves for restfulness and a soothing feeling in their bedrooms. So for that, one is required to choose soft, cool and neutral colors which usually create a quieter feeling. But people who would like to give their bedrooms a dramatic look can opt for stronger colors such as maroon.
Colors for dining room
Dining areas has to have a sociable and stimulating feeling. They may also be formal and calm, depending on the nature of the joint or the nuclear family. To make it feel sociable one can use warm contrasting, and brighter colors such as bright yellow and orange. One can even play the contrast game with the bright colors. And on the other hand to keep it formal and calm, one may use deeper blue-greens, and neutral colors.
Colors for kid room
Kid's rooms must always have an active and exciting feeling, or an orderly and restful feeling. But use of overtly bright colors is not good for the kids. Some bright colors can lead to unrest and irritability, so parents should never use colors that over stimulate their children. And now-a-days the kids room colors are sometimes chosen according to their gender. For example: If it's a boy people prefer blue, and if it's a girl people prefer pink.
Color for kitchen room
Kitchen is a place to spice up things, and for the housewife's it's a place of war. So when it comes to spicing up the atmosphere, nothing can be better than the color red because it's 'Hot'. And for the housewife's who consider this to be a place of war, white would be a good choice, as it denotes 'Peace'. But not to forget, whether it is red or white, in kitchen one must always choose an oil resistant paint.
Colors for bathroom
In case of bathrooms, colors must be selected on the basis of the bathroom size and the amount of natural light entering into it. Often cool colors are suggested to be used for he bathroom walls. Gray is the best color for bathroom since it is cool as well as comes in various shades and tints. If there is absence of light in the bathroom, pearly gray shade with a slight shimmery undertone would be the best choice. And if there is adequate light, drably grey can be used. The overall look of a grey walled bathroom is cool and elegant which the mind associates with spaciousness. Even aqua blue color would be a good choice.
Summary
Don't be afraid to go beyond your comfort zone while experimenting with colors for your home. Unless you experiment you wouldn't understand what is best, and what is worst. Add drama with a stronger color on the ceiling, this will change the appearance of the room completely. Tinted ceilings can dramatically change the whole look of a room.
Feel free to use these tips, but don't forget to check the wall color catalogue which available with the handyman companies. They can help you big time in choosing right set of colors for various part of your house. Hope you choose the best colors and give your rooms a breath of fresh air.