Decorating rental apartment can be tricky especially because we know we may have to vacate the place within 11 month or on a short notice. Who would want to spend money on an apartment where they have moved in temporarily? I have stayed in rental flats for many years and know how it feels when you want to improve the look of the room, but you can't.
But is it possible to decorate rental apartment without spending lots of money? Yes. It's possible and there are cheap and easy ways for decorating rental apartment that I want to share in this post.
This post is to explore possibilities of decorating rental apartment but without spending lots of money on it. During my stay in rental apartments, I used to read a lot on decorating and home improvement and based on that I tried several tactics of decorating rental apartment that actually worked well.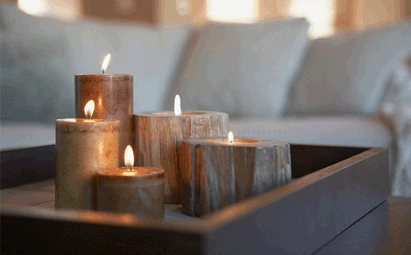 Decorating rental apartment in budget
Did you know it is actually possible to make small changes here and there and make your rental apartment look good? And these changes need not to be a costly affair. Here are some of the most budget friendly tips on decorating rental apartment in India;
1. Add curtains: After shifting to a rented apartment, the first and foremost décor items that you'll need to add are the curtains. Curtains will not only help you to make your room look better and decorated, but will also help you to maintain privacy from the outer world. If you have small rooms, then hang long draperies or curtains to create an illusion of taller walls.
2. Add furniture: When you have shifted to a rented apartment, then it is quite obvious that you'll need loads of furniture. And, the types of furniture you'll need to buy completely depend on the apartment. If it is already furnished then you'll need lesser number of furniture. And if it is not furnished at all, then you'll need to buy each and every furniture for the apartment. Furniture is not only needed to fulfill our needs, but it can be used as a décor element as well. Without furniture, your home will look empty.
3. Add loads of lighting: More and more lights can make your rented apartment look amazing. So, just grab hold some really lovely and stylish floor lamps, table lamps, lanterns, chandelier and other lights, and upgrade lighting where ever possible. Lights will not just illuminate every corner of your room, but also make it look well decorated.
4. Focus on the walls: Since you have moved in a rented apartment, so painting it will be wastage of money because you are going to stay there temporarily. Instead, go for temporary wallpapers that are easy to apply and easy to peel. Such wallpapers are easily available in the market, so go and find one that can make your walls look great. And if you don't want to stick wallpapers on the wall, then go for stick and peel wall decals, which are temporary as well.
5. Decorate the walls: Wallpapers and decals are pretty costly, so if you want to avoid spending much money on them, then decorate your walls with some other decorative materials such as a faux painting, wall hangings, or decorative mirrors. You can even frame your memorable snaps and hang it on the wall.
6. Fill the corners: If you see that your room's have some empty corners (obviously you'll see empty corners), then remember to fill them up with some or the other decorative item such as a floor lamp, a corner table, a plant, any accent décor, or something else. If you leave the corner empty, it will make your room's look and feel incomplete.
7. Spread rugs: If you want to decorate your rented apartment's floor, then you need not spend heaps of money on changing the floors. Just buy rugs and spread them on the floors. You can place a stylish or colorful rug on an empty space of the floor, for instance in front of your sofa set or an accent chair; you can even place it in front of your bed.
8. Decorate the shelves: If your apartment has shelves, then why don't you decorate it? Unfortunately, you can't paint the shelves because it doesn't belong to you. But, what you can do is buy a stick and peel wallpaper, cut it, and then stick it to the backing of the shelves to decorate it and make it look better.
9. Hide flaws: Since it is a rented apartment, so it is quite obvious that there will be plenty of flaws in it. But, you need to use your creativity to conceal those flaws. For example, if your floors have some flaws, then cover it with a rug. Similarly, if there are some flaws on your walls, then cover them as well with a wall décor item, paintings, or something else.
10. Make an illusion of bigger room: In case you have small room, we have already suggested you to hang long curtains to create an illusion of tall walls. But, if you want to make the room look bigger, then buy a long rectangular mirror and hang it on the wall. You can also frame the mirror if you want to make it look better. Mirrors will not only decorate your room but will also make it look bigger.
11. Add throw pillows on your couch: If you are going to buy a couch for your living room, then do buy throw pillows so that the couch looks better. Throw pillows act as an accessory for the couch and make it look much better, especially if you buy the vibrant colored ones. Why just on a couch? You can place such throw pillows on your bed and on other chairs too.
12. Place plants in the balcony or windows: Plants can make your rented apartment look eco-friendly. So, if you want to go green then do buy some potted plants and place it on your windows (of course, choose a window where the sun rays touches), or at your balcony. This will make your room look well decorated, as well as eco-friendly.
13. Change the knobs and pulls: Your rented apartment's doors and furniture will have the basic knobs and pulls, and other basic and simple looking hardware. But, if you want them to look better then change the knobs, pulls, and other hardware, and switch to something better that matches your choice. But, remember to keep the original hardware safely with you, so that you can replace them when you are moving out of that apartment.
Over to you
There is a general perception that decorating an apartment costs lots of money. That's not exactly how I look at it because. I know decorating a home is an endless process and it takes lots of time and money. But there a few small simple hacks that can be used to give a twist to the overall decor of a home and if you are living in a rented apartment and wondering if you can decorate it without spending much, you can try some of the tips we discussed above.