No matter how well designed and decorated your house is, over a period of time, you have to make changes in order to keep it interesting and exciting. We often get bored with same look, feel and style and as you know, style and trends always change. And it changes very frequently.
Are you among those who like to make things more interesting by adding some small little creative tweaks in the decor? Do you like to experiment with the overall décor of your room and try to make it more interesting and exciting? I personally get bored easily and hence I always look for new and exciting decor tips and ideas to make my room look better and interesting.

If you are looking for easy to implement tips and ideas to make your room interesting then I can help you. I have tried and experimented with several things and below in this post I am sharing the best 8 tweaks that can help you in making your room more interesting and look awesome.
8 ideas to make your room interesting and amazing
Most of us have different taste, lifestyle and functional needs but when it's about making a room look more exciting and fun, there is something common. The tips and ideas to make your room exciting and fun that we are going to discuss here are easy to implement and most likely it will fit in your life style. If any specific tip does not fit well, just move to the next idea.
Paint it bold
Usually it is wise to choose a color for your room which is soothing enough so that you can relax there and spend some time alone. But, if you wish to make your room more interesting then paint it with such a color that's uncommon and bold enough. If you have time, you can do texture paint yourself as well by buying the right paints, and right tools to do texture painting over your walls. But remember one thing, don't do texture paint over all the walls of your room. Just choose one wall or an accent wall, and then texture paint it. Your interior designers should be able to help you choose right colors.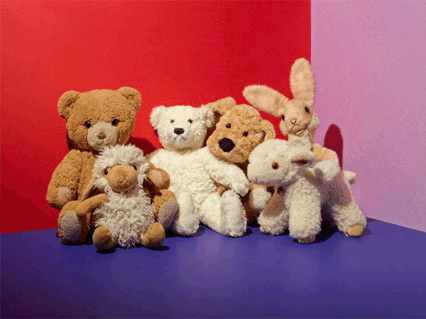 Use a ladder as side table
If you are bored with the same old look of your room, then why don't to try something new and interesting? Just keep aside the boring side tables from your bed's corner, and utilize a wooden ladder instead. The specialty of a ladder over a side table is that you can place more stuff. On a side table, you can just place one or two things. But, in case of a ladder, you can utilize its stairs to place various stuff.
Add something to the floor
A plain marble, tiled, or wooden floor is just so boring at times. Therefore, you need to bring some life into the floors by trying out something creative. So, to make it look better, why don't you use some colorful or interesting looking carpets or rugs? Carpet and rugs would instantly change your floors look making it look better and beautiful.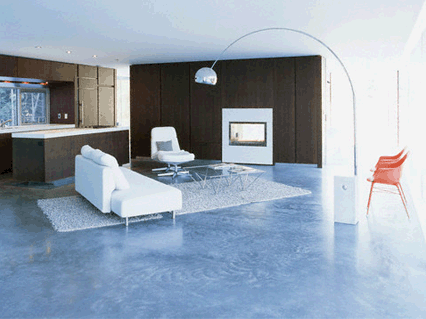 And if you have a wooden floor, then one thing that you can do is paint it with any contemporary color (but a natural looking wooden floor looks anytime better than a painted one). You can also install mirror glass floors, but that would be expensive, and needs to be maintained really well.
Create a headboard yourself
It is not always necessary that you'll need to buy a bed that has headboard as a 'show' factor. Instead, you can just create a headboard with your own imagination. For instance, take a wallpaper cut it into your desired shape and size, and stick it on the wall that's behind your bed to make it look like a headboard.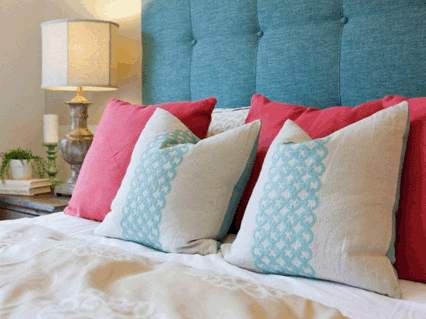 You can also choose an empty frame and hang it behind the bed to make it look like a stylish headboard.
Hang photos creatively
No, we are not talking about typically hanging photos on the walls. Instead, you can hang it just like the way you hang clothes. How? Well, it is simple. All you need is a nylon rope, colorful clips that are used to hang clothes, and photos. Take the rope tie it from one corner of the wall to another, take all your memorable pictures and clip it to the rope; and you are done! It will look really interesting.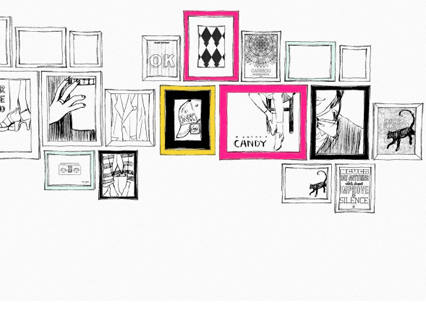 Canopy bed
If you want to make your bed look interesting, then why don't you hang curtains around it and make it look like a canopy bed? All you need to do is fit a few rods over the ceiling, which is just above the bed and hang the curtains. This will make the bed look amazing!
Decorate the walls
What most of us do is buy decorative items and hang it over the blank walls, isn't it? But, why don't we try out some wall decals? Wall decals are easily available in the market, so you can just search a bit and purchase any decal of your choice. Wall decals can make your room look really interesting. So, just select a blank wall, choose an interesting wall decal, and stick it to the wall. It is going to look amazing.
Ditch the ordinary mirrors
What most of us do is either buy a dressing table for our room, or we just buy one mirror and hang it over the wall. But that's such a common idea. Why not try something else? Why don't you buy various shaped mirror, frame it, and then hang it over the walls? The mirrors can help you fulfill your vanity needs, as well as serve as wall décor. So, just try this out.
Over to you
You know, there are limitless ways to make your room more interesting, exciting and super functional. But depending on the space and your lifestyle, you may have to choose the best thing you can do. Listed above are some of the best ideas that will not only make your room interesting, but also improve its functionality. Keep experimenting and share which home improvement tricks you have applied to make your room interesting and exciting.