All of us wish to do stunning home decoration for wedding because we want to create an impression that lasts for long. Awesome wedding decoration followed by good quality delicious food is all that matters for your guests and relatives. After all we treat our guests like God (Atithi Devo Bhawah) in India. Proper decoration for wedding is a must to have thing for both bride and groom and irrespective of which side you belong to, you would like to decorate your house amazingly and ensure to create just that perfect ambience for your guests and relatives.
Today, we are living in the era of theme; people go for theme wedding in which everything is decorated according to a common theme. Wedding is indeed the most auspicious occasion of your life. It is one of those occasions where the entire family, ambiance and environment are blissful and every one seems to be in a jolly mood. Especially in India a wedding involves an array of rituals respective to a particular region or culture, which is organized at home, each of this rituals needs a proper ambiance which has to be created very carefully. If you wish for such a particular mood or simply want to create a spectacular and memorable setting. I am writing this post to share some amazing tips to help you with home decoration for your wedding.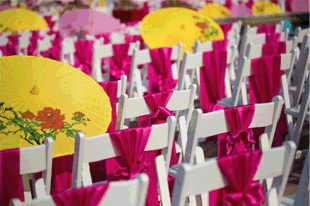 Tips for home decoration for wedding in India
In order to create that perfect ambience and impressive look and feel you should plan everything in detail. From selecting the venue to host the reception party to deciding on the overall color, location of lights, fans, wash basin and everything else. Let's take a good look on some of the important things that matters for home decoration
Choosing the space for organizing the wedding or reception event
Apart from great food, the wedding decoration part plays a vital role in shaping up your wedding arrangement to make it a grand affair, a wedding ceremony or reception can be held anywhere like at your home,  a hotel, a mansion, a garden, a church or even on a boat. Just make sure that the space you are using is good enough to create an apt ambiance for the wedding. No matter where you plan your wedding, just make sure that the location has got proper connectivity from the place from where your guests will be coming. Arrange adequate transports for your guests. Your guests wouldn't praise you for the decoration part if they face trouble reaching your wedding location.
Making a budget for your decoration
Planning your budget well before the event will give you an idea about the kind of decorations that you can afford to be incorporated in your wedding. Plan your budget strategically will ensure that you avoid committing silly and expensive mistakes. You can also take help from a professional wedding planner who is experienced in conducting theme weddings that will help you to arrange everything effortlessly; it will be easy on your pocket and have a prominent visual impact as well.
Choosing the right theme or style for your wedding
This will depend upon the kind of guest you are inviting at your wedding. It can vary from a casual, sophisticated or a romantic theme.
Usually we go for a traditional wedding in India, for a traditional wedding, make sure that you create an ambiance which gives a traditional feel and look. Flowers are without doubt the best way to decorate any place including your home before wedding. Attach beads and other embellishments on upholsteries and the ceilings. During an evening wedding ceremony, you can add fancy lightings or a beautiful chandelier at the middle of the room where guests are seated. You can also try decorating with balloons (balloon color will depend upon the total theme color of your wedding), an ice sculpture at your garden can be a useful addition too.
Choosing Flowers for your wedding
Flowers can easily make a whole lot of difference in decorating your home for the occasion and striking the right chords before the wedding chimes. You can use flowers like roses (red ones), marigold, lilies, orchids, tulips, porcelain bridal flowers, silk flowers etc. Especially for traditional weddings, you can decorate your home with Ranunculas, Ivy, Peonies, long-petalled Orchids, Cymbidium Orchids, Hydrangea, Lilac, tulips, Roses, Viuburnum and even lotus can be used. You can either drape them around pillars and other outdoor / indoor objects or you can even mount these flower strings on the wall.
Decorating the entrance
This is the most important part as it will make the first impression on the minds of your guests about your wedding arrangements. You can decorate the entrance by mounting colourful wedding balloons colored white, red, gold or ivory.
Guest room
According to a latest trend I have even heard people keeping a huge plasma screen on the wall, where the pictures were on a slide show mode. It is really a delight to watch so many colorful pictures of the bride and the groom, the idea of this whole arrangement is to tell a story of the bride and groom, right from their childhood (or ever since they met each other especially  in case of love marriages) to the day of their wedding. Just make sure to not make it too long, that might bore the guests.
Have filled lighting all over the home including outdoor locations. At your garden you can try decorating tree branches with small tuni lights. You can also place inexpensive pots of flowers or decorative plants on the sides of each step leading to your reception or wedding area where the event is being organized. Decorate any banisters, railings or columns with ivy garlands, bundle of flowers beautifully wrapped, tulle and white lights.
Floor
You can have visually attractive and comfortable carpets and rugs on the floors. You can also decorate other areas of your home by using the chairs, tables, buffet table, aisles etc with colourful, scented candles and flowers.
Ceiling
Install hanging topiaries on the ceiling, on the main guest room mount a gorgeous chandelier and cover the rest of the ceiling with foam balls along with flower heads and ribbons of your choice.
Use shiny white paper to create paper snowflakes in various sizes. Place a standing fan in each corner of the rooms and face them towards the ceiling and give a unique look to the room. You can also try balloon arches for this purpose.
Over to you
You might also like to take pictures of all the places and then plan which part to use for what purpose. Once you have taken the pictures of the major places at your home where you want to decorate, try and imagine about each place where you can mount the embellishments. Doing this the right way will make your decoration process much easier. As I have already mentioned that a wedding planner can arrange your wedding in a much more efficient and sophisticated manner, as they have plenty of experience in organizing wedding events including arrangement of catering services.
What else do you think one should do for great wedding decoration in India?