Home relocation in itself is a very stressful activity and if it is during some bad weather condition like rainy season, it worsens the situation. Generally, none of us will want to relocate on a rainy day due to lots of added hassles but sometimes due to emergency or other reasons we are bound to relocate during rainy season. Now it can also happen that you are lucky enough and it may not rain that day. But that must not stop you from getting prepared for the worst. Well, in case you are a bit confused regarding how to handle this pressure of home relocation during rainy season, this post is a must read for you. Here's an ultimate guide for home relocation in rainy season. If you follow those 14 tricks carefully, you should not have any issue relocating your home this monsoon.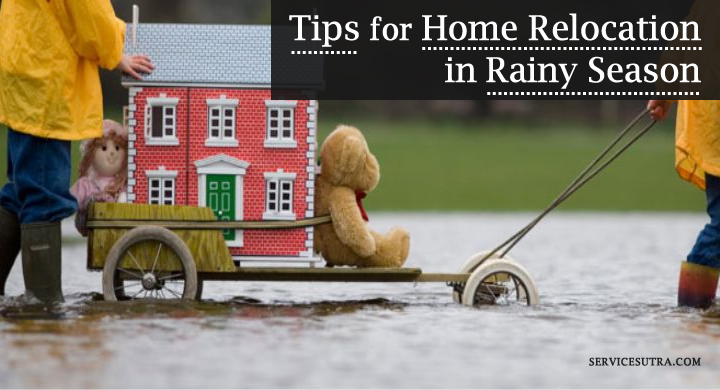 I know rainy season does not compliment home relocation. I also understand that home relocation in rainy season is a bit challenging. The constant downpour, the muddy holes and the increasing traffic problems add on to the nervousness. But I believe there is nothing as impossible. No situation should ever stop you from reaching your objective. Instead, if you panic, it will aggravate the situation. Just take it as a challenge that you will complete the whole procedure in a very systematic way. Keep your head cool, plan strategically and things will appear easy for you.
Home relocation in rainy season – 14 Tricks to get it right
The rainy season has already struck the city with all the vengeance. I know it is creating a lot of trouble for all, especially for those who have plans of home relocation during this time. Therefore, in order to make things easier for you I have jotted down some of the essential tips that will help you out in the process.
Are you ready? Let's get started.
Advance planning
Probably the most common tip, which I keep on telling whenever asked about relocation is advance planning. Home relocation during rainy season makes it all the more necessary to plan strategically in advance. Last moment planning is a big mistake. As in hurry, you will forget and miss out important things. Besides, you will be left with no extra time when you can sit and actually think. So advance planning is a must.
Cover with waterproof packing material
This is one important thing that you must never forget while relocating home during rainy season. You will obviously not want to carry things wet in your new home. So fasten all the goods in waterproof plastic. Make sure you opt for good quality packing material so that it does not tear in the midway. Go for zipped plastic bags especially for the important goods. Heavy downpour might damage your belongings so proper packing your goods with plastic is very necessary. You can also use tapes on the boxes for added protection. Also, protect your wooden furniture with sheets and blankets.
Wash clothes beforehand
Rainy season has a very damp, humid weather due to which your clothes take longer time to dry. I am sure you will not want to take the wet clothes along with you. It will then dampen the other belongings. Besides, wet clothes being more in weight will make the packets unnecessarily heavy, further adding to the inconvenience. So wash the clothes, which you are planning to take in your new space beforehand and dry them before packing.
Keep your umbrella/raincoat with you
The reason I thought of mentioning this point is that many people simply forget to pack the umbrella/raincoat. If not that, sometimes you end up packing those with the other belongings so underneath your bag that it gets difficult to take those out during emergency. Moreover, constant taking them in and out is very time consuming. Well, if you take my advice, it is better to keep the umbrella or raincoat along with you. Since it is rainy season, you will need them anytime. However, if you have extra, then you may leave those or pack them in the bags.
Use skidproof or monsoon footwear
Well, if you have planned for monsoon relocation, then go for skid proof or monsoon footwear. In fact, not only you, make each member wear it. Monsoon brings a lot of mud and dirt, so the covered shoes will protect your feet. Besides, you might slip and hurt yourself badly while running here and there, but if you wear monsoon shoes, it will lessen the possibility. Thus, stay safe from beforehand.
Hire good packers and movers
There are lots of packers and movers but you have to choose the best. This is another reason I tell everyone to plan home relocation beforehand as you get ample time to choose. Last minute decisions might put you at loss. So take your time, go to various sites, compare the rates and then decide who to choose. Also properly confirm with them whether they have all the necessary equipments needed to relocate in the rainy season.
Opt for closed body truck
Another thing that you must confirm from your packer and mover is that whether they are bringing a truck that has closed body. Most of the time they bring open body trucks which is not a good idea during rainy season. The closed body ones are safer in case of heavy downpour. So consult this with your packer and mover before hiring them. Also, do not forget to check your truck properly before moving. Use tapes in case of any leakage. This will ensure the safety of your goods while moving.
Keep a track of the goods you are moving
Most of the packers and movers are responsible. However, despite being secure and well equipped, inconvenience can occur anytime. Mainly during rainy season, the condition of the roads becomes so bad that there may be unexpected obstructions. Therefore, if you have a good track of every item you are carrying, it will be easy to tackle the situation and recover the loss.
Insurance for all your goods
Talking about the safety of your belongings, I feel making insurance of each and every item is very important. If you are lucky enough, the whole procedure of shifting will go smoothly but as I always say, you need to be prepared for the worst. Therefore, it is always advisable to have insurance of all your items. It will help you cover up any loss or damage, which might occur while relocating in rainy season.
Cover the floors
The constant downpour and damp humid weather makes the floors slippery. This aggravates the chances of getting tripped over. So cover your floors, especially the entryway of both the houses (the old one as well as the one where you are relocating) with mats or cardboard sheets. This will lessen the risk. Do not miss the path between your door and the truck as then it will be safe to carry the goods. Also, keep towels and carpets near the entrance which you will need to dry yourself post loading or unloading the goods.
Make a strategic planning
A proper strategy makes the process easier. If your friends and family members are helping you, just divide the responsibility among all of them. Let someone stay inside the house to help take out the things from the room, others can carry them from door to the truck while the rest will load the goods in the truck. Make this arrangement in your new place as well while unloading. This saves a lot of time and you will see that carrying goods from the home to truck or vice versa will seem easier. In addition, it will minimize the mud and dirt getting accumulated in your home, thereby reducing your work of cleaning it. Also, note that gathering scattered goods leads to lot of mishap. Therefore, just remember to keep all the stuffs in one room close to entrance while moving, this way you will not miss out things as well as carrying the stuffs will be less painful.
Load and unload items under a roof
Well, I know this is not always possible, but if you can do it, then it is very beneficial. Loading and unloading takes a lot of time as you need to carry the goods carefully to avoid any damage. So if there is a roof, it will make the process easier in the rains.
Start your journey early
Rainy season leads to endless traffic problems. So you might take longer time to reach your venue. Thus, it is always advisable to leave early so that you do not need to hurry. You can then reach your location safely and on time. Otherwise, starting your journey late will lead to unnecessary delay as well as drain the energy completely out of you.
Avoid hectic scheduling
What I mean by hectic scheduling is that do not plan things frantically as this might take a toll on your health. If you have any plan to join school, college, or office, at least try to relocate to your new home one week prior to your joining. This is important so that you can take rest and then join with a fresh mind. Besides, in case of any emergency delay due to rain, it will be easy for you to cope up with the circumstance.
Over to you
Rainy season is the time when you simply feel like cuddling your pillow and lie down. Most people prefer staying inside their house. However, if you have plans to relocate during the rains, there is nothing to panic. A bit of planning can help you relocate your home safely even during the rains. We have already discussed the 14 tricks that you can use for safe home relocation in rainy season. When followed correctly, the home shifting tips that we have discussed above, can make the whole procedure hassle-free to a good extent.
Just remember that weather can change anytime. A bright, sunny summer morning might end up in rains or even a rainy day can suddenly turn sunny. Therefore, instead of worrying about the weather, what's more important is the confidence that you will make it. Simply strategize properly and follow the basic guidelines to protect your goods from rain.
Are you planning to relocate your household goods this monsoon? Have you sorted out the strategies? Do share me your feedback in comments if you have benefitted from my tips. I will be glad if I can be of any help to you.