Planning to move but wondering how to pack crockery items to move it easily without damaging? There are several ways that will help you to sought out the packing process of crockery, for relocating them very safely. Packing crockery before relocating to a new place require a lot of attention, or else it would get damaged easily during the move. You have to ensure you are using right packing materials and following right techniques to pack crockery items and this is what I am going to talk about in this post.
Tips to pack crockery items for moving
If you think that, packing crockery will be difficult, then you can hire services from any packers movers companies that's in your city. But, if you want to pack and move on your own without hiring a mover, then here are a few ways in which you can pack your crockery before relocating to a new home/place.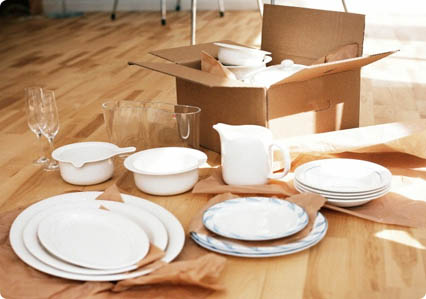 1. First, make a list of the crockery that has to be packed. And after that, create a group of items that are of similar size, especially the height. For instance, keep all the glasses in one box, cups in another, bowls in a separate box and so on. Basically, the moto is to pack similar items altogether, so that you can find them easily while unpacking.
2. Since you have already identified all your crockery, start packing them up. Try buying boxes that are divided (cell pack), or just use normal cardboard boxes.
3. Before putting them into one box, wrap them up with bubble sheets, or old newspapers. This will act as a cushion, and help them stay safe by preventing severe breakages or scratches under pressure, or any other damages under other circumstances. Tape the base of the box properly to ensure it is strong and can hold the weight.
4. You may also place one wrapped item inside another. For example- place one wrapped glass inside the other one, and then place them inside the crockery boxes. Repeat this process and place all the items that has to be packed together in one box. This will reduce congestion, and will increase space.
5. Fill the empty space with bubble-wraps or old newspapers, so that, the glasses doesn't roll from one corner of the box to other.
6. Seal the box by taping it properly. Label the box as 'glassware' or 'crockery' on the upper side. Finally your crockery items are packed, and is ready to be shipped.
Over to you
Hope you know how to pack crockery items for moving it safely. As you know crockery items are generally very fragile and you can't take chances. Just follow a simple rule of using good quality box, do proper cushioning, don't over stack the box and fill the gap with bubbles and you will be good to go. But when you are unsure and unable to figure out how to pack crockery then it's better to take help from a professional mover than taking chances by packing it yourself.