Interior design and lighting have had a connection since ages. Both play a very vital role in making your room look splendid and very gorgeous. Lighting plays a very important role in giving the rooms a perfect ambience. You must get the right kinds of lighting while decorating or designing your house.
Overall interior design and lighting should be balanced. Understand what kind light you need, what should be the color of lamp, how big or small, hanged in center or on a wall; there are so many things that has to be considered to get interior design and lighting right.
Choosing that perfect light that complements the overall interior of your house may sound easy, but it's not. When you go to buy lamps in a store, you may get tempted with available lighting options. But you should not forget that one light that suits your overall design may not suit others. In this post, we are going to focus mainly on the importance of perfect lighting and share a few tips and ideas to help you get started.
Tips to choose right lights for your house
Since interior designing and lighting goes hand in hand, it will be good if you purchase lights accordingly. If you are planning to hire an Interior designers, they would suggest you several ideas to get your room illuminated with the right lighting. But if you are going to do it on your own, then you'll have to spend much time in planning, before implementing anything.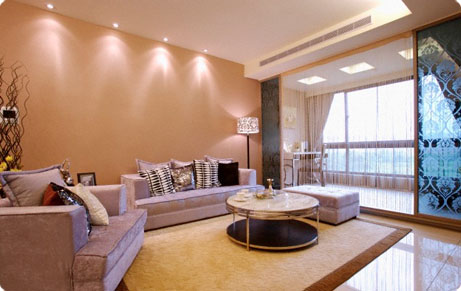 Here are some tips to use the perfect lightings for decorating your home's interior:
Be specific about what kind of lamps you want to use, and also where you are going to place them. Ideally, you should get multiple lamps installed at various locations in your home, such as near the entry or the doorways. You should also get some small table lamps and night lamps installed, apart from the usual lighting in your room.
Create a perfect balance by having different kind of lamps, such as table lamps, overhead lamps, decorative lamps, and floor lamp. But, be wise while choosing it for every room. A variety of lamps will look great, but remember not to over do anything, or else it will look clumsy.
Always get task lights installed, especially in the work area such as your your library room, reading area/corner, or near the study table and the working desk.
Bathroom lighting should be different from the rest of the rooms. You'll have to do good planning in choosing the right kind of light for your bathrooms.
Kitchen lights must be selected very wisely. The counter top of the kitchen must have task light on the top, as maximum of the task is done there.
Install dimmers for main night lamps in every room. Dimmers will help you adjust the light as per your mood and requirements. Isn't this a great option? You can brighten or dim the lights as per your convenience.
Finally, you should always avoid too much of fluorescent yellow lighting. A crisp white light would be perfectly alright.
Over to you
Interior design and lighting should go hand in hand. Lighting in your room should be treated as a decorative element, and it should match perfectly with the overall design, theme, color and texture of your room. And if you feel confused, take opinions from interior experts or look around to get some inspiration. Interior designers can give you the best suggestions because they know about the latest trends.