Are you planning to renovate your kitchen but don't know where to start and how to go about it? Do you want a way to manage and track your kitchen renovation and remodeling project? How about having a kitchen renovation checklist so that you can manage it all in better ways?
There are so many things to manage and track and hence having a check list to manage and track everything from what kind of lights do you want in your kitchen to gadgets and home appliances you would like to have in your new kitchen. I am creating this checklist to help you manage everything in better ways but you have all the liberty to make changes in this checklist according to your need.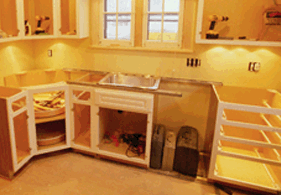 So are ready to plan and manage your kitchen renovation project much efficiently?
Let's find out how we can get it right.
Basic information about kitchen renovation
You know there are a few very basic things that you have to figure out before getting into the details such as;
Note down the most important goals you want to achieve by renovating your kitchen
Figure out what's the main objective of renovating your kitchen
Major and minor changes you want to make
Tentative budget and time frame for completion of kitchen renovation
Example:
Create more space near the cooking area
Have more storage space
Give it aesthetic look and make it more functional
Budget around 1.5 Lakhs and need to get it done in next 6 weeks.
Kitchen appliances
There are so many appliances and you may need most of them, but then it's better to think long term and have only those that you actually want to use. There is no point in buying the wine set, when you don't drink wine every now and then. Prioritize all of the tools and appliances you want to have in your kitchen ad may be classify them into must have and nice to have list so that if you are running out of budget, you can go after important one and leave the nice to have tools for the time being.
Must have appliances (Double door fridge, Convection microwave oven, bread toaster, grill, water filter, new dinner set)
Nice to have appliances (Roti maker, Dishwasher)
Feel free to add in to this list according to your needs. You have all the liberty to buy all types of home appliances, but just keep an eye on your budget, unless you have a flexible budget.
Electrical work
Since you are renovating and remodeling your kitchen, chances are you will buy a few new appliances and may be change the position of other existing appliances. You may need to have a few switch board and sockets installed and remove existing sets or may be change position. Here's how to track it all;
Do you need to replace or upgrade an electric board (switch, socket, cable or fuse)?
Do you need to replace the layout of lightings?
How many lights do you need and of which style?
Do you need to replace existing electric cables?
List out the entire electrical job that needs to be done, there are plenty of options when it comes to kind of switch and lightings. Feel free to explore new ideas.
Plumbing, painting, carpentry jobs for kitchen remodeling
Kitchen remodeling can't be completed without some civil work like plumbing and painting. You may require replacing the counter top, kitchen sink and kitchen faucets. Keep a list of all such work from painting to plumbing and carpentry to other civil work.
Do you want to replace faucets and kitchen sink?
Are you changing the layout of cooking area? If yes, do you have a layout in mind?
Do you need some plumbing work done?
Which color of paints do you want to apply and which brand?
Do you have carpentry job to create storage units or to replace the doors?
Flooring and tiles for kitchen renovation
Obviously this is the most important part of kitchen remodeling project. Go figure out what kind of flooring do you need from color to make and finish. Obviously tiles and floors in kitchen should be one that can be cleaned easily and you should keep this in mind while exploring flooring and options for tiles.
What kind of tiles do you want to use on walls?
What kind of flooring materials do you want to use?
What type of kitchen cook top do you need?
There are so many options to explore and you can even get inspiration from the catalogue supplied by home renovation contractors and interior designers.
Over to you
Kitchen renovation and remodeling could be tricky. There are verities of décor items and appliances that one may like to have in her dream kitchen. It's better to plan everything and go into as much of detail as possible. When you know what you are looking for and you have noted them all on a paper, you will be able to manage and track them much efficiently.
How do you manage and track home renovation projects? Don't you use a renovation checklist to do so?