Forgot to shop for lights, candles and other decorative items for Diwali decorations? Don't worry; you can still manage to decorate your home well for Diwali and make this Diwali awesome. There are still a few days left and you can manage to decorate your home for Diwali. Usually, we start preparation for festivals like Diwali way ahead of time to avoid last minute rush. Preparations starts with Diwali cleaning, de-cluttering, shopping and the finally decorating the interior and exterior of your home with diyas and string lights.
There's not much time in hand, just a week left for Diwali and we all know that the last minute Diwali decorations may not turn out well always. But still here's what you can do to get the Diwali decorations done perfectly at your home.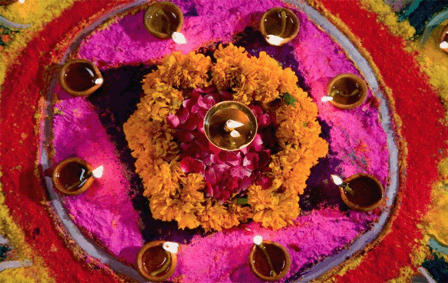 Last Minute tips for Diwali Decorations
So are you ready? Let's see what's need to be done and quickly;
Start with basic cleaning: So it all starts with a little bit of home cleaning. Since you are already running out of time, you may like to hire a professional home cleaner for diwali cleaning or else do it yourself. Start with basic cleaning from kitchen to bedroom and living area. Discard all of the old newspapers, magazines and de-clutter your space.
Arrange diyas: Diyas are the heart of Diwali and you can't imagine Diwali decorations without diyas. Hope you managed to buys some and if not just keep this in the list of things to be done for Diwali on top. But if you plan to re use the old diyas then that's just perfect. Clay diyas are not meant to be thrown away every year; you can keep them if you want to re-use it. And in fact, if you are wise, you would definitely keep them so that you can utilize them the next year, and maybe even more than two years. If you had no time to go to the market to buy diyas for Diwali, use the last year's diyas if you have them. But just make sure to clean and paint them with eye-popping colors.
Decorate the curtains: If you have no time to buy curtains for Diwali, then what you can do for the last minute Diwali decoration is, simply decorate the existing curtains. How? Well, there are plenty of this you can do, for instance you can make a flower garland or buy a ready-made flower garland and hang it with the curtains. This will make your curtains look better. And you can also sticky small pieces of mirror on the curtains to give it a gorgeous look. You'll see a dramatic change in them after applying this creativity.
Bring out the antiques: If you have some metal antique pieces or idols of gods and goddesses, then just clean them up and place them under focus. By saying 'under focus' I mean it has to be positioned in such a way that people can see it and admire it. Decorate those antique pieces with flower and diyas, so that their beauty enhances.
Rangolis: If you have no time for buying the colors for rangoli, just relax! Take some of the spices (choose them as per the color you need), grind them into powder, and then use them for making Rangolis. If you want to skip the grinding part, then simply use flower petals to make Rangolis. They too will look amazing. Or else, you can buy ready to use Rangolis that does not require any additional efforts except that you have to go out and buy it from the market and place it where ever you want.
Use lights: The best and easy way to make your room look festive like is by using lights. Lighting such as string lights is easily available in the market. So what you can do is, just takeout some time after your work and buy these twinkling lights. String lights have a huge variety, so you can buy any colored and styled string light as per your choice and budget.
Change pillow covers: You need not go to the market for buying new pillow covers just for the last minute Diwali decoration. All you can do is change that set of pillow cover and replace it with an old set, which is bright in color. If you have time in hand, take some tiny beads and mirror pieces, and stick it on the pillow covers. That's it, you are done! You can't even imagine how lovely it would look!
Place flowers: You must be surely having some metallic or porcelain vases in your home, right? Then utilize them this Diwali. Place some fresh flowers in them and decorate your home.
Over to you
It's always better to start preparing for Diwali when it's few weeks away. Start by professional cleaning, pest treatments, interior painting and finally Diwali special decorations. But even if you have not prepared ahead and wondering what you can do as last minute measure, you can quickly arrange diyas, lights, ready to use rangoli and flowers etc and get started. Diwali is anyways the festivals of lights and diyas. Go buy some and let your creative side take over for the Diwali decoration.