Local home shifting in India can be done in several ways if distance between your current residence and new house is not much. If you do not have a lot of good to shift then you might even hire a medium sized goods vehicle and pack and load them yourself to shift it to your new location. But if you have a lot of household items especially the heavy weight home appliances and fragile items like a dinner set to pack and move then you should book a professional movers and packers who offer local home shifting in India.
I myself stay in a rented apartment and have to shift my house locally after my tenancy contract is over which is usually 11 months and I know how it is. But since I am staying all alone, I don't have lots of big items but still I prefer to book local movers and packers. You know it is not always easy to move even a 160 liter fridge if you don't have someone to support you.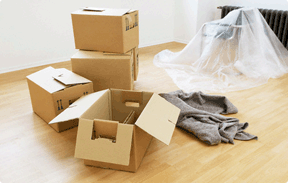 I have even tried booking a small vehicle that can accommodate my stuffs (may be not at once but through multiple trips) and a handful of labors (including myself) to carry my goods. But fortunately the distance from one house to another was merely 10-12 kilometers so I haven't faced any issues during home shifting.
Of course I was able to save some money there, but trust me now I don't even think of shifting my house myself. I always prefer to book a local home shifting company because when they are there, I don't even have to touch a singe carton. Because now I know it's kind of worthy to book a professional than struggling and taking leave from work the other day.
If you are concerned about costs of packing and local home shifting services then keep on reading because I am sharing some hands on experience and tips on how to save money when moving a house locally in India.
Ways to save money on local home shifting in India
If you have to shift your household gods and furniture etc to a new place which is more than 30 kms away from your current house then do consider hiring a professional mover and packer company to avoid unnecessary hassles. Booking a mover is not always a costly affair if you know how to do it right.
While hiring a professional for local shifting, try to hire someone who is specialized in local shifting only because usually they are efficient and smaller companies who would not charge you lots of money for local home shifting services. They are widely available across all of the cities in India.
Like I have earlier conveyed through my earlier posts that before hiring screen at least 3 to 4 companies until you are convinced that they meet your shifting requirements and willing to offer fair rates for home shifting services.
Don't ever let them know that you are in a hurry, otherwise they will try to overcharge you in any way they can.  The moment you tell them that you have a forth night time to shift or you have to shift within this weekend. They will take you for granted and charge extra money knowing that you are running out of time and options.
Try and wrap up everything at one trip and try to complete it within a day to avoid getting charged extra. Allow them to choose the path for shifting then if you have a better idea for navigating your goods then discuss it with them.
Try and avoid unnecessary heavy packing materials, more the weight of your belongings more you will be charged. Do consider abandoning old goods that you do not require anymore. We often feel emotionally attached to them, but while shifting we should think practically and let go of our emotions for those unwanted stuffs.
Don't waste money on buying cartons, rather go to your favorite departmental store, restaurant or shoe store with whom you have good rapport, just request them to give you few of their spare cartons they have lots of them and they will happily give it to you.
Avoid buying bubble wraps, you can either go for newsprint papers or fabric sheets as the alternative for bubble wraps or you can go to a nearby retail shop of electronic goods, they have got a lot of spare bubble wraps with them.
There are several free android apps in the market that allows you to determine approximate weight of your belongings and make a list for the same. They can even help you in planning, packing and organize your stuffs and manage your entire move from beginning to finish.
Over to you
Local home shifting in India can be best done with the help of movers and packers companies. Just be cautious enough to book movers who have their own vehicle, labor and who specialize in local shifting services. Also comparing costs and negotiating to an extent can help you save money on local home shifting.
You may also like to check this ultimate guide to save money on home shifting
How do you book a mover at best rate for local home shifting in India?