We often get nervous by the thought of moving our entire household articles from on city to another and end up looking for movers and packers companies. Obviously all of us know that movers and packers companies can help us pack and move everything from cot and bed to fridge and washing machine. It's their day to day job and they have kind of mastered the trade. But what you may not know is your entire home shifting and relocation experience depends on just one thing – the movers and packers that you decide to work with.
There are many of them in metro cities like Delhi, Mumbai, Bangalore, Kolkata, Hyderabad and other major cities, but did you know you can find movers and packers ;in small town like Bodh Gaya (Bihar) or in Barbil (Odisha). But finding a movers and packers is easier compared to ensuring that they are actually capable of handling your home shifting needs smoothly.
Trust me I have used movers and packers service on multiple occasions and I know the inside out of this whole industry. But then to hire a good reliable and trustworthy movers and packers company does not require any rocket science. You can do it with ease if you follow certain basic things that you do while hiring other service provider online or offline.
In this post, I want to talk about a few very essential things that you should check when evaluating movers and packers in India for home shifting, storage or car transportation needs. When you book a mover after verifying them, you know you are on the right track and there is high chance you will have a smooth relocation experience.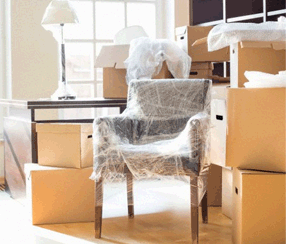 Background check of movers and packers company
This had become a genuine problem now a day, as more and more fake movers and packers companies are opening shop every season in India. Moving scams are also on the rise and you can check by simply searching the Google with search keywords like 'Movers packers scams in India'.  You will be amazed to see the kind of problems and issues people have reported and the fact of the matter is not all of the moving scams are being registered.
Hence, it is very important for you to figure out whether the company you are going to deal with is genuine or not.  So you can ask for papers, since when they are in business, check online reviews, testimonials of real customers and other such checks
Check for licenses and local registration
Ease of doing business is a buzz word today in India. But till today, if you want to start a business and register you firm, you have to produce lots of papers for identity, address etc. This is good in my opinion because government authorities are checking all these documents before registering a company. At least a local trade license from the municipality or local trade registration can help you be sure that the company is registered and that it's not an individual but a company with whom you are going to deal with.
The first step to determine the legitimacy of a particular company is to see their company registration as in trade license, industry certification, service tax, official address of their company etc; you should also check for the personal ID's of the executives/promoters like voter id and PAN card (especially in case of proprietorship companies ).
Check for relevant experience of movers and packers companies
Relevant experience of movers and packers is another important thing you should check for. If you are looking for a mover to shift your home locally in Bangalore, it will make sense to find movers who have expertise in local home shifting services; Ditto for car transportation and storage services.
Irony is, you check the website of any movers and packers in India and you will find same set of services mentioned on every company's website. Some time a movers and packers company may have all those services, but on most of the occasions, they don't. So just look for companies with relevant expertise, resources and experience.  You can research online before setting up a meeting with them to find if they have the expertise in handling the kind of home/office shifting assignments you have.
Check for required resources and staff
You should personally visit their main or branch office and see for yourself that whether they have proper vehicles like goods carriers, tempo's and trucks. You should look for the other essential things like quality of shifting containers, loading and unloading equipment's and other modern tools to make your relocation easy, quick and smooth.
You should make sure that the company has experienced staffs at their service otherwise everything else will convey no meaning. The staffs should also be polite to converse with. Remember to take down the number of at least one person who will be in charge of the whole thing. So that in case of any problem he will work as your ready reference and for correspondence.
Pricing and payment terms
This is another thing that should be handled with precaution. You should clearly ask about their pricing policies. When they give you a quote after scrutinizing your goods and the infrastructure of your home (like how much space is required to carry the goods out, whether they have to disassemble any goods such as a double bed, sofa etc, to let it through a narrow door or hallway. how much labor they have to assign in order to properly shift your goods safely through your home). Ask them clearly whether they are giving an estimate or an exact price so that they cannot charge you extra latter. Don't let them keep anything hidden from you.
Ask them to write all their policies, agreements and commitments in writing. What most of the company do is, they will quote a very juicy rate once you fall into their trap and agree. Then later they will show you the hidden bill. You must beware of this trick and clear everything with them before making a call to hire them.
Check about the insurance and process of making claims
Go through their insurance policies properly before striking deal with them. It is very important to determine how well they would treat your goods while packing, transferring and unloading. The only way to ensure this is to look at their insurance policies properly, and spot any flaws present there. Just make sure that you can claim back money for any damaged or lost goods while they are in their possession. Remember you have to spend some extra money for the insurance but it is well worth the price as it will ensure safety to your priceless goods.
Service guarantee and point of contact
Ask them to assure you guarantee that they will finish the job in time. Because time is a big factor, you do not want to receive your goods after a month which they were suppose to deliver within a week. So make these things clear with them, they will provide you guarantees with disclaimers, smartly check those disclaimers whether they are trying to fool you or something.
Also, make sure that they provide a single point of contact for you to communicate with during the whole process of packing, moving, unloading and rearranging.  This is a very common problem that often you will not get to contact anyone when you are in urgent need of something. Hence ask them to provide a single point of contact who will be the coordinator and supervisor for the whole project and keep his/ her number handy at all times.
Summary
Every shifting assignment needs an impeccable plan for its successful execution. So, plan your moving well in advance and do check everything that matters when booking a movers and packers in India for home relocation, office shifting, car transportation and storage services.
What else do you check when booking a movers and packers in India?