Packing and moving is a very hectic task and one simply should not dare to do it alone without hiring movers and packers. Home relocation needs a lot of pre-planning and planning and not to mention the hazard of completing several formal paper-works. The person who is to relocate is already burdened with the task of shifting his workstation to a whole new place where he has never been and on top of that, if the burden of personal shifting adds to that, the end result is going to be a mess. Don't you think so?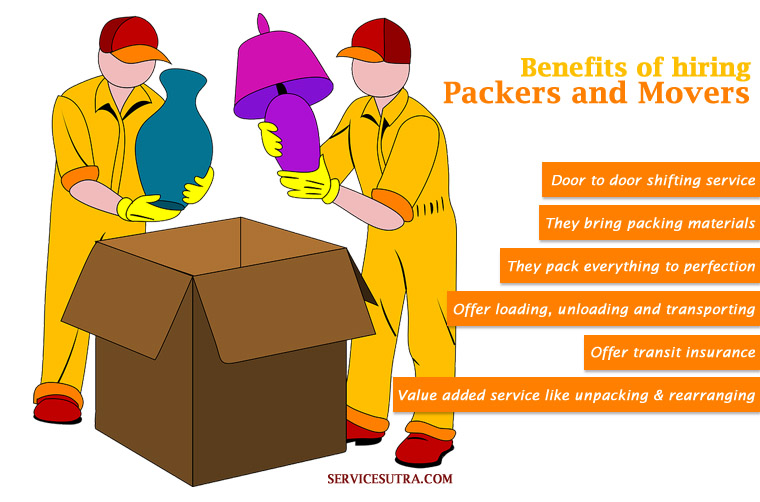 Nowadays, a lot of people have to relocate for the sake of their jobs and companies like to keep their employees in continuous circulation. Not only is this shifting time consuming but also physically draining. One has to consider the emotions and feelings of not only themselves but the family members as well. The young ones in the family are to be convinced that the new place they would shift is a better place than the current one. One has to combat with the denials and other family pressure and overall, the situation is inexplicable in a thousand words. In such a situation, what does one do? Professional help is undoubtedly the best solution one can think of.
Benefits of Using Movers and Packers Services
There are many benefits of hiring movers and packers companies for home shifting in India. Here's the list of some of the benefits of hiring movers and packers for home shifting.
End to end shifting and relocation service
Movers and packers companies offer end to end shifting and relocation services. Whether you are shifting your home, office or car, you can hire a mover and relax. Right from packing to delivering your goods in safe and sound condition is on them.
Door to door shifting service
Door to door shifting service is one, when the movers pack and pick all of the items from your home and they deliver it to your home at the destination. Door to door service is essentially important in case of interstate and long distance relocation.
On some of the odd routes and remote places, door to door service becomes seriously important, because you don't want to arrange local transportation to carry your goods from the highways to your place.
They bring packing materials
Packing is probably the most important task in relocating. Ever wondered why different movers and packers quote different prices to shift same volume of goods? Well, because that's because of the overall quality of service, including packing. Packers and movers bring their own packing materials and pack everything in multiple layers to ensure goods will not get damaged during the transit.
They pack everything to perfection
Perfect packing is one that protects your goods in transit. After all, everything is going to be handled by the humans. And when humans are working, there is always some chance of human error. Perfect packing protects you in case of such human error.
Offer loading, unloading and transporting
When you have hired a movers and packers, you don't have to look for labors to load or unload your goods. The movers have their own labor, who knows, how to pick heavy weigh and odd dimension items like cupboards and double door fridge.
Offer transit insurance
Transit insurance becomes essential for your protection and movers and packers offer this. Insurance as you know protects you from any sort of mishap and when you hire a mover and packers to pack and move your goods, they offer insurance for any sort of damage in transit. That's another benefit of using movers and packers service.
Value added service like unpacking & rearranging
Packing done. Good reached your place. Now unpacking, rearranging, assembling of furniture etc can be an issue. Movers and packers offer this service and if you want them to unpack and rearrange everything, they can do it for you.
Right ways to hire movers and get most of it
There should not be any doubt that movers and packers can help you relocate your goods without any hassles. But then, there are a number of things which matters and unless you get your act right, you may not get the maximum benefits of using movers services.
For instance, it is essential to prepare a list of items that you would like to shift. Now if you don't have the list, you may not get the accurate quotations from the movers, because they need to know what is to be moved. And this may lead to confusion on pricing.
Here's a quick and simple step by step process to get the most out of hiring movers and packers in India.
Organize yourself first. Make a list of items that need to be packed and require professional help. Then, make a separate list of items that you can take care of on your own. The important papers, files, documents require personal attention. So carry them along with you personally.
Look out for all the available and reliable packers and movers in the city and if possible, gather the brochures of each service and tally them to know which one will be best suited for your need. It may not be that the most expensive service will be the best one. It is required that an optimum package is obtained.
Make a budget on the items needed to be packed and then choose the shifting service, which provides the same at a rate closest to your pocket pinch.
According to the list made on items you can pack, gather available packing materials from the local market and begin packing them.  For an instance, small yet valuable or delicate items like vases and all can be packed using towels.
While you are engaging the professional help to transport the bulk items, it saves you a lot of time during which you can take care of the subscriptions, transfer bank accounts and do the needful to transfer your kids to the new school in the area where you are relocating.
Check if they provide proper transport facilities to transport your items. The packages come categorized as home shifting, office shifting and various other such according to the needs of the customers. The allotments of packing materials also come within the package so it is a very economic approach to make use of. They give you the exact estimate so there is no chance of waste due to excess items or repurchase in case of shortage of the same.
Involving packing and moving services also saves you the time to allocate men who would do the packing, loading, transporting and unpacking tasks. A lot of hassle can be avoided once the professional packers and movers services have been called in.
Nobody is aware about truck rates and airfreight cargo services rates unless the time of need arrives. In this context, packers and movers are of great help because they actually expertise in these services.
They can also assist you in the arrangement of your items after they have been shifted to the new location. This task, if otherwise done alone will be very hectic. Here again, asking the professional help will always be a blessing to you.
In case, there is any damage due to human error, these services would compensate for the item if the item were found to be of high value. However, not every packer and mover provides this insurance coverage so one must check prior to expecting that his damage would be covered. Generally damages rarely happen because the services are well equipped to do hassle-free yet safe transporting.
All you have to do is ask them and you will get the best of their services at a reasonable cost. They have been formed to help in such situations.
Conclusion
Unless you are absolutely sure that you will be able to handle everything smoothly, it is better to hire a professional movers and packers company and take maximum benefits out of your hire.Movers and packers companies in India offer complete solution from packing to transporting, delivery and unpacking and rearranging. There are really many benefits of hiring movers and packers over doing it yourself all alone.